Everyone says that once you hit 35 your skin really begins to change.  It looses it's elasticity, pigment changes and you begin to get wrinkles.  I didn't listen.  I used a daily moisturizer and thought I was good.  Then I turned 35.
Months later I saw a picture of myself and couldn't believe my own eyes.  Literally….my eyes looked HORRIBLE! So began the never-ending search to find an affordable, safe, and effective rescue for my eyes.  I tried the popular names brands.  Nothing.  I tried the trendy, "you can only buy this here" you feel like it's a special miracle fix and still…nothing.  Then I came across the Timeless serum line.  Their formulations for anti-aging are based on the notion that, sometimes, it's the simplest approaches that leads to the most benefits.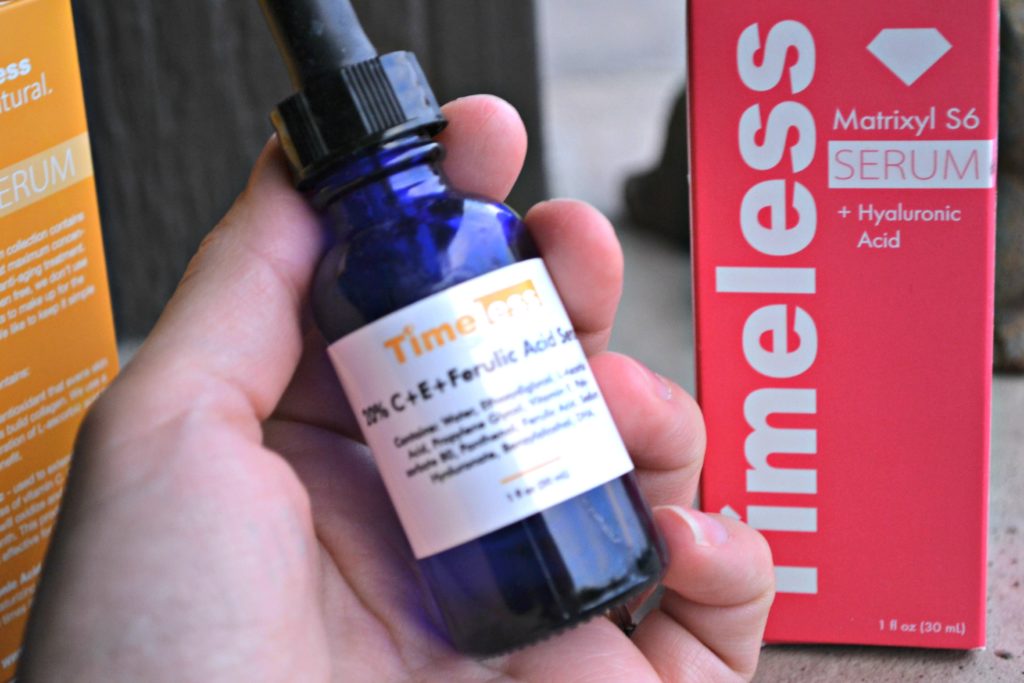 "The Timeless organic skincare serums contain ingredients that are found in nature, to gently nurture and heal tired and stressed skin. Our skin is our biggest organ, and it's in charge of filtering out toxins from the environment and from within our own body. We turn to effective formulas like Matrixyl 3000, an ultimate collagen booster, to restore and calm skin that needs it most. Our Matrixyl serum contains polypeptides that are the messengers of skin repair. These healing substances work to restore and maintain the skin's collagen and even boost collagen synthesis up to 350 percent."
People who use our Matrixyl serum notice a 33 percent decrease in the appearance of wrinkle density, a 23 percent decrease in the appearance of wrinkle volume, and a 20 percent decrease in the appearance of wrinkle depth. This is due to a combination of two powerful polypeptides that stimulate the skin's ability to produce more of its own collagen, elastin, and Hyaluronic Acid. Timeless Skin Care's Matrixyl serums repair skin without causing the breakouts and dry sky that are common with many other skincare products and leave you looking beautiful and refreshed. – Timeless Serums
I've been personally using Timeless for over a month now.  Let me just say…I'm HOOKED!
My skin not only feels better, it looks better then it has in years.  (I'm a mother of 2 young children.  I'm tired and I look it!)
My fine lines are fading.  My dry skin looks replenished…I'm seriously impressed.  With ingredients like Vitamin C, Vitamin E, Hyaluronic Acid, and Matrixyl Synthe 6, my skin is finally getting what it's needed!  Collagen synthesis production and water absorption.
To use the serum, I apply a few drops morning and night under my lotion.  I pat dry it around my eyes and on my forehead.  It's never greasy and I've never had a breakout from it.  (I have acne prone skin, so anyone can use this serum!)
Each bottle of Timeless Serum is under $25, and lasts for months!  Since it's a serum, a little goes a long way!  If you're ready to see what Timeless serum is all about, you can order your own bottle direct from their website here.  You're skin will thank you.  🙂