This post is sponsored by LivRelief
Have you ever woken up and not been able to move your head?  I recently woke up to that pain…feeling like you broke your neck because you simply slept wrong.  Ahhhh don't you love getting older!?  When it comes to aches and pains, I have to admit I REALLY don't.
The pain lasted for two weeks.  At first I thought it was spinal, so I went to the chiropractor.  Then after an hour of torture, he decided it was muscular and I needed a massage.  Nothing like having a great excuse to get a massage right!  But unfortunately the massage specialist was booked for two weeks.  She was amazing they all said and worth the wait.  So I waited.  But in the meantime I still needed pain relief.
Enter LivRelief Cream!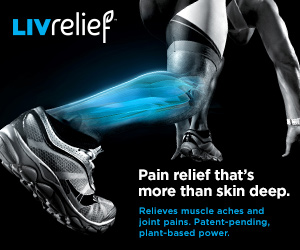 LivRelief Cream temporarily relieves the aches and pains of muscles and joints.  May it be back and neck pain, strains, sprains and even arthritis!  With the ingredients of over 90% natural products, I knew this cream would be just what I needed!
Here's the top 5 reasons LivRelief differs from other topical pain-relieving treatments:
1) Relief is targeted!  LivRelief is the only product that uses Delivera TM.  A patent-pending transdermal delivery system.  It delivers the active ingredients deep beneath the skin, addressing pain at it's source
2) It's a new approach to pain.  LivRelief is the first over the counter pain relief product that addresses and blocks five pain pathways!

3) Best Ingredients!  All ingredients in LivRelief are certified, selected for their purity and quality and sourced from Nordic and European countries.  These countries maintain some of the world's highest standards for consumer safety and environmental protection.
4) No tingle, no smell!  Yep, you read that right. LivRelief doesn't produce any unpleasant sensations that only serve to distract from the pain.  The smell is pleasant and faintly fragrant.
5) Backed by the Medical Community!  That's huge right!  LivRelief was developed by a respected molecular pharmacologist and has been tested and approved by established members of the medical community.
I can't say enough about this pain cream and I'm sure you're ready to experience it for yourself!  You can easily purchase LivRelief Amazon.com!  Buy LivRelief now and receive $2 off your purchase when you use promo code ONU56TLN during checkout on Amazon.com!  Easy right!
What area of your body, where you experience aches and pains, would benefit from LivRelief?