(Disclaimer: This is NOT a sponsored post. Just a review of our experience in Disney World for Mickey's Very Merry Christmas Party. All photos were taken with a cell phone…only because I forgot my good camera at home. Sorry in advance for the quality!)
Last week we returned from a vacation we've been planning since our 1st was born. Really! We LOVE Disney parks so spending the holidays in Disney World was a bucket list item that I'm SO glad we were able to make happen. In years past, we were able to make it out twice for Mickey's Halloween party! Christmas is something that EVERYONE should experience!
Here's some of the highlights of Disney World's version of Mickey's Very Merry Christmas Party.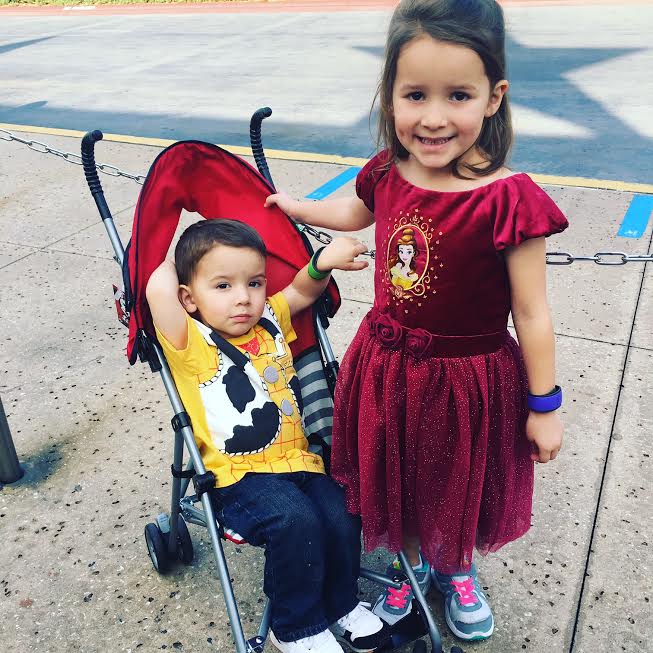 First thing to know is you need a separate ticket for the party. We purchased ours in the summer to make sure we were able to get the night we needed. Parties do sell out, so be sure to buy your tickets far in advance. I recommend only attending the party evening and not going to other parks during the day. You will be exhausted!
Tip
The party starts at 7 pm, but here's a tidbit of advice. Leave your hotel at 3pm and head to the park. At 4:00pm they will let you in with your party ticket. This year they actually let us in at 3:45….every minute counts when you're doing Disney right! 🙂 I recommend that window of time because it takes a while to get to the actual gates. Baggage checks, ferry, bus and monorail rides can take awhile. Plus, I'd rather wait to get into Disney, instead of miss time in the park.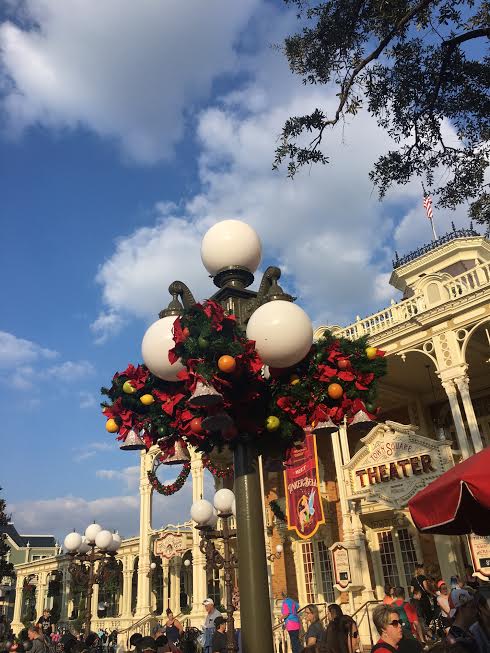 TIP
Before you attend the party, be sure to get on you Disney app and make a few fast pass selections for the 4 and 5:00 hours. We were able to squeeze in 3 Fast Passes. No lines and we went straight on the rides. (Pirates, Haunted Mansion and Monsters Inc). After we used our fast passes, you will no longer need fast passes for the night.
Since there's a limited number of people that can attend the parties, lines the night of the party are not bad, so there's no need for fast passes. With all of the parades, performances, treats and events going on, lots of people don't really bother with the rides. It's true! I've talked to many of them! 🙂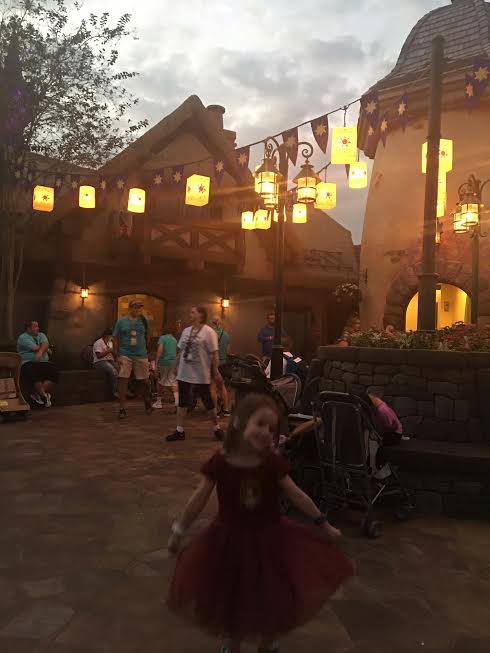 After our Fast passes it was time to head to the castle to see a few performances and parades. When you get into the park, you'll get your own event guide, that will have all of the information and details you need.
We made a time schedule plan, so we were able to see everything we wanted to see.
TIP
I recommend trying to get a spot for the parade and performances near the street in front of the Castle. That way when the castle performances are done, you can literally turn around and bam, you're in front of the next performance.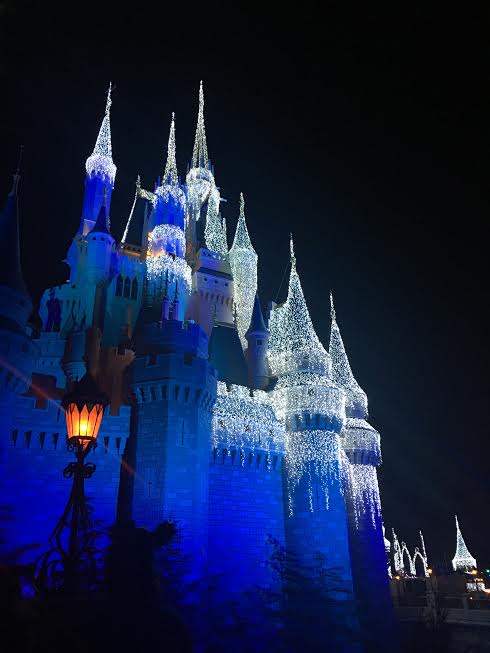 During the party, there's FREE snack stations. Yes, you read that right. FREE. Snacks include Cookies, Hot Chocolate and snow cones. Pretty much amazing. (All of these locations are listed on the map you get when you first get into the party.) They're also marked with these giant candy canes…so if you happen to be walking by one, stop and get a snack!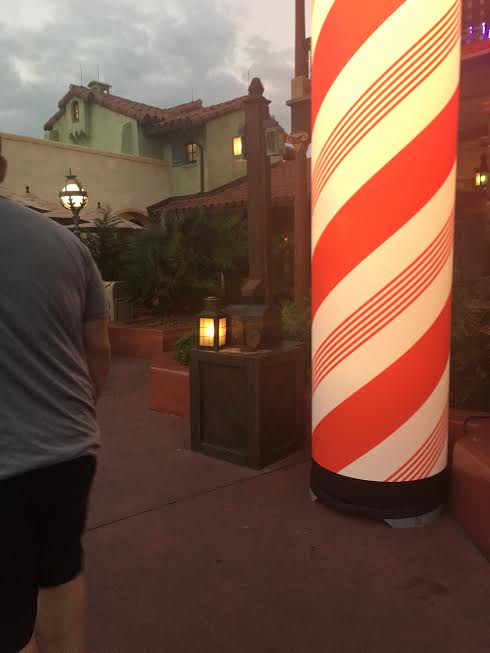 I figured I was walking so much, I needed the cookies to maintain my energy levels. Right? 🙂 That's what I told myself anyway and didn't feel one bit guilty! It's Disney after all.
We went to the party at the end of November. I know it's Florida and you expect warm weather 24/7 but I was pleasantly surprised that it does actually get chilly! I did not pack well at ALL for this trip. Colorado is like 30 degrees. I figured it would be 70 or so during the night. (I know check the weather apps, but throw in humidity and temps feel different). The day before the party we stopped by Target to get everyone sweatshirts. We wore them all night! The point of this story is to be prepared for cooler temps in the evening. My kids both changed into hoodies and long pants late in the night. I did see some kids wearing PJ's which is also a super cute idea! (Moral of the story, if you have a Christmas sweater you want to wear, do. By 12pm it was 58 degrees!)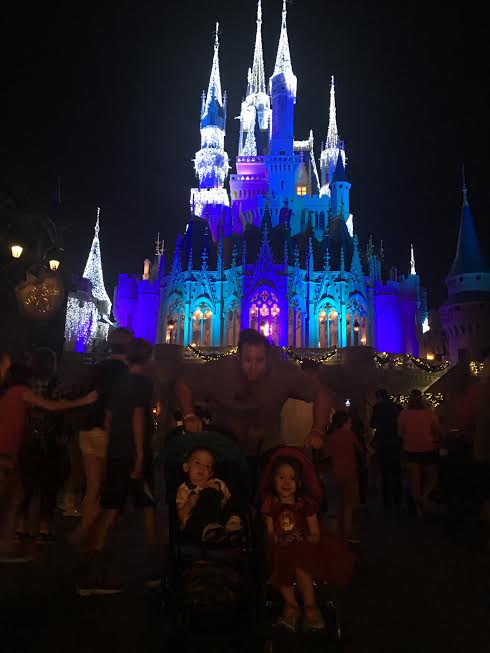 Do your kids love getting character autographs? Get them an autograph book and be ready to see LOTS of characters. They're stationed all around the park with minimal wait times. Our kids were able to see lots of their favorites! (Jack from a Nightmare before Christmas was out which the adults enjoyed! Aka my husband).
Plan on sticking around until 12pm because there is so much to see! You'll want to see the snow falling on Mainstreet including all the decor and lights all around the area. You'll also want to stop by the dance club, this year in Tomorrow land. Kids and parents can boogie to some classic holiday Christmas songs. Violet was a dancing queen until midnight, while her brother slept in this stroller! 🙂
(See the snow?)
THIS is what Christmas is all about. Family time, magic, and memories!
I highly recommend that everyone make it a point to attend Mickey's Very Merry Christmas celebration at some point. It's by far one of the most magical events your family will attend!