*Affiliate links are used in this post
Breastfeeding is one of the most rewarding and amazing experiences that mothers experience. The benefits of breastfeeding are endless, but like anything in life, breastfeeding is a lot of work. (Amazing but work!)
I always knew that I would breastfeed my babies for at least a year, (even though I went well past that with both kids). This commitment also meant that I would be pumping my breastmilk and spending countless hours connected to a breast pump!
I work full-time outside my home, so like most working moms, I started stocking up on breastmilk before I went back to work. Then while I was back at work, I would need to pump 2-3x a day. This meant a lot of time spent connected to a breast pump while I was busy doing other tasks.
When I had my daughter (first born child) I didn't know about the ultimate timesaving accessory for breastfeeding, busy moms…..
When I had my son, and I found myself yet again connected to a breast pump multiple times a day. THIS is when I finally across a game changer for breast pumping moms!
A Hands Free Breast Pump Bra!
The Simple Wishes Hands Free Breastpump bra is the biggest game changer for any working, busy mom.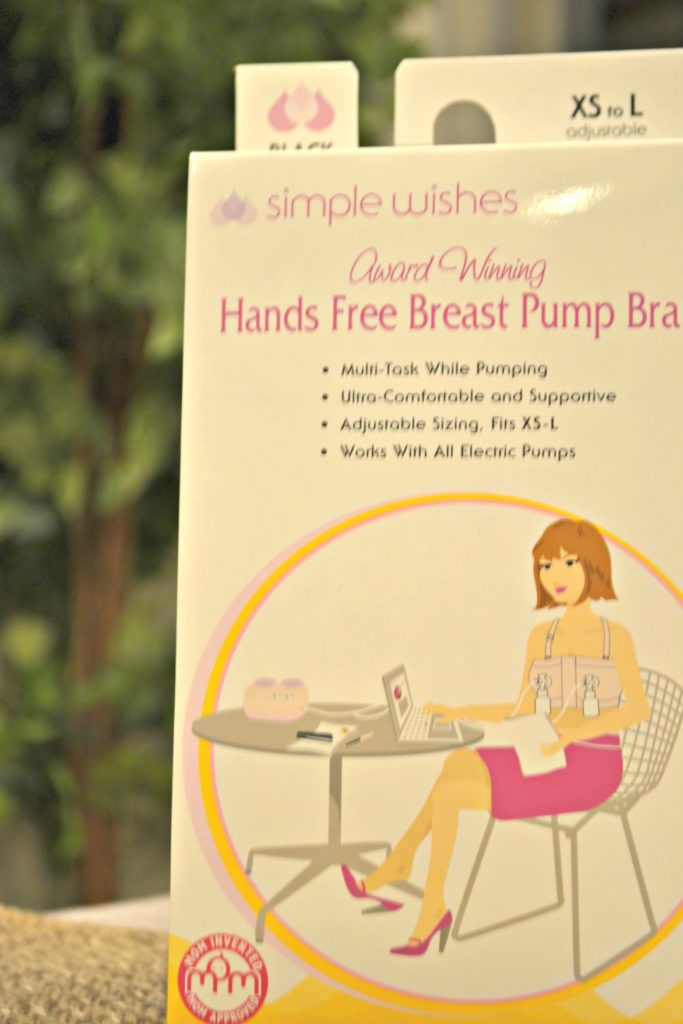 Using the Simple Wishes Hands Free Breast Pump Bra
Using the bra if very simple!
Put on the bra
Connect to the pump
Turn on the pump and
Continue about your work! Hands Free!
Not only did this free up my hands while pumping, it also helped so I didn't feel so burnt out after pumping. Holding your arms to your chest for 10-15 minutes at a time is tiring! (I know. I did it!)
The Simple Wishes Hands Free Breast Pump Bra is award winning for a reason. Not only is the bra easy to put on, it's also incredibly comfortable and oh so soft. This particular bra will also work and fit with all electric pumps. The fit on the bra around your body is perfect…which is also guaranteed! Since nursing moms' tend to have some weight fluctuations while nursing, you never have to worry about your bra not fitting. The back panel of the bra is velcro and adjustable! Genius.
Leave it to a fellow mom to invent such a useful and OH SO NEEDED accessory for all breastfeeding moms. 🙂 Check them out for yourself on Amazon! I'm telling you ladies. It's a must have for all moms!