For months now, on my Instagram feed, I've been noticing a ton of lime green posts.  Lime green hearts, people wearing lime green.  Lime green bottles next to people smiling and talking about their new favorite products.
It turns out…all this lime green is the brand color for the super popular and vastly growing ItWorks! brand.  ItWorks seemed like a strange name to me at first.  It….what's it? And what works?  That was my immediate thought.  So I investigated a little by reaching out to a local Colorado distributor.  She's only 45 min from my house we we decided to finally meet and to talk in person about her business and really find out what works!?
The Meeting
We decided to meet at Starbucks and get a drink.  I arrived first, unsure about what I was going to learn.  It's a brand I was not super familiar with, but my Instagram feed thought otherwise.  🙂
We chatted for an hour about ourselves, our families, what brought her to Colorado etc.  Girl talk.  Then I started asking about her business…she works from home on her own time and makes a great living.  Naturally…I wanted to hear her secrets.
Then she explained the ItWorks! products. ItWorks is a line of beauty, health, and nutrition products.  And as the name says, they really do work!
The Proof
If you follow my blog, you saw that I finished the 21 Day Fix in February.  I had great results from 3 weeks of eating right and working out.  You can read about my experience here and see my results.  I've kept my 21 Day Fix routine, and I'm still loving the workouts.  But let's be honest, I'm human so I'm going to eat a treat here and there, or drink wine.  I've made some great changes and my health and body are benefiting for sure.
But lets talk about cellulite.  My problem areas are my belly, and my thighs.  Mainly the sides of my thighs.  I have kids, and with using birth control, my body automatically keeps an extra 10 lbs.  Ya know…cause I'm tricking my hormones to think I'm pregnant already!  Yay for birth control.
During my coffee shop meeting, my new friend said she can wrap me in the bathroom!   Sure..why not! I want to see what this does to my body.  So we did.
We used cellophane wrap and applied the botanical body applicator to my midsection.  We took a before picture.  Warning….it's not pretty. 🙂
Ok…when I saw this I gasped.  I've been working really hard…but nonetheless I'm not able to lose the extra skin and mom pouch that I have.  Diet and exercise help…but nothing is a quick fix.
I went home and 4 hours later took the warp off.  While I had the wrap on, it felt tingly and cool on my skin.  It was never uncomfortable, itchy or felt like it burned.  Anyone can do this. Really.  Here I am taking it off…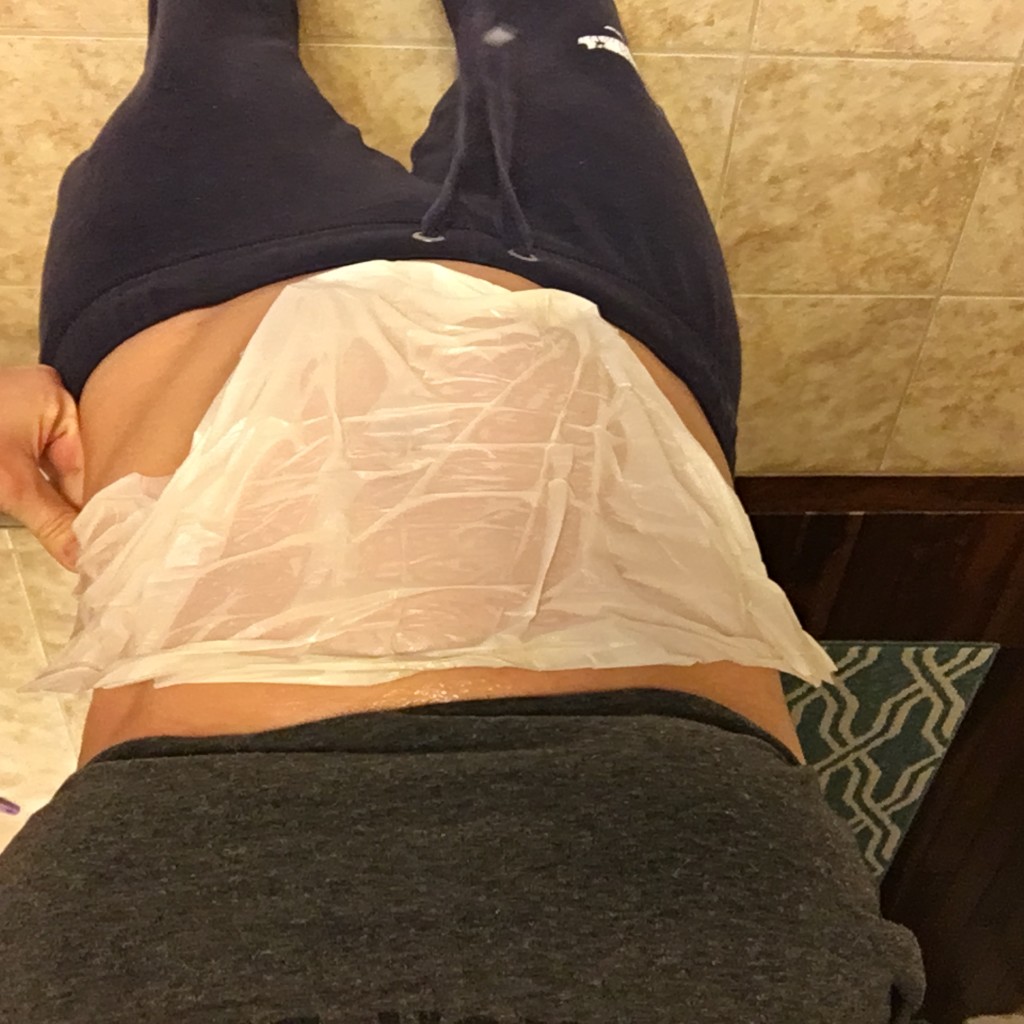 At 10pm I made my husband get out of bed and take a photo of my belly after the wrap.  I looked in the mirror and thought, ya, it looks better.  But I didn't realize how much better until I saw my before pictures the next morning.  My friend had them on her phone.  So at 8am I sent her my after pictures.
Her instant text was "OMG – You'll gonna flip at these results". I saw a difference but not that much better….or was it.  Then I saw the side-by-side.  Here's my after: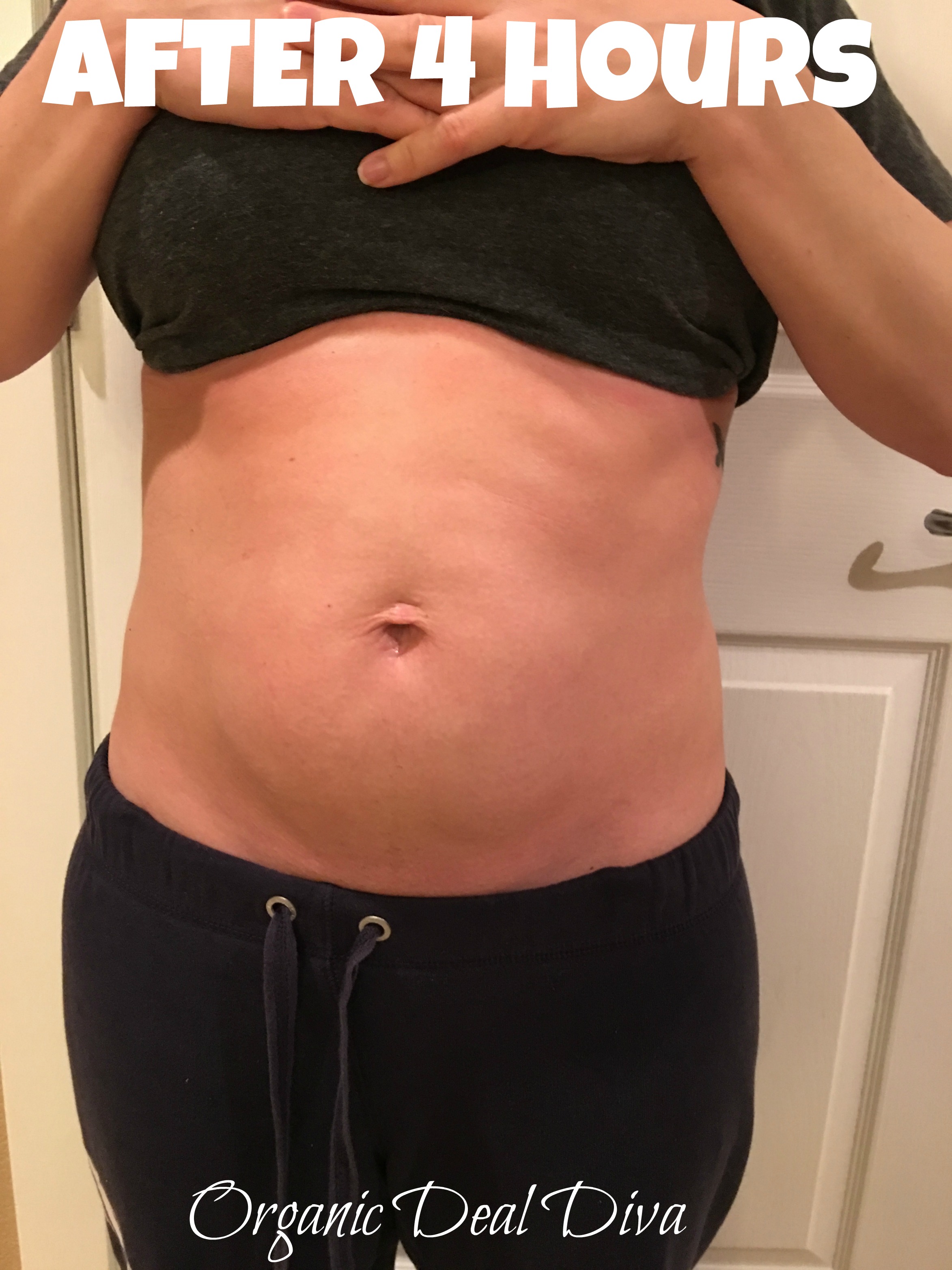 And here's the side by side: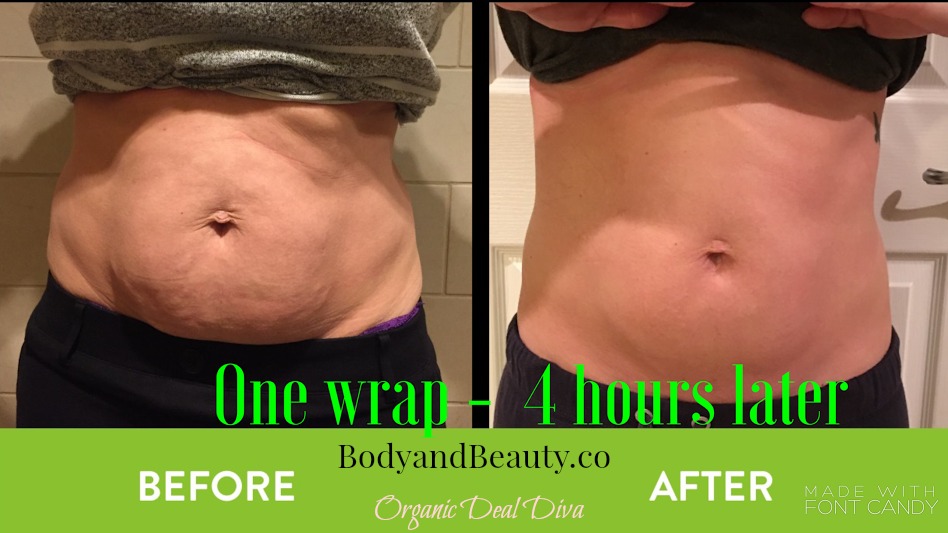 Ok that's a huge difference.  These images were not altered in anyway.  I don't believe in spreading the work about products that really don't work.  THIS one works.  OMG, now I get it.  ItWorks! 🙂 lol
That day I went to work and showed everyone I was comfortable sharing.  I didn't need ALL of my co-workers looking at my flabby mom belly before pictures.  Ya know!
But everyone wanted to try…so I made sense for me to become a distributor.  I was convinced, my body needs this.  I'm working out, I'm eating good (aside from the chocolate splurge here and there) and I drink nothing but water and tea…and coffee (at the time).  SO I DID! 🙂
How exciting right!  I joined ItWorks as a distributor.  I have my own website where you can go online and look at the products for yourself.  GO to BodyandBeauty.co to see all 30 products that ItWorks offers and learn more about the products.  You can also reach out to me if you have any questions about products and I can help guide you! (Contact me here!)
Since my 1st wrap experience I'm hooked and really excited to see what 4 wraps will do!  Starting in April, I'll be wrapping myself 4 times a month until I achieve the results I'm looking for. 🙂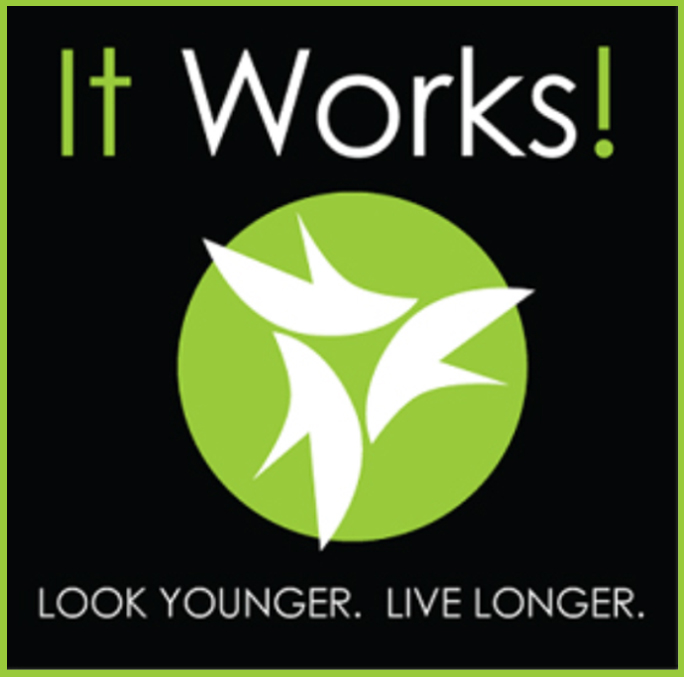 I must write my own disclaimer here.  I've wrapped multiple friends in the past few weeks.  Of those wraps, the best results (like mine) come from active healthy people.  If you're eating fatty foods, not exercising and overall not living a healthy lifestyle, you're not going to get a quick fix.  The body wraps are a great addition to a healthy lifestyle, to target, tighten and tone problem areas that have with cellulite.  Your body will respond if you're treating your body right.  I do not recommend you wrap if you're not leading a healthy lifestyle, it's not a quick fix to get a flat belly overnight.  Our bodies are not built for that and theres nothing healthy about wanting a quick fix.  On that note…make sure you're treating your body right and drinking a ton of water if you're using wraps!
You can also wrap any area from the neck down.  It's not just your belly!
Since results are progressive for 72 hours, you need to get moving and drink water for those days to help flush your body out!  Help your liver and lymphatic system out by doing this!  Get Moving! 🙂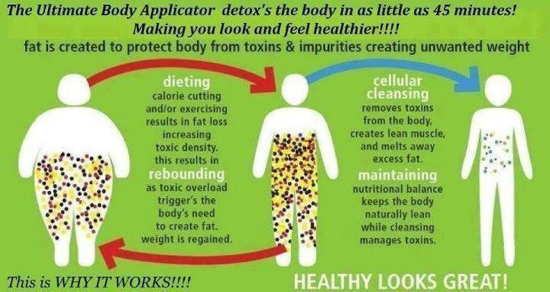 PRODUCTS
Since my amazement with the Wraps (Body applicator), I've tried multiple products, which I'll be sharing with you in the coming weeks in subsequent blog posts.  I'm throughly impressed with this company.  The skin products, body applicators and Greens are my favorite by far.  The products are all botanical and you actually recognize the product ingredients! (Green Tea Leaf extract, Guarani, Jojoba, Menthol, etc.)  I'm anxiously awaiting my Cleanse to arrive (which has been backordered again) so I can wrap and do the cleanse at the same time.  My body needs the detox….and this is exactly what I'm looking for.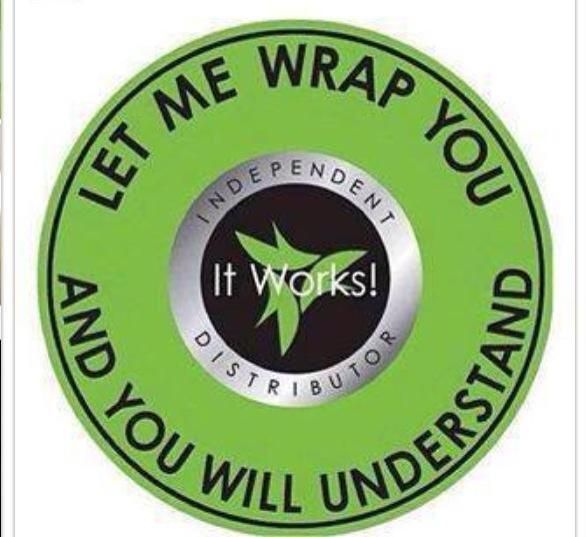 OPPORTUNITY
I saw the opportunity right away to become a distributor because I knew I wanted to wrap for months, and it's only $99 to get started.  And you get a box of wraps, a sample of the defining gel and a get started distributor kit!  Some people choose to sell those 4 wraps ($25 a piece is what they sell for) to get their immediate investment back, and some keep the wrap to continue their own experience. As a distributor you'll get
a 40% discount on all products,
You'll earn bonuses
You'll earn free product
You'll earn commissions on every sale you make and best of all,
You'll meet some amazing people!
I've made some new friends in the past 2 weeks from this company and they're inspiring ladies. And it's just the beginning! If you're interested in being on my team as a distributor for ItWorks! I'd love to have you join us!  There's an incredible community and even if you live across the country, we'll skype or FaceTime to get you to reach YOUR goals for your new business.  I'll teach you what you need to know and to be successful, whatever success is to you! Whether that be $100, $500, or $30,000 a month, this company can help you get there. And I can help coach you!! 🙂
GIVEAWAY
I'm excited to share this wrap with others, so I'm hosting a giveaway! YAY! Enter to win a sample wrap valued at $25 now so you can experience this product for yourself!  I'll send you the wrap with a guide of how to work get the best results from the wraps.
1 wrap is a sample
4 wraps is considered a treatment
12 wraps is comparable to a procedure
WOW…and it's botanical.  ItWorks! really does work and I can't wait to share it with my readers! 🙂
GOOD LUCK!