This shop has been compensated by Collective Bias, INC. and The Coca-Cola Company, all opinions are mine alone. #RefreshinglyHonestSnacks #CollectiveBias
They say every pregnancy is different….which I can completely attest to with my third pregnancy. So far I've experienced every "symptom" that the joys of pregnancy offer. My most recent symptom being extreme hunger! I just started my second trimester, and the hunger this time around is no joke! I'm talking hunger pains, every hour….not horrible but also something I'm not used to.
Recently I think I shocked my husband with how hungry I'm feeling…since a few nights ago I woke him up at 3 a.m. to the sound of me crunching on a snack. In bed. With no lights on. 🙂
Currently, I need to eat every 30-40 minutes plus the usual 3 full meals a day. I actually eat 4 meals since I eat a 2nd lunch around 2 pm. I'm HUNGRY people….very! I've also found that if I don't feed my belly, I start feeling nauseated. So…I eat. A lot.
In an attempt to not gain 100lbs with this pregnancy, I'm on a mission to find a snack regime that is better for me with filling protein snacks. My daily protein goal is 75g of protein…which for someone with random food aversions is hard to do!!
Never fear, I have some yummy organic ideas for you expecting mamas!
Without further ado, here is my compilation of Organic Snack Ideas for Every Trimester of Pregnancy!
1st Trimester: I know I know, you're lucky during this stage of pregnancy if you can eat ANYTHING at all, and keep it down. This pregnancy has been the most miserable I can remember sickness wise. The key to not feeling so sick is to keep something bland in your system, even if you don't feel like eating. It sounds like the exact opposite of what you want to do…just trust me. I've been through this stage now 3 times! #pro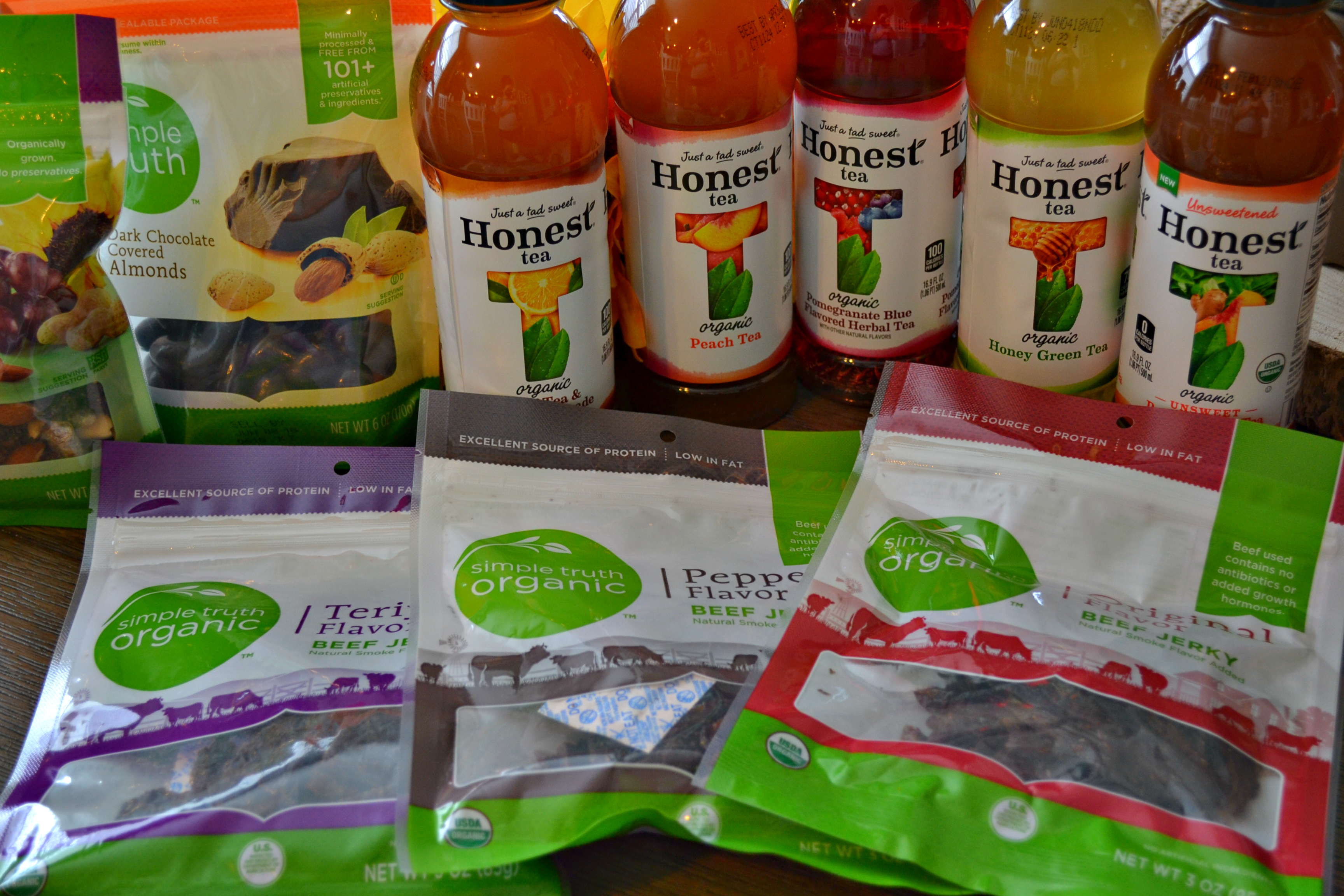 Here are some snack ideas that you'll be able to handle:
Dried fruits

–

Simple Truth®​

Brand from Kroger has become my absolute favorite! With many fruit options, stock up and keep these in your bag!

Nuts or Trail Mix

– Another one of my favorites since you can take small bites, and keep something in your tummy. Plus there's protein! An added bonus!

Honest Tea® unsweetened Peach with Ginger flavor – My drink savior during 1st trimester!
I must admit, because of my first pregnancy I absolutely cannot handle the taste of ginger. But I can't deny the therapeutic benefits that ginger brings to an upset GI system. After finding Honest Tea unsweetened Peach tea with Ginger, it was my daily go-to drink! (FYI: in case you're wondering, about consuming caffeine while pregnant this flavor of Honest Tea has only 71mg a bottle).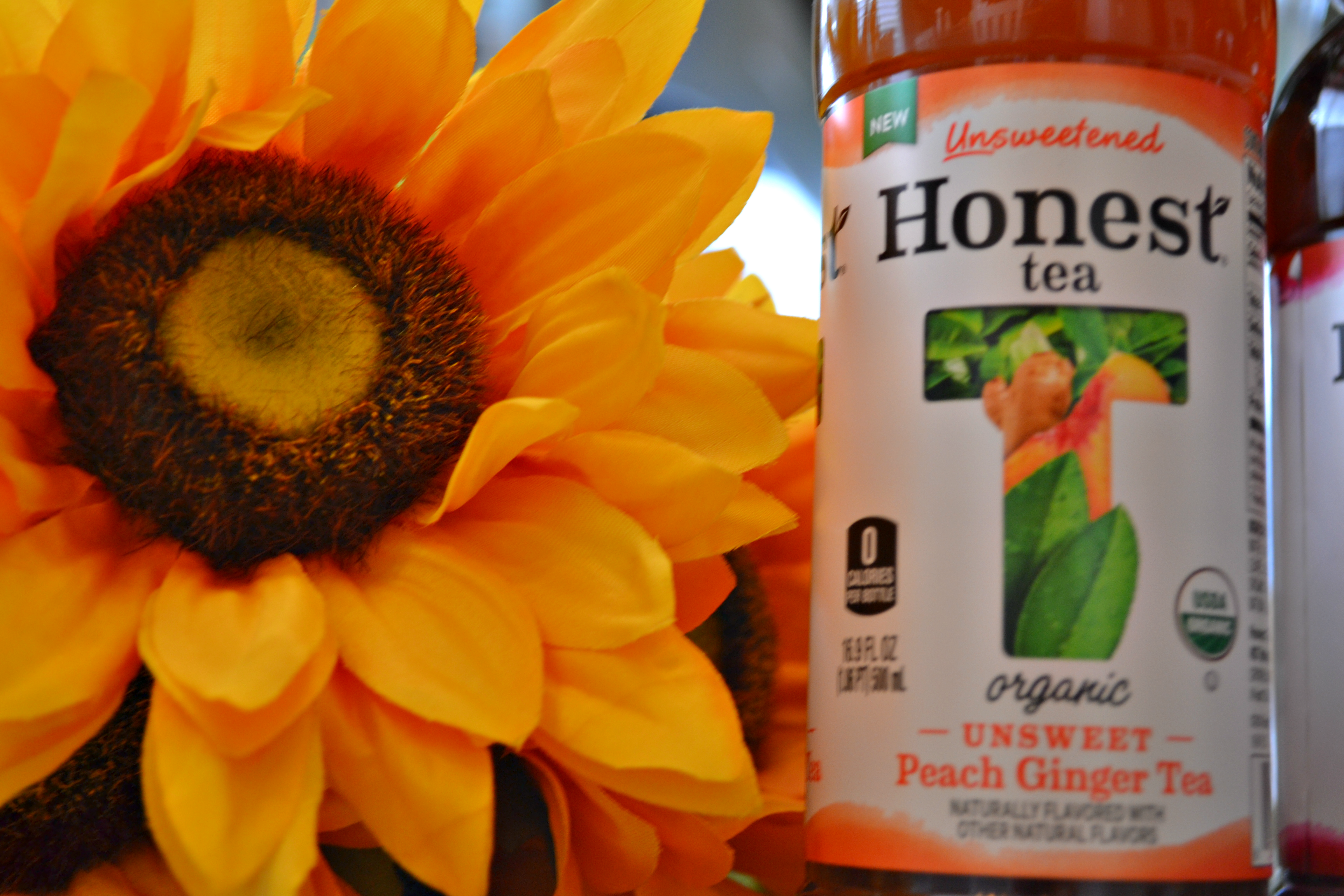 2nd Trimester: Hello hungry ALL THE TIME!
Continue eating everything from 1st trimester and add some high protein snacks! My current go-to is ….
Simple Truth Beef Jerky

! I've tried 4 flavors and love them! They keep me full, they're yummy and high in protein!!

Wheat snack crackers

Organic Protein shakes with 20g of protein or more!

Pita bread and hummus

Greek yogurt (High in protein which will keep you full longer!)

Oatmeal or granola to add to your yogurt

Cottage cheese with fruit on top

Honest Tea! An organic drink option with unsweet options and a truly

genuine brand! Honest Tea is real brewed with real ingredients. Something all moms can appreciate!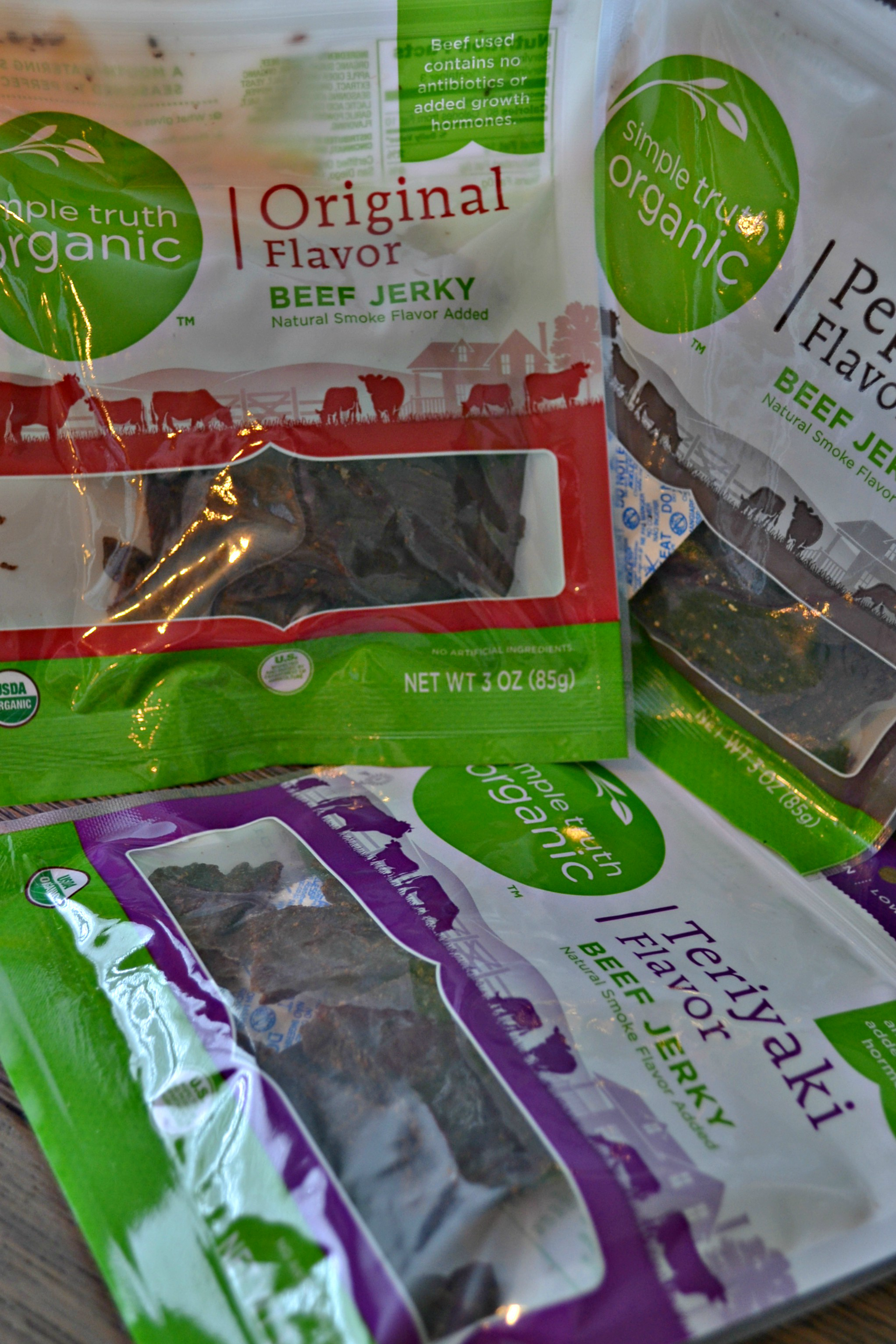 If you've noticed, I'm a big fan of Simple Truth brand from Kroger. Some Simple Truth products are organic (something I feel good about feeding myself and my new baby!) And if you didn't know, September was Organic Month! Yay organic foods!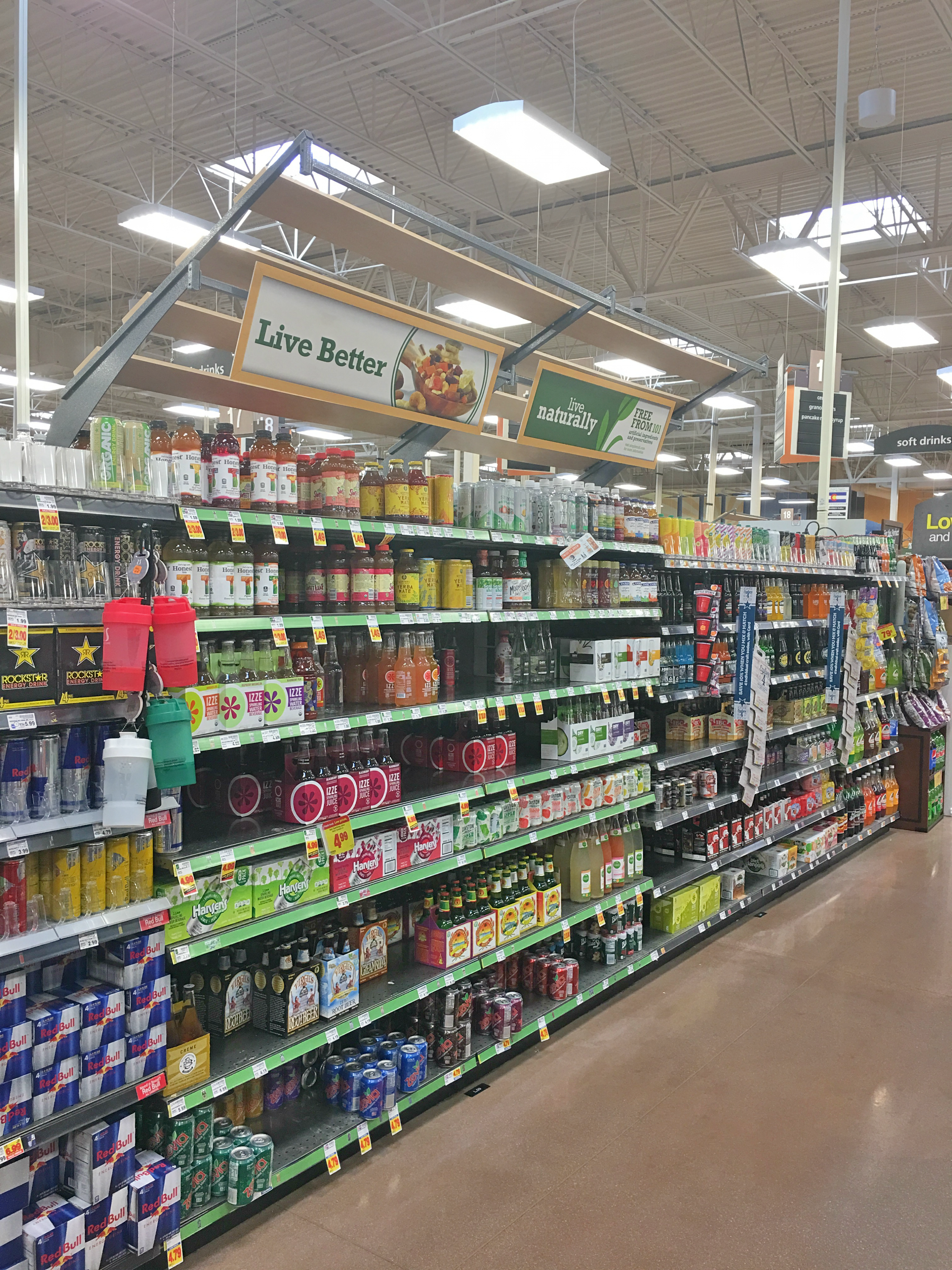 3rd Trimester: Welcome to squished organs….including your stomach. Eating a full meal is tough, mainly because your stomach is shoved under your armpit area and unable to fully expand like it used to. This is the trimester where you start snacking a lot! Lots of small meals and snacks will get you through. It's also the trimester when most women have the worst heartburn! Staying away from acidic and spicy foods will help! More helpful snacks during this trimester include:
Organic Fresh fruits and veggies

Applesauce (Simple truth also makes a yummy version)

Dark chocolate covered almonds! (chocolate with some added protein!)

Organic Protein bars

String cheese

English muffin with peanut butter
Loving this list but not sure you'll remember it all? You can download a quick list Here: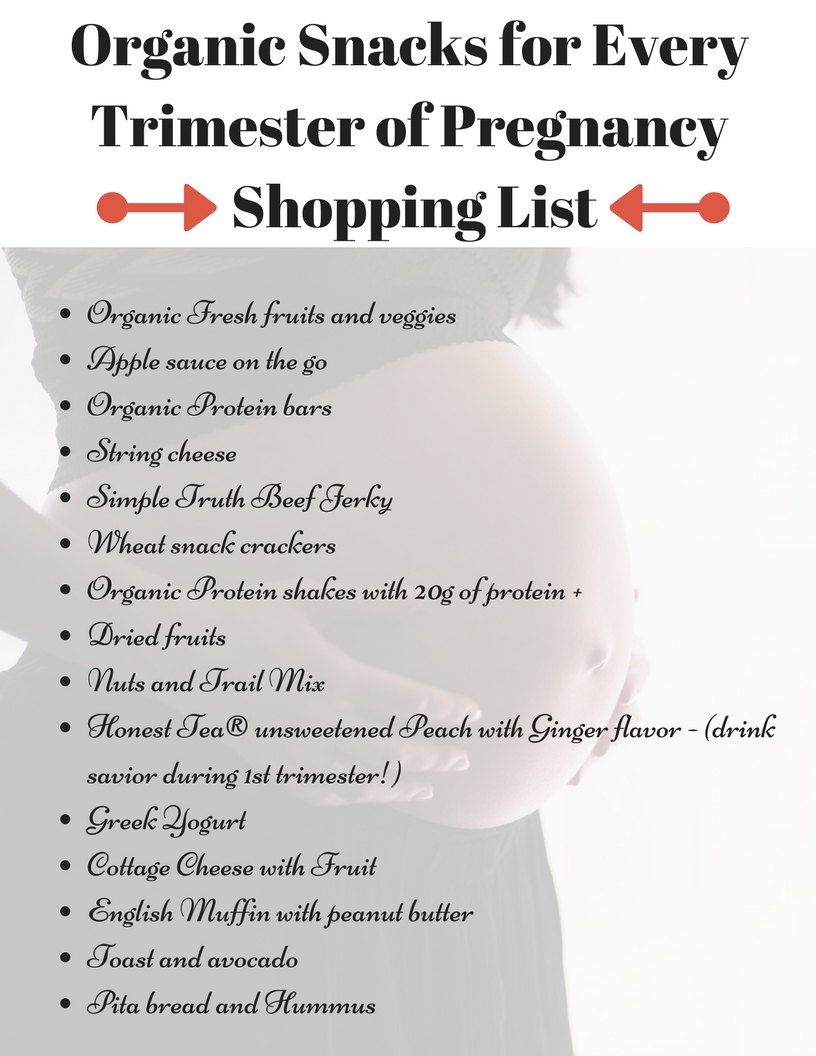 Want even more amazing recipes and inspiration? Check out all the great ideas here!