*Affiliate links are used in this post.
May flowers are blooming and my Stitch Fix box was a-dorable this month! Let me tell you…
Every month I have a rule. I ONLY keep one item from my Stitch Fix boxes. Every so often there's a perfect fix…everything fits. Everything is adorable and I want to keep it all.
OH and you can win a $150 Stitch Fix Gift Card below….just in time for Mother's day!
That was THIS fix!
Here's what I recieved in my 22nd Fix:
Dear John – Finnegan Cuffed Short
Just Black – Ethan Split Hem Skinny Jean
DIBA – Layna Metal Embellished Sandals
Renee C – Randal Split Back TOp
Loveapella – Atherton Lace Sleeve Knit Top
First up: Sandals!
Every summer I'm in need of a new pair of black sandals. I usually wear my summer pair too much and wear them down. So this summer I'm going to be waring the DIBA Layna sandals.
They are are super comfy and scrappy. I love them…so yes, I'm keeping them!
Also featured in the photo below are the Dear John Finnegan Cuffed Short. They're a fun summer yellow color and they're oh so soft! I'm not a summer shorts person because my legs are white as snow. BUT I may have room in my closet for theses. They're a keeper!
My stylist – Lauren, must know I like blue. Because everything she sends me in blue I keep. I love the LOVEAPPELLA brand, and the lace sleeves on this knit top are also adorable. You can dress it up or down. I'm wearing a small here, and the top is super long…so I was on the fence about keeping it. But I'd rather have a longer top then a tight short one, so it is what it is.
KEEPING!
Ok ladies, even though this post is all about my Stitch Fix box, I HAVE to share with you my favorite go-to jeans for summer and wedges. Both are comfy and both are affordable.
The Jeans are the destructed Boyfriend Jeans from Gap! Fit's like a glove!
And the wedges….they're from Target! They're the Merona Women's Janet Elastic Wedges. They're cute and comfy!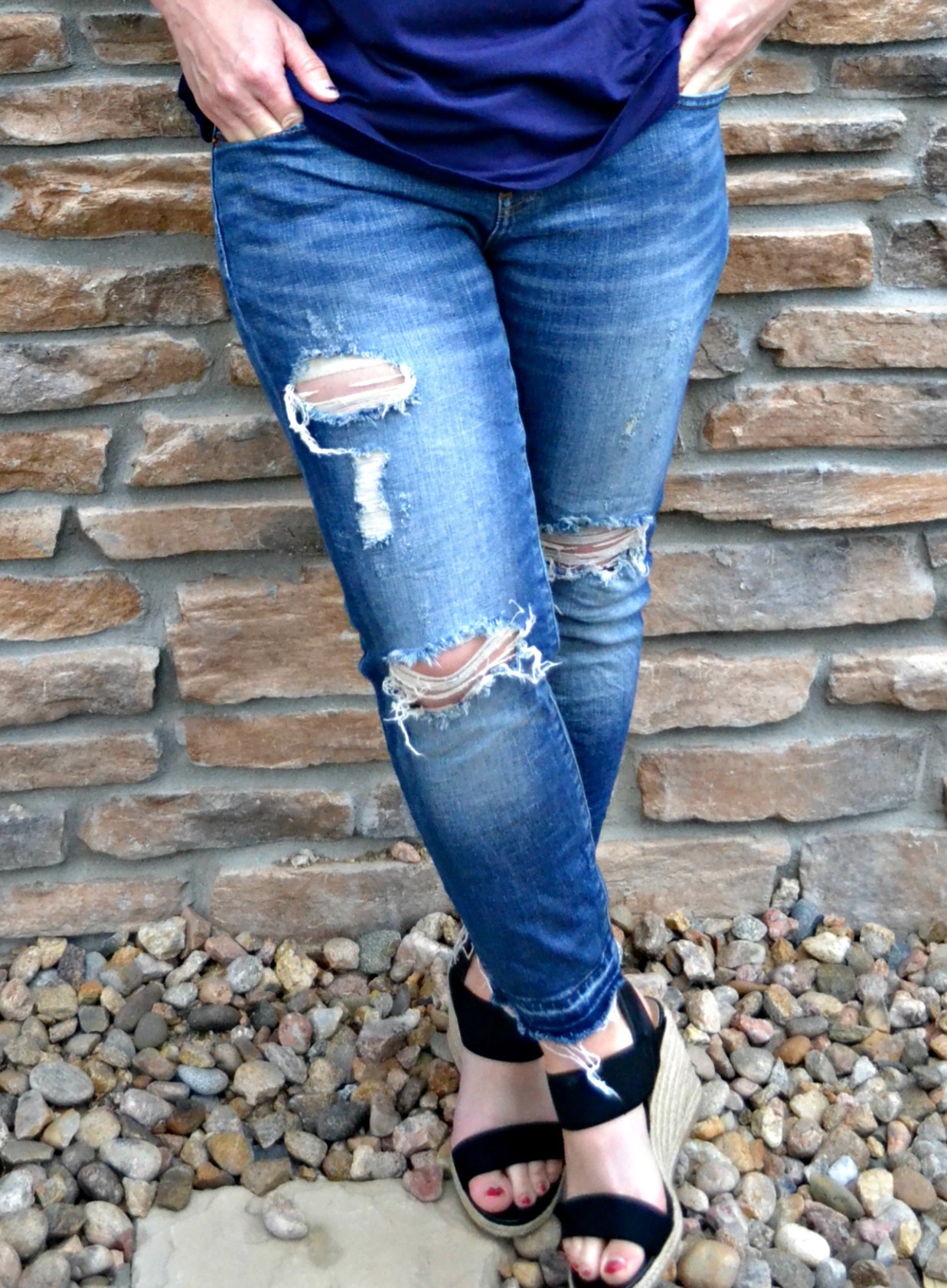 OK, now back to my Stitch Fix box 🙂
Next up are my new favorite capris! I'm short, 5'1″ and so even summer "capri's" fit me like ankle length pants. The Just Black Ethan Split Hem Skinny Jeans come in petite sizes! YAY!
As soon as I tried them on and saw they fit, I tore off the tags. That way I had to keep them! 🙂 (sorry hubby…but I needed them).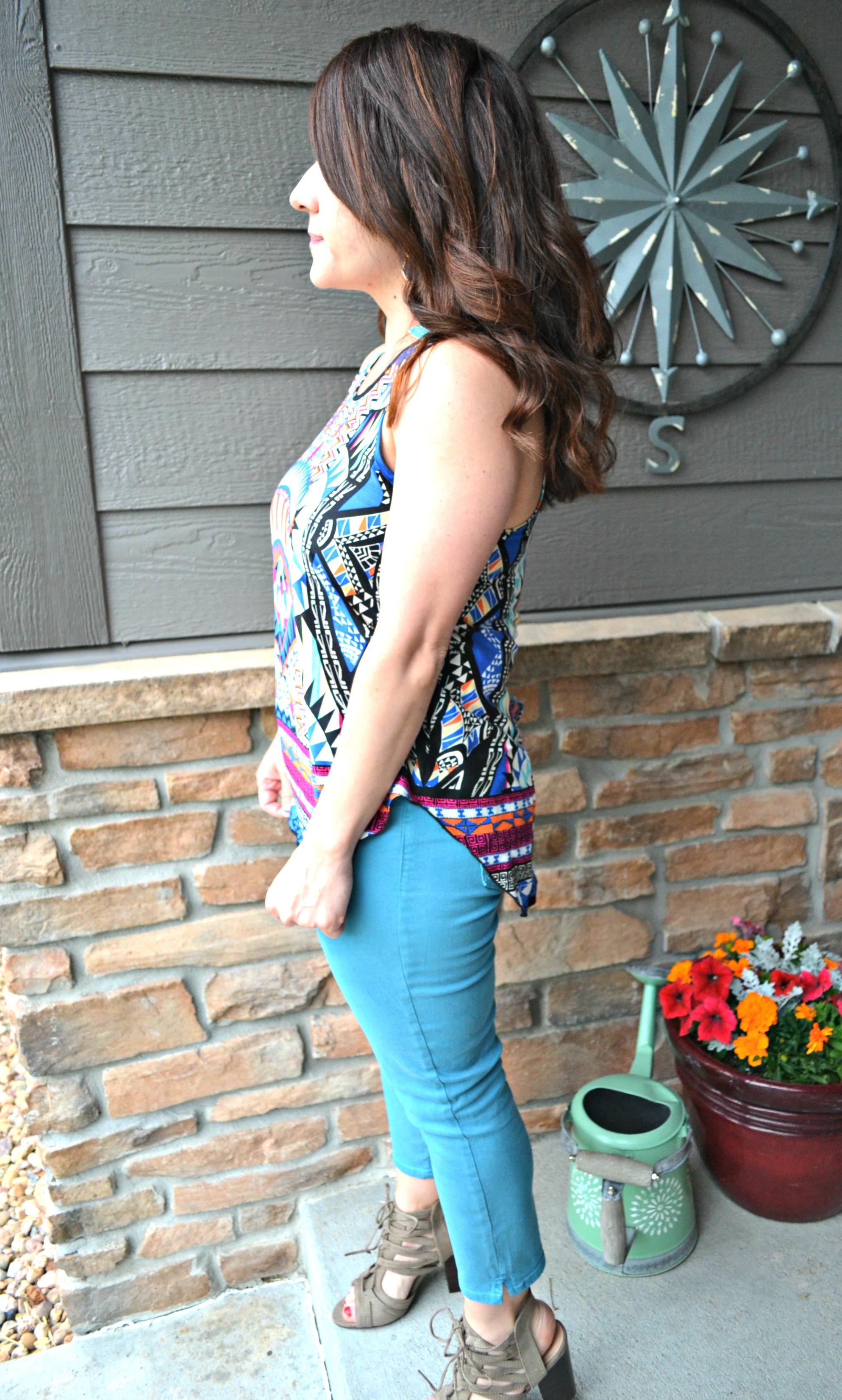 Shoes are from JustFab, and were only $39.99! They're called 'Nedala' and I have them in the Taupe color. They're super cute and comfy enough for a night out. Doubt I'd wear these all day…I'm more of a flats all day mom. 🙂 I just realized how relaxed I look here. lol. Fists clinched and shoulder up to my ears. HA. I'm a natural in front of the camera. I swear.
Also in this photo is my new favorite, bright tank top! The Randal Split Back Top from RENEE C.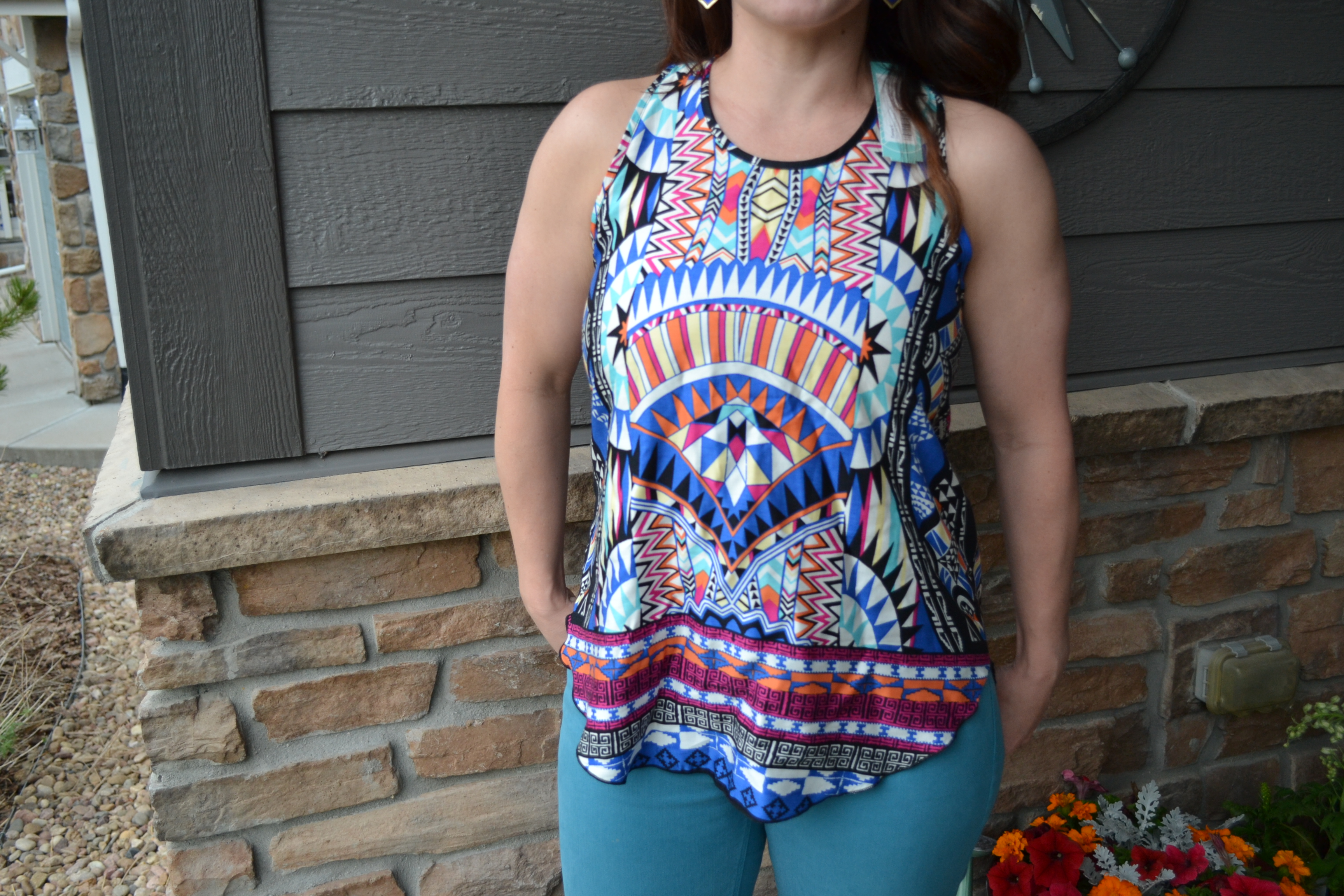 And here's the split back:
I love the material and the print! Such a cute top for work, going out or a day out shopping.
So from all of my descrptions, you probably guessed it, I kept it all! 🙂 Since I kept my whole box, I got 25% off! Not too bad, since I really needed some cute summer clothes. As always, I loved my Stitch Fix this month! You can sign up for your own box here. The cost is $20 for your styling fee, which is deducted from anything you keep! For me, it's a guarantee that I dress myself as well as my whole family each month! 🙂 (And stay up to date with all the latest styles).
NOW on to the Giveaway! You know the drill ladies, enter below…and good luck!
Be sure to check out the other fixes of some awesome bloggers that I've teamed up with for this giveaway: