It's the best day of the month…my Stitch Fix Box arrived!!! Hollllaaa. Earlier in the week my mom's box arrived, so I wrote a review on her box for women over 55 that want to try Stitch Fix. You'd think that would be satisfy my need to shop but oh no..it did not! 🙂
This month I asked for a bag, jeans and shirts. I requested one particular shirt that I knew I'd love. Thank you Pinterest!
Here's my review of my box, at the end of this post I'll explain Stitch Fix to you if you're not up to date with this amazing box!
Here's what came in my box:
And now for the pics.  (Disclaimer: My photographer is my husband…who thinks I shop online too much and is not a fan of my stitch fix obsession.  He was not excited to take my pictures, it shows in his poor photography angles and lighting! #hewillneverunderstand)
The BAG!  I asked for a bag and my stylist delivered.  I love the color of this bag…It's the Urban Expressions Marsha Bowler Satchel Bag.  I'm keeping this!  It's a cross body bag, I wanted a darker blue but I'm really liking this light blue now!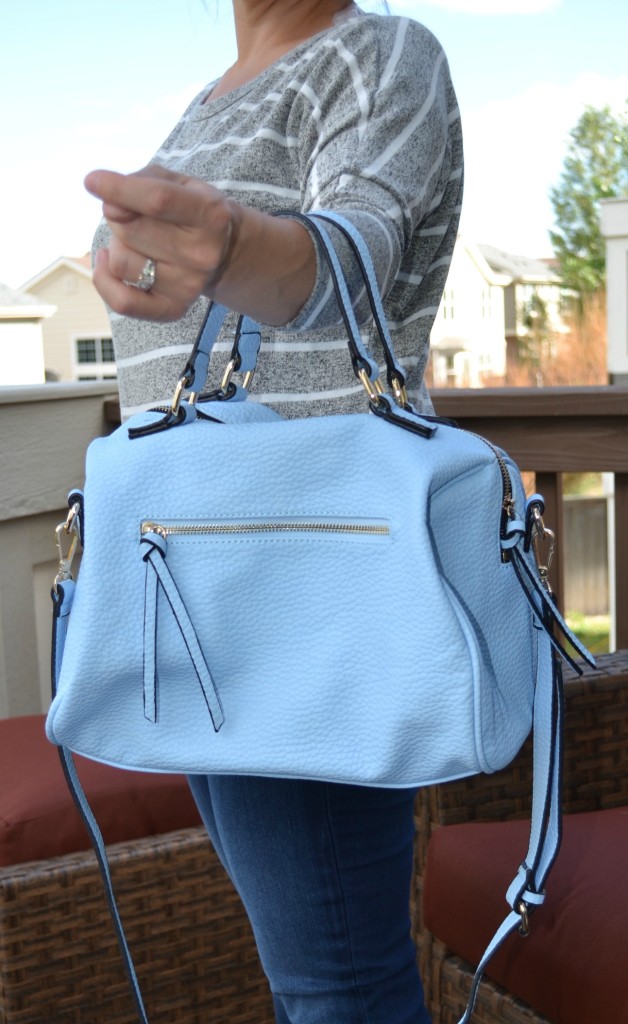 Next up – Collective Concepts Leeds Crochet Detail Top.  I LOVE this top, I just am not sure I love it on me.  I'm not a bright pink girl.  It's also in petite which I asked for.  It makes me look bloated…thanks boobs for ruining yet another top! 🙁
I know my stylist reads my notes and looks at my pinterest because of this top!  I asked for the most popular Stitch Fix items.  Then I pinned this top.  The Market & Spruce Corinna Striped Dolman Top.  Then it arrived! I LOVE this top.  It's super popular for a reason.  Flattering on any body type and super soft!  It's a keeper!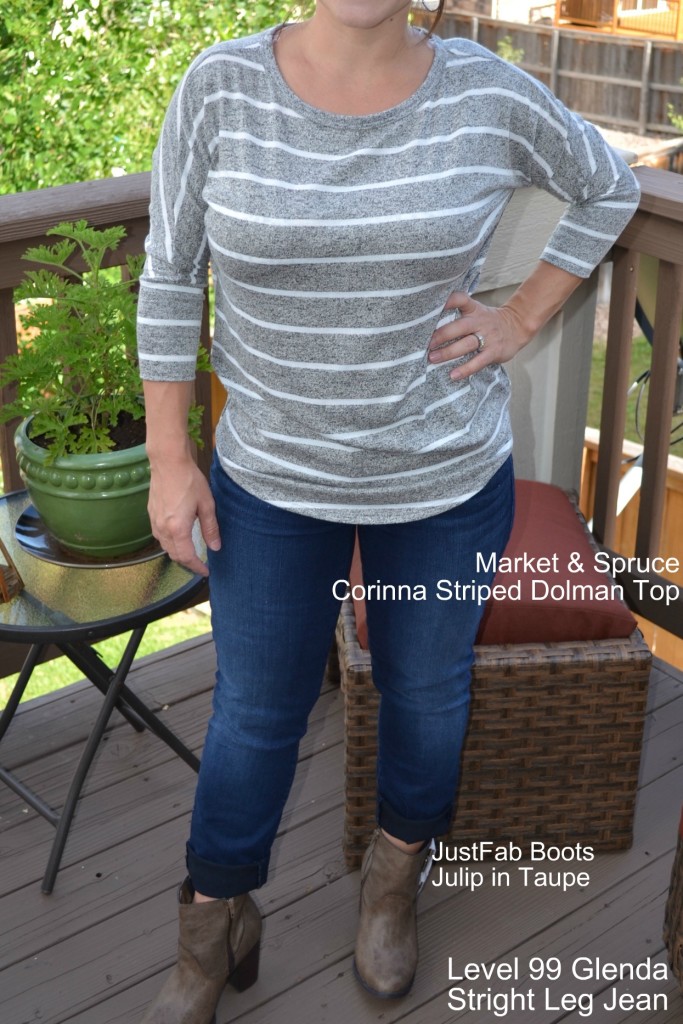 I am ALWAYS on the search for my next favorite pair of jeans.  Every month I ask for Jeans.  This jean, the Level 99 Glenda Straight Leg Jean (I have a typo in the pic! Oops) fit great! They're super soft and I can wear them rolled up or down with flats.  If I can convince my husband "Don't you have 5 pairs that look like that!!" I'm keeping them. 🙂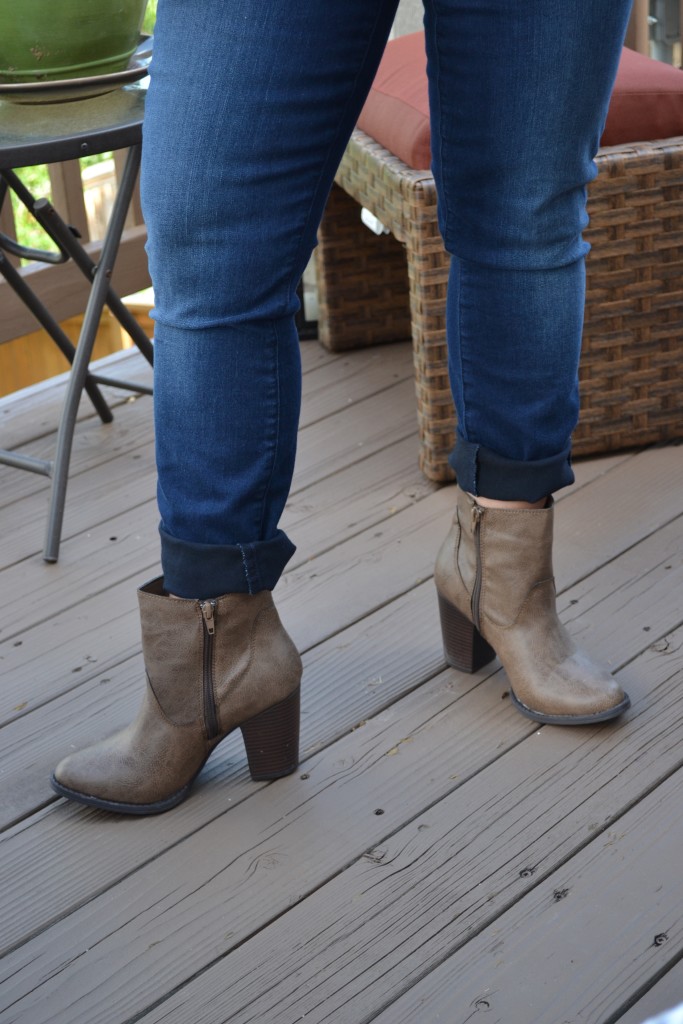 The SHOES also arrived today from JustFab.  I LOVE THEM!  They fit great and are just want I want for fall.  They're called the Julep Boots in Taupe color.
My last shirt I'm on the fence about.  It's the Crescent Eugenia Crochet Detail Top.  It's fun, but I'm not sure it's meeeeeee.  I'm debating but leaning towards no.  It's also a petite top which I like. What to do…what to do.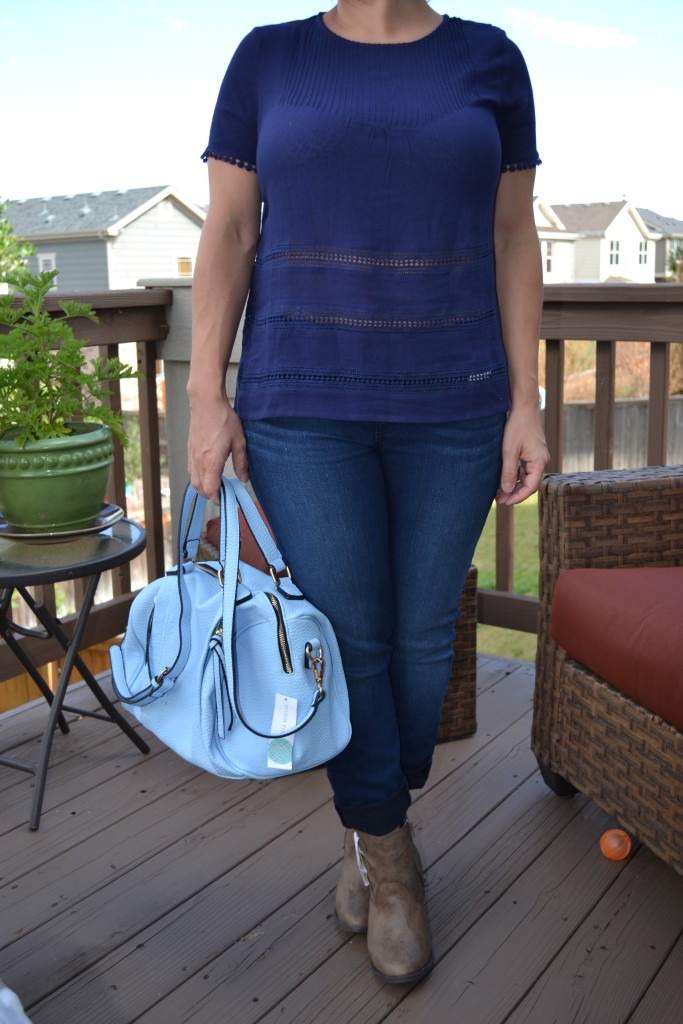 So that's my July Box!  I'm still super in love with this box.  I will continue my Stitch Fix obsession..you're welcome hubby.  Here's how it works:
What is Stitchfix?
It's a monthly box, with 5 fashion items (clothes or jewelry/accessories) that are hand picked by stylists.  The box is delivered each month, (on a day you choose)!
No time to shop or keep up with the latest fashions?  No problem…Stitch fix will pick out clothes and ship them to your house!
It's a mom's dream really.  My problem is I LOVE shopping, but in-store shopping has lost it's luster, because bringing two little kids shopping is more stressful than anything.  Which is why Stitch fix is a great fit for me!
You'll start out by taking a quiz on which fashion styles you Love, Like, Dislike (you get the idea).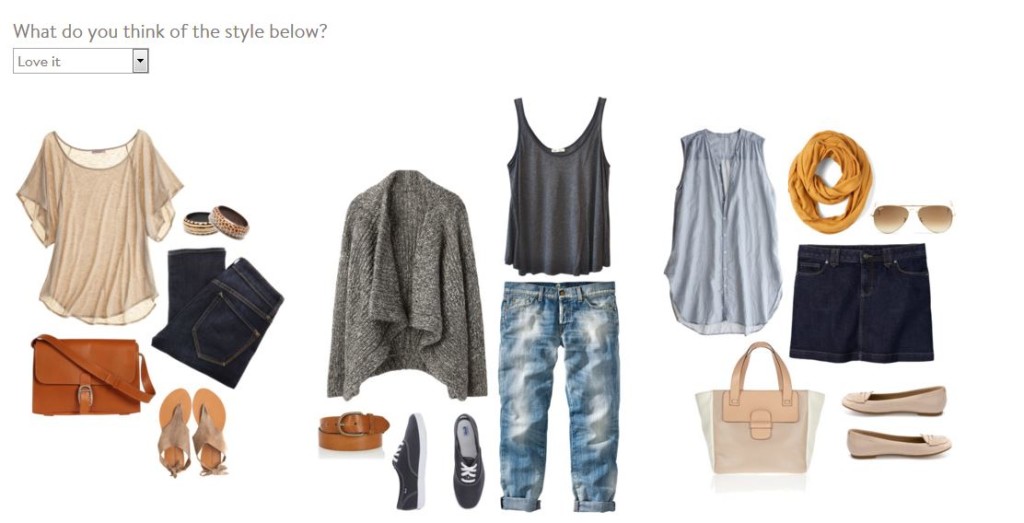 Then you'll answer questions about your own measurements so the stylists can send you clothes that fit! (Which so far has been great from my experience).  They also have petite options and maternity options! I WISH I would've known about this box when I was prego…it would've made clothes shopping so much more fun.  Then you select the day you'd like your first shipment and bam! Your first fix on the way!
Once you receive your box, you have 3 days to decide if you're going to keep an item or ship it back.  I suggest keeping at least one item in every box, so you don't lose your styling fee!
If you keep all 5 items, you get 25% off the entire box!!  (This makes everything more affordable for sure!)
How much is it?  You will pay $19 a month for a "styling fee" but the best part is that 'fee' will be credited toward any items in your box that you want to keep.
You can also refer your friends and family and get a $25 credit toward Stitch goods!
Disclaimer: I will get credit to Stitchfix to shop or get more boxes for every person I refer.   Thank you in advance if you sign up! 🙂
I hope you all love Stitchfix as much as I do…it's really exciting and I look forward to my August box!! 🙂