This shop has been compensated by Collective Bias, Inc. and Constellation Brands. All opinions are mine alone. The following content is intended for readers who are 21 or older. #CervezaCelebration #CollectiveBias
Every year at the beginning of May there's a celebration that I look forward to!
It's Cinco de Mayo!!!!
For our family, the tradition of Cinco de Mayo is one that is celebrated with homemade Mexican dishes, traditional Mexican drinks (like Modelo, Corona and Margaritas),spending time with family and friends and enjoying the warmer weather!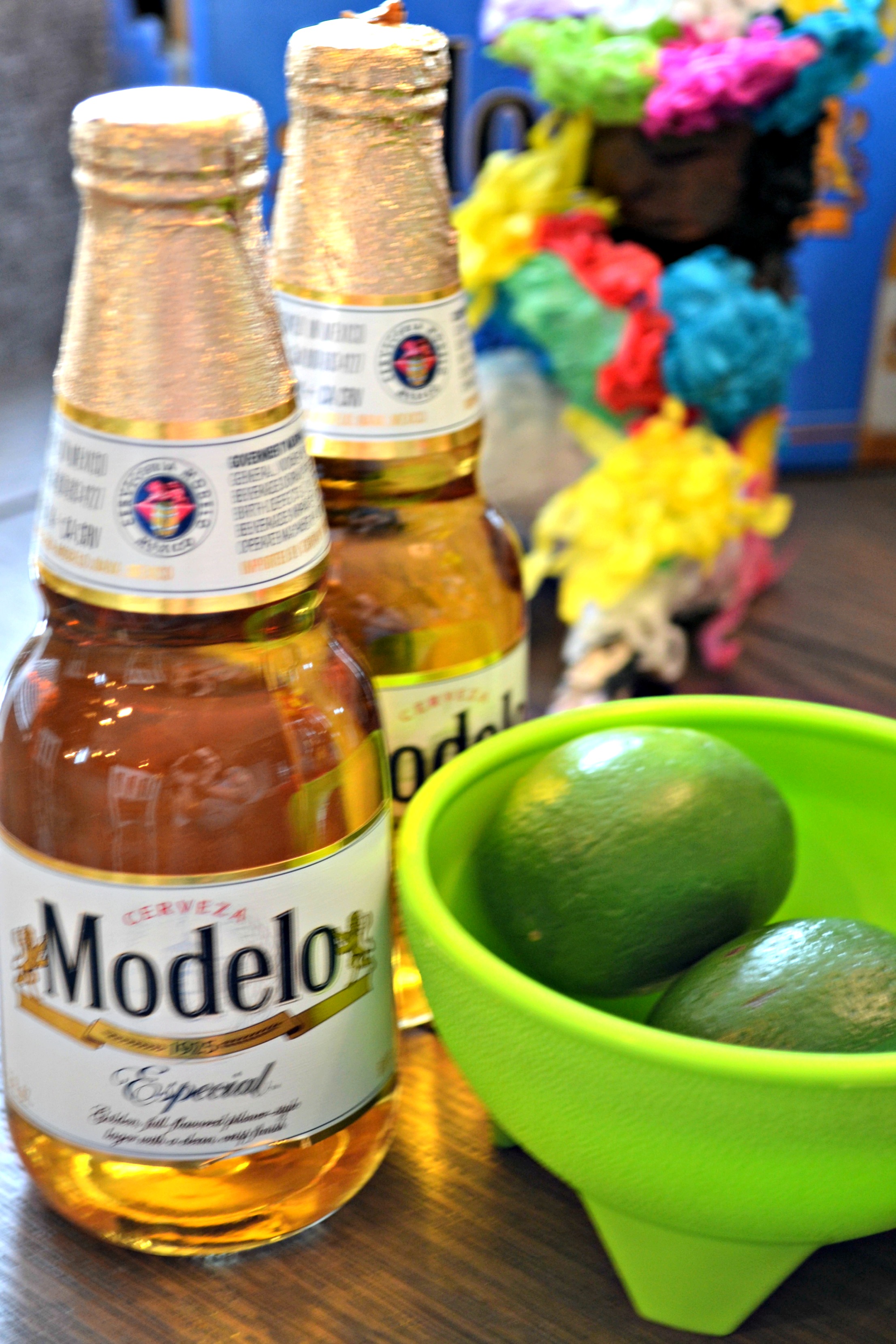 There are a few staples, so to speak, that MUST be at every Cinco de Mayo celebration. Those items are:
Corona Extra Cerveza

(Beer): I love the refreshingly smooth, clean and well balanced taste of Corona! It's our go-to beer all summer long!

Modelo Especial Beer

– With a well-balanced taste and light hop character with a crisp, Modelo has a orange blossom honey aroma with a hint of herb!

Margaritas or Corona-Ritas (not sure what those are? Keep reading).

Chicken Tacos on White! – YUMMY! (Recipe below).
Looking for some authentic Mexican food that will be sure to impress your guests at your very own fiesta? Great – because have the two very best recipes for you to ensure your "celebracion" is stress free and yummy!
CORONA-RITA HOW TO:
You might be wondering what a Corona-Rita is….well it's exactly what it sounds like. A margarita with a Corona placed upside down, inside the margarita glass! Fancy right!?

It's a fun way to serve a Margarita with a twist….or in this case – upside down.
Here's what you need:
1 cup lime juice

1 cup lemon juice

1/2 cup orange juice

1 cup sugar

2 1/2 cup water
DIRECTIONS
Combine all ingredients in a pitcher.
In a separate Margarita glass add:
2oz tequila

1oz orange liqueur
Garnish with lime.
Insert your Corona beer into the margarita glass before you pour your margarita mix! (Be sure to have a deep margarita glass so your beer does not tip the glass over). Pour the Margarita mixture after you insert the beer….otherwise you will overflow! I may or may not have already made this mistake for you. 🙂 #yourwelcome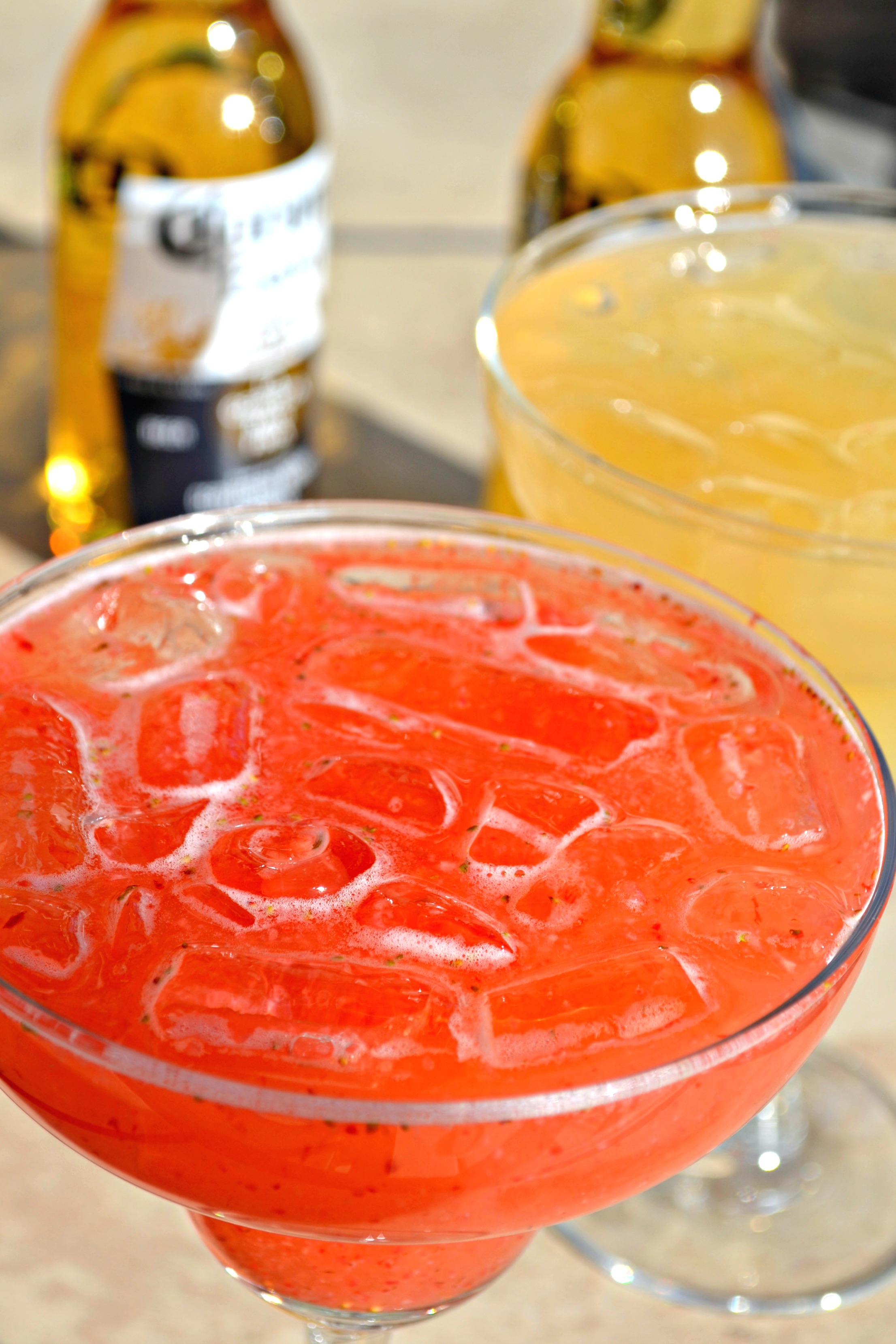 Optional: Add 1 tablespoon of freshly pureed fruit of your choice to the margarita (like strawberry). This will give you a delicious and fresh tasting margarita!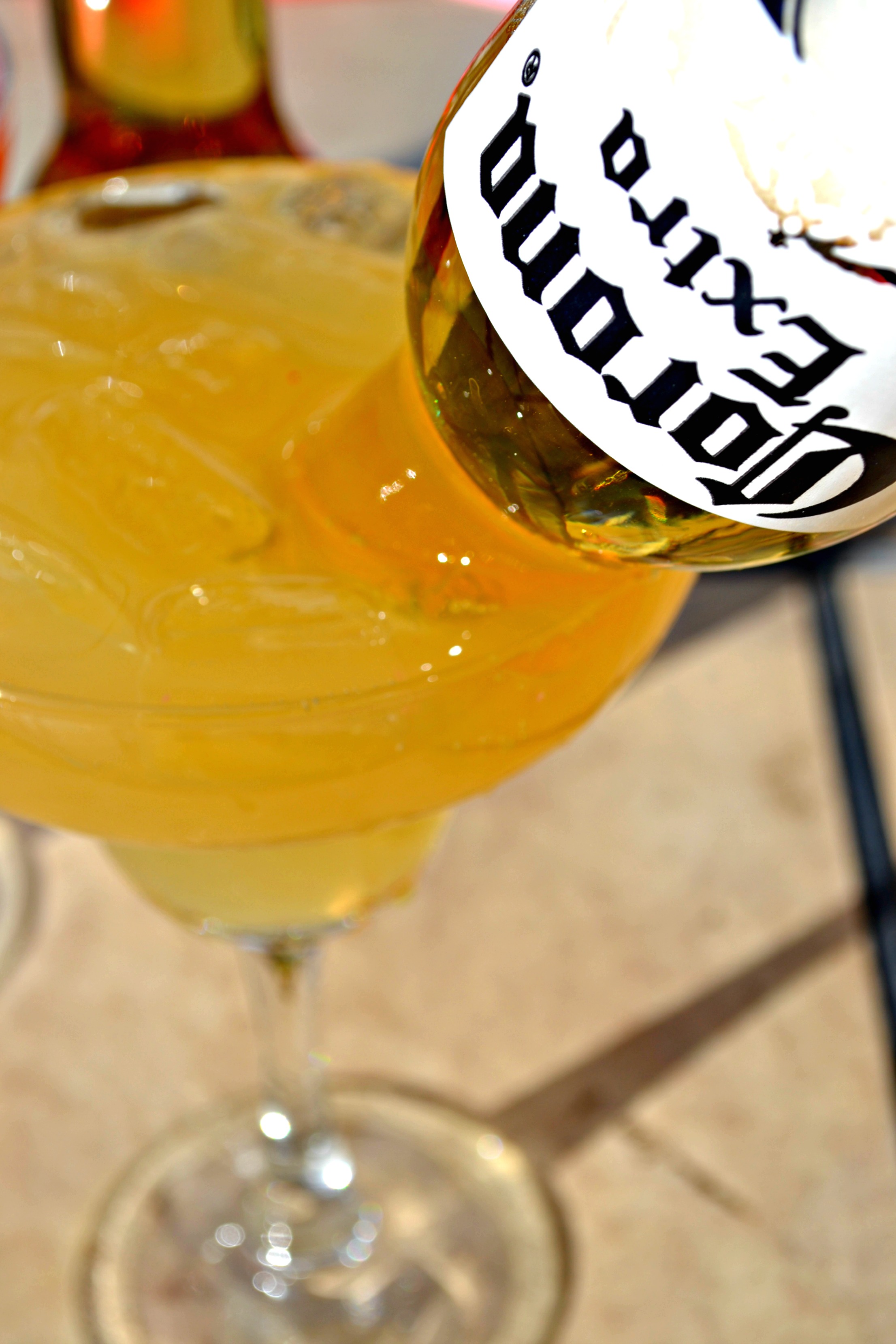 (Corona actually sells Corona clips to add to your drink to keep the Corona upside down. Just a tip!)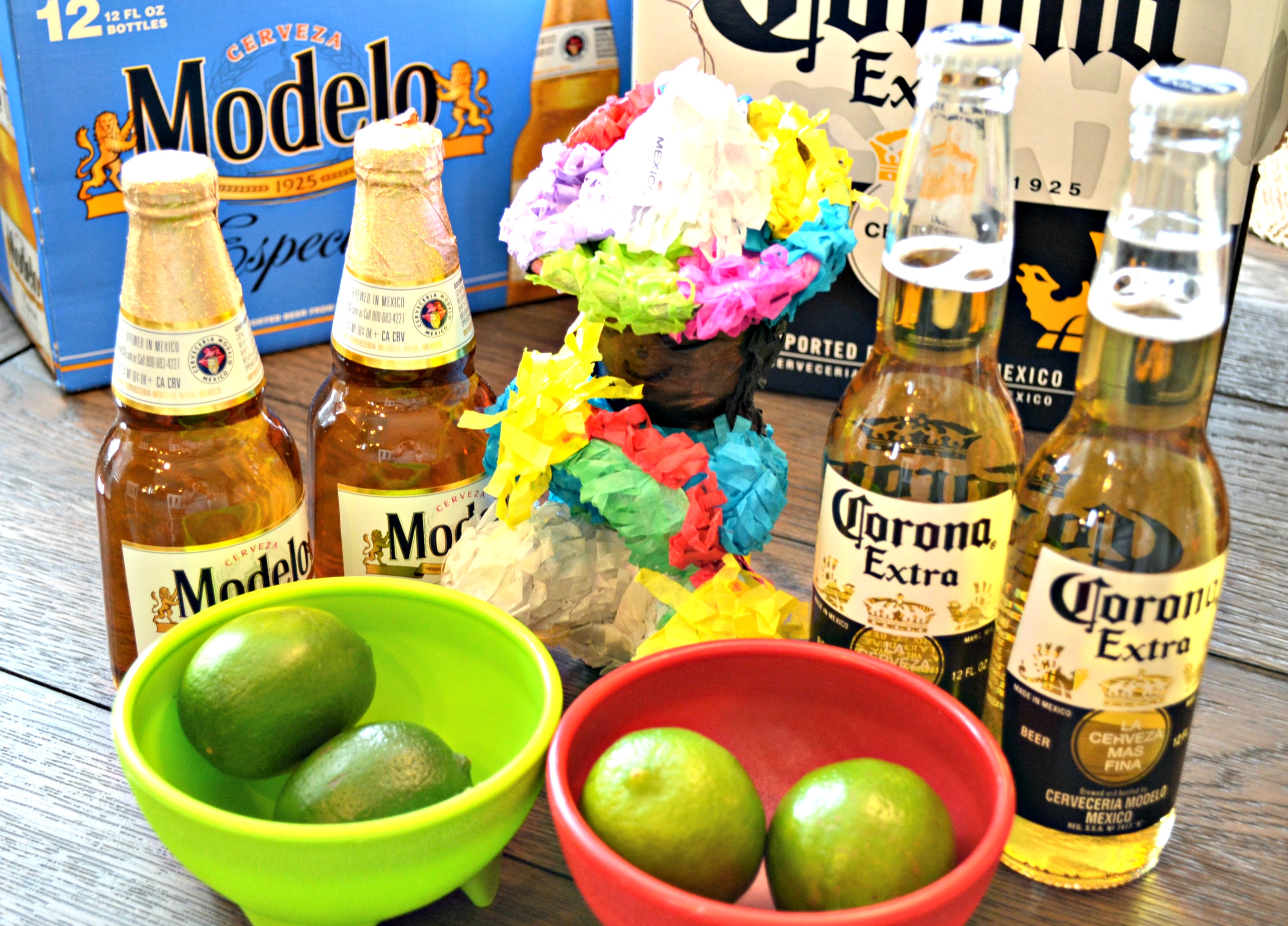 Now that your drinks are all planned out, it's time for the main course!

Chicken Tacos on White
Ahh nothing pairs better with beers and margaritas than tacos! One of the great things about tacos are the variety of ingredients you can use to make them. This recipe is going to be chicken tacos on fried flour tortillas using a slow cooker to cook the meat. You can substitute corn tortillas if you prefer, but the flour tortillas taste the best.
Chicken Taco Meat:
3-4 medium sized chicken breasts

1 32 oz. chicken stock (chicken broth works too)

2 Tbsp Garlic Powder

2 Tbsp Onion Powder

1 Tbsp Cumin

1 Tbsp Chili Powder

1 Tbsp Salt

1 Tbsp Black Pepper

1 tsp Paprika
Directions:
In a slow cooker place the chicken breasts in the pot. Apply all the seasonings to the chicken and pour in the chicken stock. Cook on low for 8 hours, or on high for 4 hours. Cooking the meat in the slow cooker makes it very tender and allows you to shred the chicken for the tacos. Once the chicken is done in the slow cooker you will finish it off in a pan to infuse all the seasonings.
Place the chicken breasts in a pan and pull the chicken apart using two forks or your hands. Once it is all shredded, pour all the broth and settled seasonings from the pot into the pan. Cook on medium heat. You are going to boil off and reduce the broth until it is gone. This will leave the chicken extremely juicy and infuse all of the seasonings into the chicken. Make sure you don't overcook the shredded chicken, it will dry out if you do. Once the broth is gone it is ready for tacos!.
Shells For Tacos:
½ cup oil (you can use any oil with a neutral flavor and a higher smoke point, I used coconut oil for this).
Additional oil as needed
6-8 flour tortillas. I used large size tortillas but you can use smaller ones too and make more tacos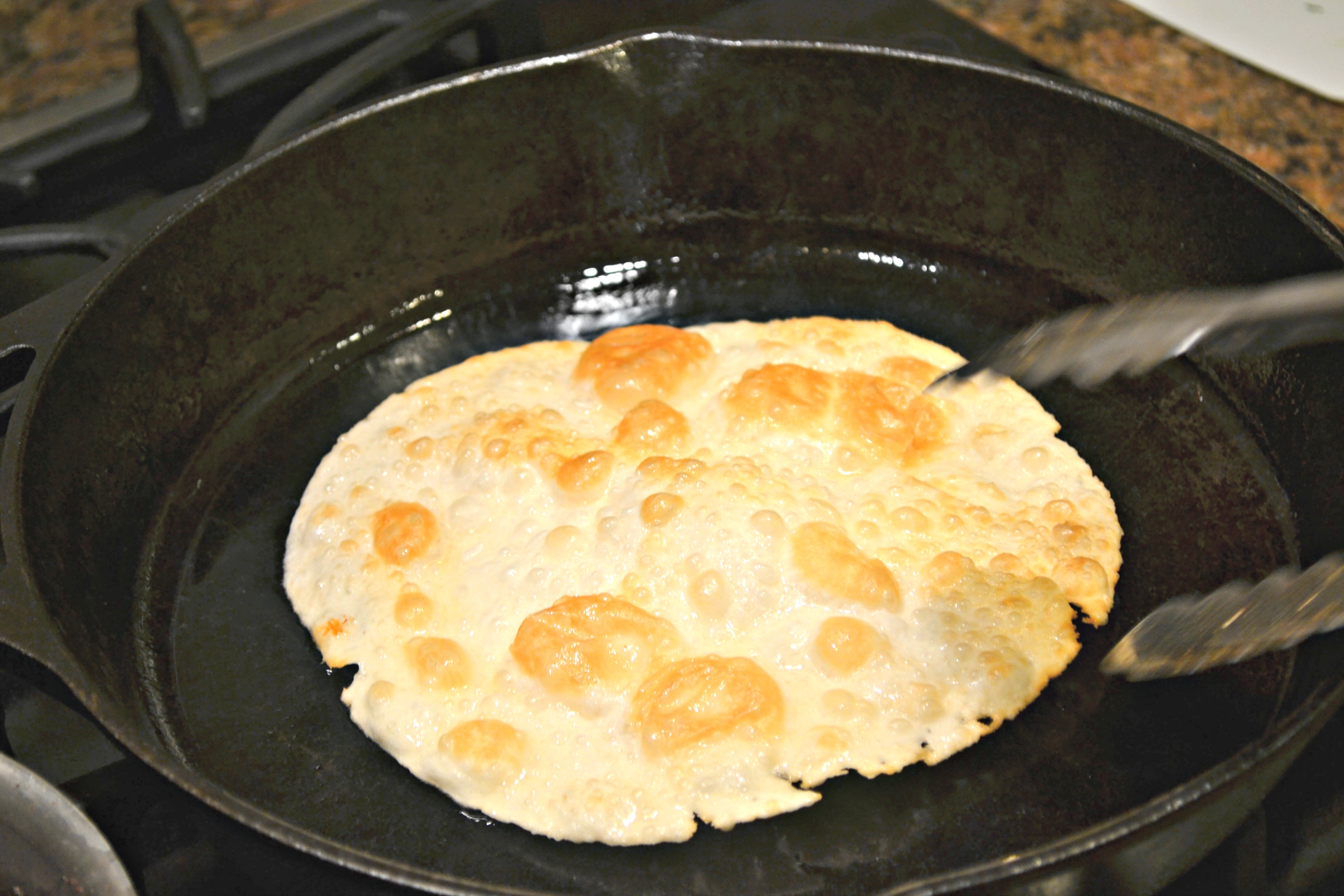 Cooling rack or pan with paper towels underneath.
In a pan (I prefer to use cast iron when I fry anything) add the oil and turn the stove on to medium heat. Once the oil is hot place the tortilla in and toast the first side until golden brown. Flip and then fold in half into a taco shell shape. You will then toast each side of the taco shell until they are golden brown. Place the cooked tortillas on the cooling rack or pan that has been lined with paper towels so that any excess oil will drain off. Continue this process until each tortilla is done.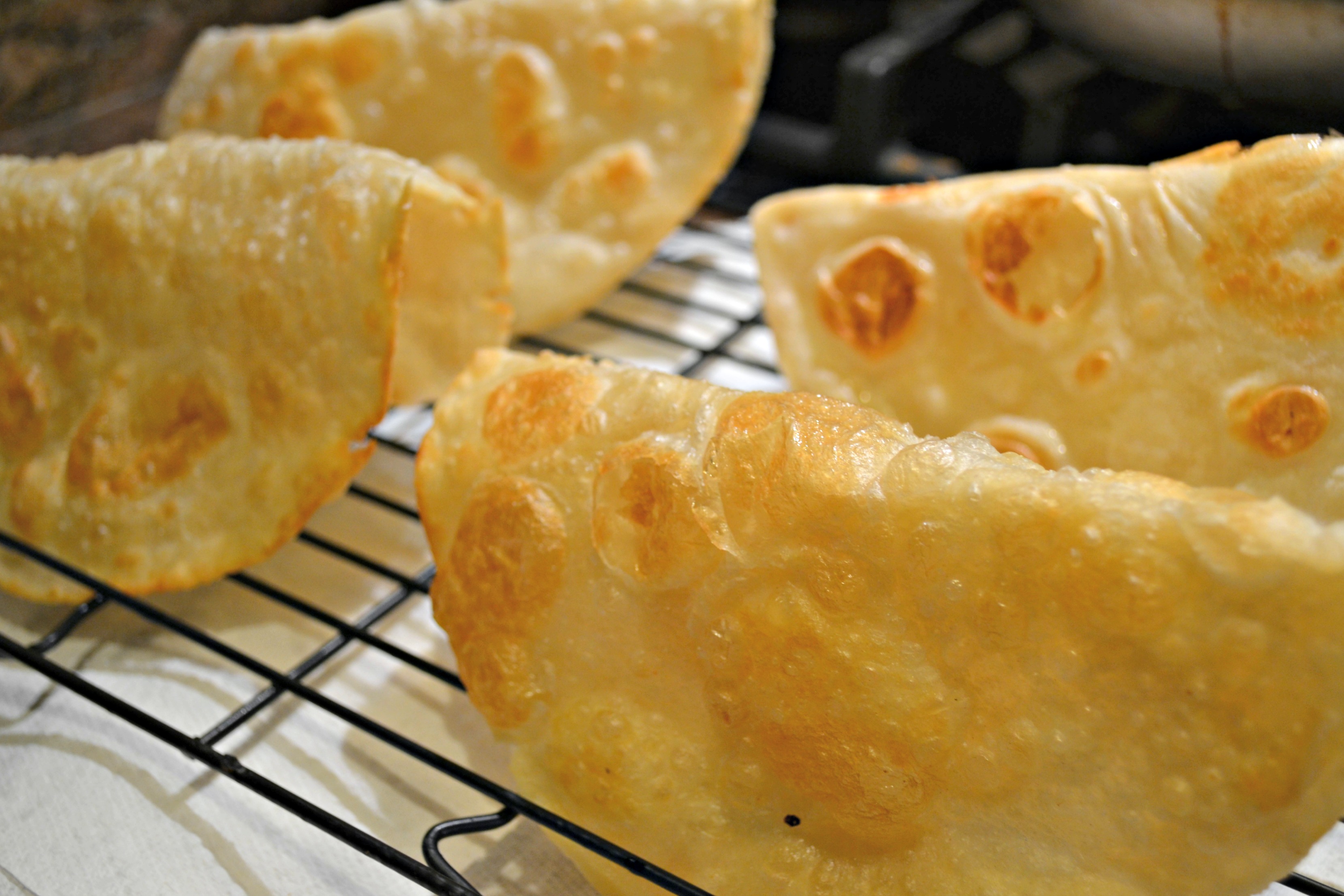 I cook the taco shells while the chicken stock is being reduced. (While sipping my drink…of course!)
Tacos:
Once the meat is done and the shells are done it's time to build tacos! Take a tortilla shell and place chicken inside. Add cheese and any toppings you like on your tacos. My favorites include sour cream, guacamole, onions, tomatoes, hot sauce, and salsa. Green chili also tastes delicious with the tacos.
The fried flour tortilla adds to the richness of the chicken and makes for an absolutely delicious pairing with Modelo or Corona drinks!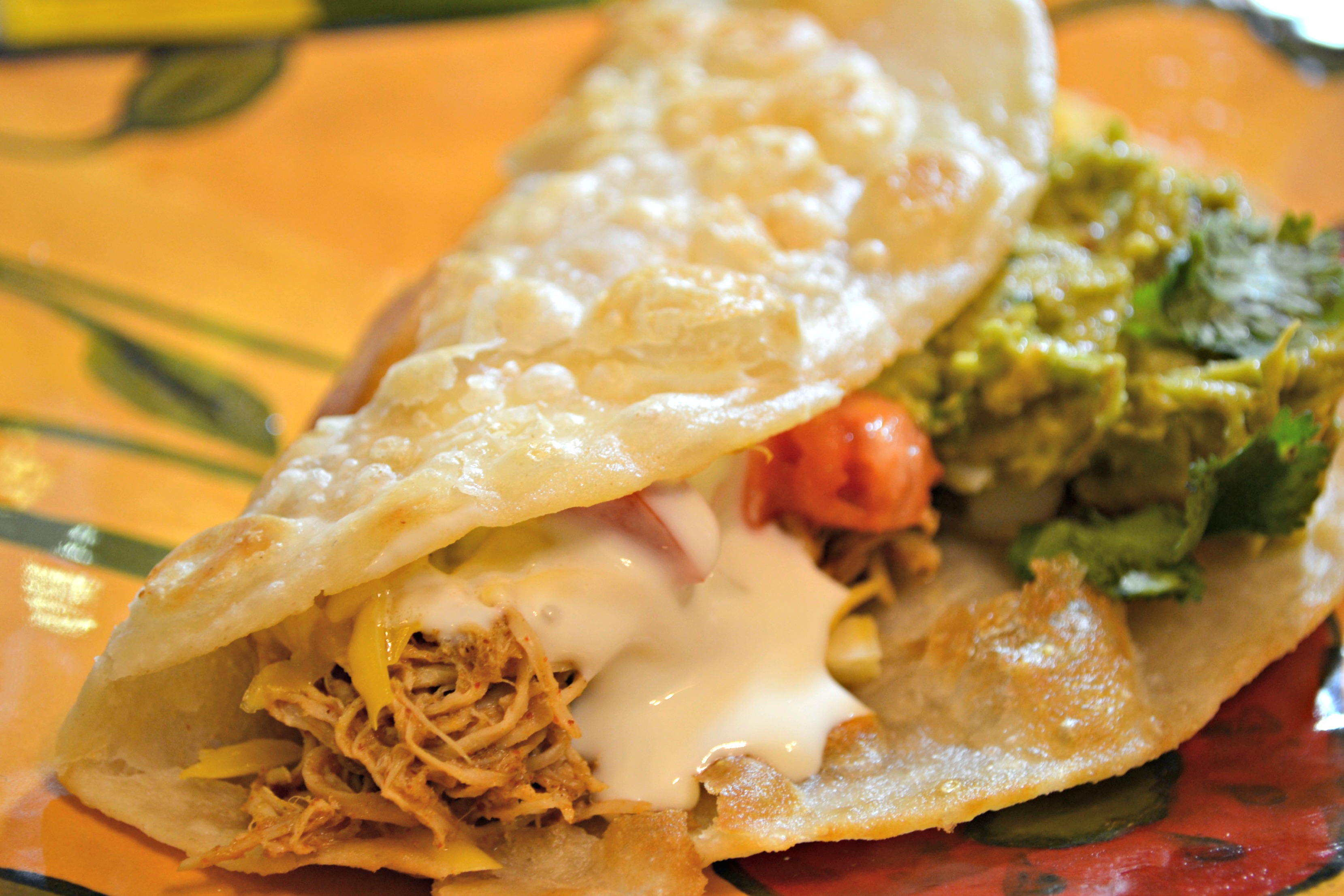 The final product is so very delicious!!!
In my hometown, "chicken tacos on white" is what we call them instead of chicken tacos on flour tortillas. They're one in the same, so call them what you would like! 🙂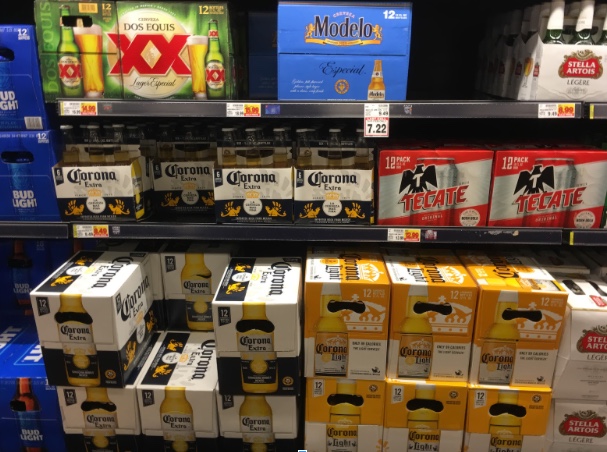 I hope you get to spend this Cinco de Mayo eating yummy foods, drinking Corona-ritas and spending time with family and friends!

Feliz Cinco de Mayo!