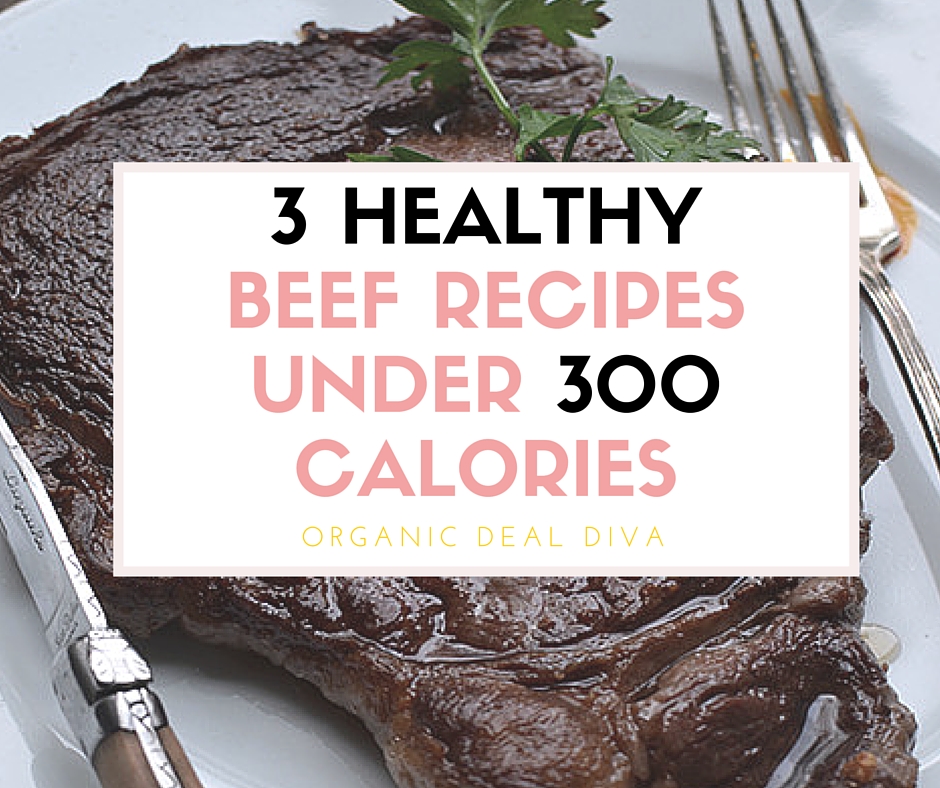 You've heard the claims that red meat can poorly impact your health, but did you know that certain types of beef can actually promote good health? The key is in the type of beef, and how it is prepared. Don't give up on your red meat cravings for concern over good health, and instead, try options like wagyu steak that taste utterly delicious and can positively impact your health.
Check out these three easy and healthy beef recipes, all under 300 calories.
Scrumptious Steaks with Pepper Sauce
You don't have to go to a steakhouse for a delicious and tender piece of meat, and you also don't have to eat all of your calories in just one sitting with this easy recipe. All you'll need is a tender cut of steak without the bone; popular choices include a New York strip or top round filet. The ideal thickness of your meat should be somewhere between 1 inch and 1 ½ inches. For the sauce, piquillo peppers will add a bit of sweetness to the savory dish, but these can be substituted with pimientos if needed.
Serving Size: 3 ounces of steak and 2 tablespoons of sauce
Calories per Serving: 239
Needed Ingredients:
2 Steaks
Olive Oil
Paprika – 1 tsp
Brown Sugar – ½ tsp
Salt – ½ tsp
Fresh Pepper – ½ tsp
1 Shallot, sliced thin
Garlic
Chopped Capers – 1 ½ tsp
Chopped Oregano – 1 tsp
Peppers – ½ cup
Dijon mustard – ½ tsp
Worcestershire sauce – ½ tsp
Season the steaks with 1 tsp olive oil. Add a mixture of the brown sugar, paprika, salt, and pepper to cover the steaks. Let rest at room temperature for 40 minutes.
For the sauce, heat 2 tbsp. of olive oil over medium heat. Add the shallots, capers, and garlic, stirring for about two minutes. Add the oregano, peppers, Worcestershire sauce, and Dijon mustard until blended. Cover and let simmer for 20 minutes.
To cook the states, heat a pan (preferably cast iron) and sear both steaks for 3 minutes per side. Continue cooking and turning the meat until you've reached the desired temperature. Coat in sauce and serve.
Miso Steak
For a Japanese take on steak dishes, marinating your meat in miso can be a delicious and simple way to prepare a meal. Thinner steaks and flank steaks are great to soften up and come alive with this easy marinade.
Serving Size: 3 ½ oz. steak
Calories per Serving: 239
Needed Ingredients:
Steak
Sake – 1/3 cup
Mirin – ¼ cup (note: this can be replaced by sherry or a sweet white wine)
Soy sauce – 1 tbsp
Minced ginger – 1 tsp
Sugar – 1 tsp
White miso – 2 tbsp
Peanut oil – 1 tbsp
Bring sake, mirin, ginger, soy sauce, and sugar to a boil. Once boiling, remove and slowly whisk in the miso until it dissolves. Once the mixture cools, marinate the steak in it for at least two hours.
Before cooking, remove the meat from the marinade about 40 minutes before. Preheat a grill or broiler, and cook about 3 to 6 minutes for each side, depending on desired temperature. Let the meat rest before serving.
Steak Salad
Adding your beef to a salad is a great way to keep your portions contained. This easy to make salad enhances your greens and veggies with some deliciously tender meat. Replace any of the ingredients with your favorites and this can be a healthy meal that can be made in a snap.
Serving Size: 1 2/3 cups
Calories per Serving: 255
Needed Ingredients:
Steaks
Chopped thyme – 1 tsp
Salt – ¼ tsp
Fresh pepper
2 Lemons
Chopped chives – 1 tbsp
Olive oil – 1 tbsp
Dijon mustard – ½ tsp
Baby arugula or spinach – 4 cups
Fresh parmigiano cheese – ¼ cup
Rub the thyme, salt, and pepper into steaks and cook over medium-high heat for 4 minutes per side. Remove steaks and set aside. Add halved lemon to pan and cook for 3 minutes. Mix pepper, chives, olive oil, and mustard until combined. Toss over arugula or greens. Add steak and lemon to arugula, and then top with cheese.