I'm not one to EVER post a photo of myself in a bikini. I'm just going to put that out there to start this post.  This type of post actually makes me feel super self conscious but this post is different.  This post makes me excited to share with you all something that is changing my body, health, and overall fitness level!  Did I mention it only took 21 days?  Yep. It did.  I have the results to prove it.
The pictures, mainly of my mid-section speak for themselves!  (Scroll to the bottom if you want to see the pictures now…otherwise read on to my review!).
I had been seeing a ton on Pinterest about the 21 Day Fix.  I saw the results others were having and I thought, "I can do this…I can do most anything for 21 days".  Little did I know that's also Autumn, the trainer in the videos, that's her motto too.  It was meant to be.  🙂
I ordered the 21 Day Fix Extreme version of the program because the workouts are supposed to be a little harder.  I wanted a program that is going to push me for more then 21 days and this seemed like a good place to start. I also liked that this program came with meal portion control containers.  These containers are part of the "diet", which really is just teaching you how much you should be eating.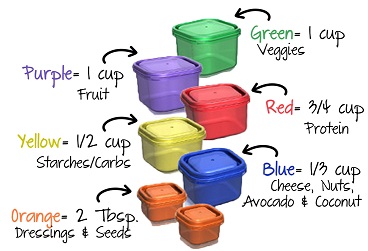 The package came within a few days and had the DVD, the portion control containers and a few guides. I was excited to start.  The holidays had done some damage and it was time for that damage to be undone!
THE DIET
The diet is easy to follow, but I'm going to admit right now, I only stuck to the diet for 7 of the 21 days.   I'm not a diet person, but my body needed a 'reset' so to speak, so the diet was a good place to start.  Within the first 3 days I was already seeing results on the 21 day fix diet.
I drank an Aloha shake every morning.  I did not order the Mixology shakes that Beachbody sells because I have a protein shake that is organic and yummy…and it's 1/3 of the price of Shakeology.
For a snack I usually ate two hard boiled eggs.
For lunch I ate a salad with tuna
For a snack I had a veggie or fruit
For dinner I usually ate one of the meals in the guide.
I drank a ton of water and I realized how much I was overeating thanks to the portion control containers.  Even when I was eating healthy, I was eating too much!  This was a huge awakening within the first few days.
Pros of the diet: It works…and fast!  I felt great and within 3 days my sugar cravings started to go away.
Cons of the diet: It's a diet and you're limited on your options.  I lasted 7 days mainly because I missed my coffee every morning.  (Note you can have black coffee but I drink a little coffee and a lot of creamer! :))
You'll get a recipe guide to go along with the portion control containers.  It really is very easy, I just wanted to show myself how much I'm overeating!
What I learned from the diet is to eat smaller portions, and eat treats rarely!  (Instead of daily like I was).
The last two weeks of the diet was the AFC division playoff and the Super Bowl…It was impossible to not cheat on those days since my home team won!  Go Broncos!  Regardless, I ate much better the weeks after and have continued to make much better food choices.  Overall the diet was a big eye opener and the results would be even more amazing if you suck to it the full 21 days!
THE WORKOUTS
The workouts are all 30 minutes, except the 10 minute ab workouts on each disc.  (You'll get two discs with 7 full body workouts and 2 ab workouts).
Day 1: Plyo Fix Extreme. An explosive lower-body workout that uses jumping and resistance to torch calories and sculpt muscles.   This workout is no joke.  If you follow my instagram you would've seen my first day post.  I almost puked 15 minutes in thanks to the lower calories and extreme Plyo workout!  I ended up in the shower trying to hold it together.  By week 2 I was able to get though a full 22 minutes!  By week 3 I was able to do the entire workout with no modification! YAY results!!
Day 2: Upper Fix Extreme. By alternating opposing muscle groups, this no-rest upper-body workout will help shred your chest, back, shoulders, and arms. This workout didn't make me as tired as the others…mainly because I feel I have decent upper body strength.  Again week 1 I was able to do most but shortened some reps.  By week 3 I was able to do the full 30 minutes.
Day 3: Pilates Fix Extreme. Using a resistance band for every exercise, this intense mat workout works the entire body, placing emphasis on the core.  This is one of my favorite workouts!  By day 3 your whole body hurts!  This is a great abdominal workout and a great way to stretch out some of those tight muscles!  A much needed day 3!
Day 4: Lower Fix Extreme. Glutes, quads, hamstrings, and calves will get stronger, leaner, and more defined with challenging resistance work.  Leg day is no joke.  It's also amazing and my results, even though my pictures don't show as much, are great.  My legs feel and look strong!  Cellulite be gone! 🙂
Day 5: Cardio Fix Extreme. Combining weighted cardio moves with traditional metabolic training intervals keeps your heart rate soaring. Ugh.  I hate cardio in general.  I'd rather run then do this DVD but for 3 weeks I did it.  Don't get me wrong it's great…I just loathe cardio!
Day 6: Yoga Fix Extreme. A fast-paced flow yoga class, combining strength, balance, flexibility, and power. LOVE this yoga routine!  It's a 30 minutes of fast and effective yoga.  My kids would always join in to try out baby and toddler yoga on yoga days.  And again a much needed stretch!
Day 7: Dirty 30.  A fast paced full body workout that will leave you feeling amazing the next day! It's a down and dirty workout featuring seven compound moves that target multiple muscle groups simultaneously, to help you develop integrated strength and incredible definition. Out of all of the workouts, I feel this one does the most sculpting work.  My entire body is sore the day after this DVD but it feels great!  And just look at the results!
My midsection has never rebounded from having two huge children in the past 4 years.  (8# 12 oz and 9# 5oz were my kids sizes.  I'm 5'1 so they are some HUGE babies for my size).  This program has began to shape my midsection again!  I AM SO very excited about that.  I have a waist line again!!  And it was only 30 minutes a day!
No driving to the gym.
No 2 hour workouts!
And here's the pictures to prove the this really does work!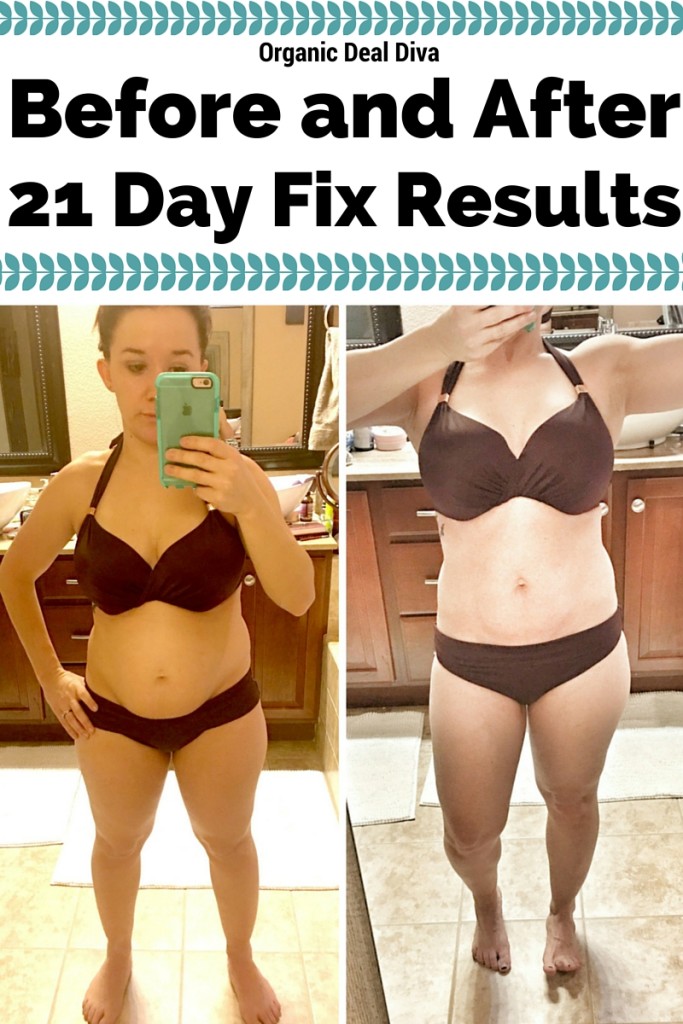 Here's the back-side images. The HUGE difference is again my midsection.  What a difference in just 3 weeks!  I'm so excited about the changes in my body in such a short time.  21 days, 30 minutes a day!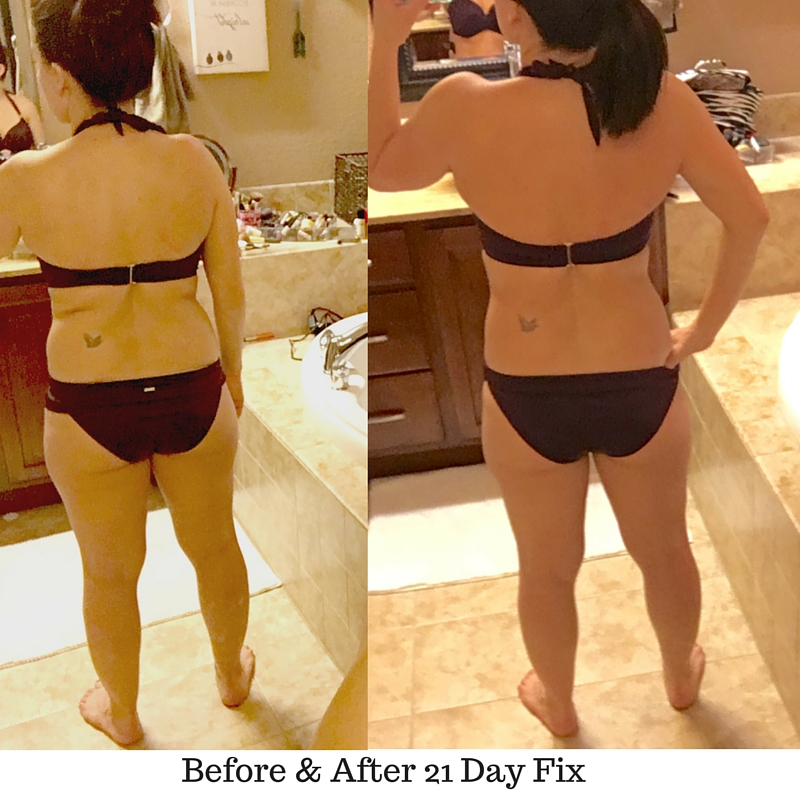 Try the entire program—the full 21 days—and if you don't get the results you want, simply send it back within 30 days for a full refund of the purchase price (less s&h). Think about that. You don't have to wonder if 21 Day Fix EXTREME is going to work. You get to finish the program and then decide if you want to keep it. That's how convinced they are that you're going to love your results.  This guarantee is a HUGE reason I tried.  I had nothing to lose but the weight!
MY RESULTS
My total weight loss: 4lbs in 21 days or 5.5% of my total body weight!
  Inches lost:  ? I didn't take the time but I wish I would've!  The pictures speak for themselves.
If you're looking for a program to jump start your weight loss or build some muscle…I highly recommend the 21 Day Fix!  I'm currently on day 2 of my second round!  I can't wait to see more changes in my body and even more results! 🙂
Are you going to do the 21Day Fix? Follow me on Instagram and tag me in your pictures! I'd love to see your results!