In December I turned 35.  That was 5 months ago and today, I can actually say my eyes are looking better.  There are no affiliate links in this post…I really wanted to share with all the other 35+ ladies out there an amazing product that has helped my eyes to recover…from looking OLD.
It was the end of January and we were having a party for the Super Bowl playoffs.  I took a photo of myself and immediately saw nothing in the photo but my bags and circles under my eyes.  Look…I even have makeup on!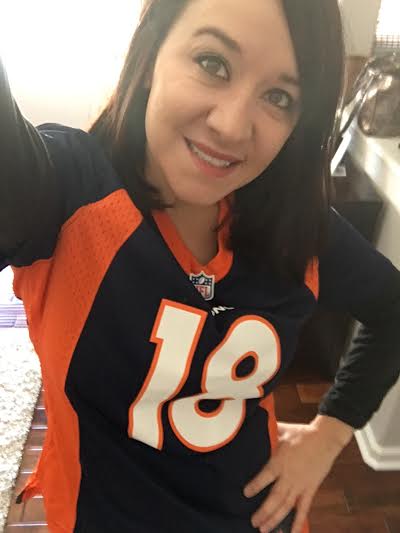 I immediately went into the bathroom to examine my face.  OMG!  My eyes look horrible and I'm looking OLD!!!  $@*K!  I knew this day would come, but not so soon.  Since my birthday, I had been using an expensive (to me) eye creme.  It was $45 and supposed to reduce fine lines, even out skin, cure wrinkles.  You know the deal.  I splurged and bought it.  Then everyday since I had been religiously using it.
I realized it wasn't working…it was not helping one bit!  I looked horrible!  Then in March I became hip to the wrap crazy thing and decided to become an ItWorks distributor.  Mainly for the discount and free products (but it's turned into so much more since!)  This post isn't about ItWorks per say, but about an amazing product that's changing my eyes!  It's called Lip&Eye.
At $29 a bottle, I figured why not….my $45 bottle of miracle creme wasn't helping.  I gave it a try.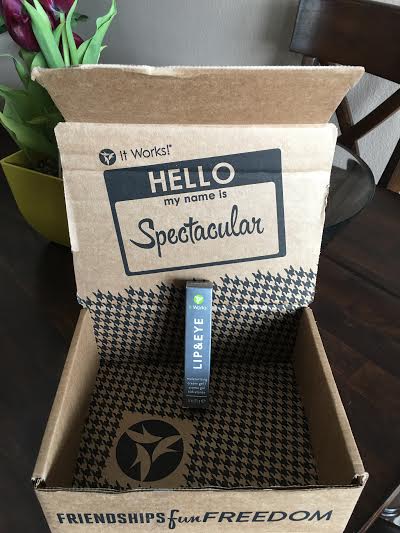 I'm all about results, so if I can see my results within a week or so, I'm in! If not, well I keep searching for an affordable product that works.
I took a before and after photo of my right, 10 days apart.  When I began using Lip&Eye, I noticed that daily, my eyes were looking better!  Then I compared my side-by-side results and was once again amazed by these products.  See for yourself…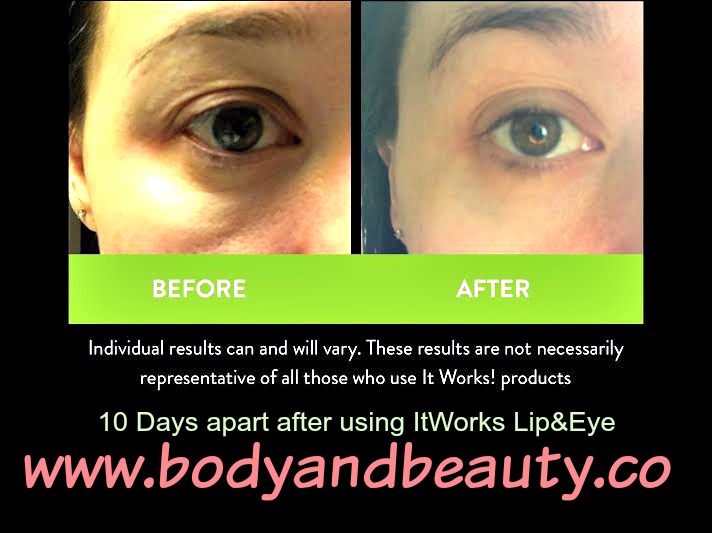 The lighting is not amazing in the photo but you can really see how bad my eyes were 10 days before.  Both photos are with no make-up.  That's rare for me! 🙂
Here I am with make-up on, only a few days into wearing the Lip&Eye.  You can tell my dark circles were fading and my bags were so much better.
Lip&Eye is meant to be used around your eyes, and on your top lip.  Where people start getting wrinkles!  I smooth it on morning and night, before I put on any other moisturizer.  It feels tingly and I can tell it's working.   It's said to have the "tensor effect" on your skin (tightening) and wow, it really does. Then I apply my moisturizer over it, and then makeup.  I recently switched to the ItWork face lotions (RepairAge and PreventAge because I'm loving all the skin care line already.  Why not right!)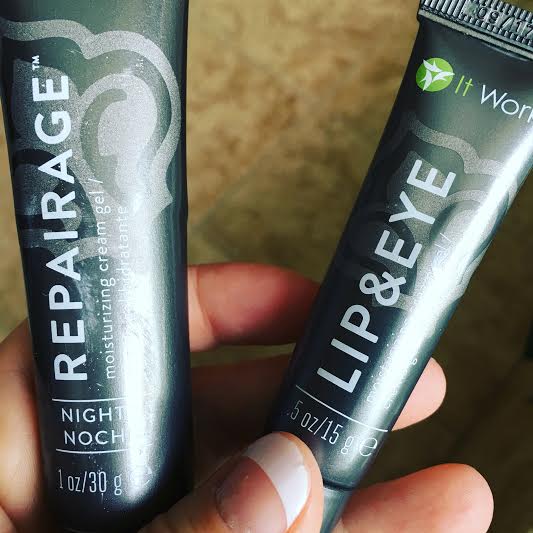 So there's yet another example of how awesome theses products are!  Every girl over the age of 35 NEEDS lip&eye in her daily routine.  For only $29 a bottle, (and my bottle lasted 2 months) that's cheaper then Target brands!!  YAY for products that WORK!   Let me know if you've ever tried Lip&Eye or if you have an amazing product that I should be trying out!