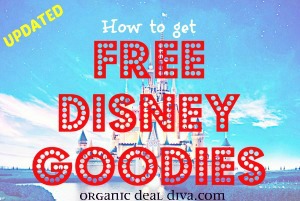 Disney is just as magical now as it was when I was a kid.  Having kids of my own now adds another element of magic to all things Disney.  Did you know there are FREE goodies, even movie downloads that you can get from Disney?  Well there is.  Here's a list of some of my favorite!  Know of one that's not listed here? Let me know.please.
1). Request a FREE customized Disney World parks map.  This freebie includes maps of the 4 parks customized to your family's name and favorite rides.  It also comes along with stickers! (One of my favorite freebies, my kids enjoyed when this came in the mail!) We actually took ours to Disney last month and it came in handy since it has a map of ALL of the Disney property…and the maps in the park don't have this version of the map!
2). Want an autographed photo of your favorite character for free.  How do you do this you ask?  Write a letter to your favorite character and send it to: Walt Disney World Communications. P.O. Box 10040 Lake Buena Vista, Fl, 32830-0040.  They will send you an autographed photo back! (thanks for this tip couponing2Disney).  Be sure to include your child's name, return address, favorite character, and why you love the character so much!
3). Download Disney Movies anywhere.  From time to time they offer free Disney movies to download to your app.  I have The Incredibles that I downloaded for free a few months back!  AND right now if you join, you get Wreck it Ralph for FREE!
4). Join Disney Movie Rewards.  This is a rewards club that you enter your magic codes, which are found inside Disney movies that you purchase.  You go online, or on the app you can download, and enter the codes for points.  Once you accumulate enough points you can redeem them for prizes like Disney movies, toys, and gift cards.  Even if you don't own any movies, (but everyone should…it's Disney!!) follow Disney movie rewards on social media, (facebook and pinterest) where they release bonus codes.  These codes add up!  I've earned thousands of points though movie codes and following them for bonus codes.
5). Build a free Disney themed family decal.  I'm not one to put this on my car, but it's adorable to put in a memory box or photo album!  You can order one per household and download the image to keep on your computer.
6). If you're planning or thinking about planning a vacation to Disney, you can order a FREE DVD about Disney Parks.  We ordered this for Violet, and she watched it like it was a movie!  #Obsessed
7). If you're going to be visiting Disney anytime soon, you can get a free pin (at guest services on main street) if you're celebrating a birthday or it's your fist time visiting Disney!