In March of this year, I became an ItWorks Independent Distributor.
I have a goal this year, and it's to stay home with my babies!  I'm tired of paying for daycare.  I'm tired of spending money on someone else raising my babies.  I've come to realize I would actually love to have a 3rd child, but I can't afford the daycare.  In my opinion, this is a HORRIBLE reason to stop having babies.  So I decided to become an entrepreneur and start my own business.  I fell in LOVE the with ItWorks wrap and decided this was the business I would start!  (You can read about my first and second month experiences with ItWorks here and here.)
One aspect of being an ItWorks distributor that really excites me are the G.O.O.D. bonuses.  (Which stands for Get Out of Debt bonus).  They begin at $500 for going Ruby, $2,000 for going Emerald and $10,000 for going Diamond.  You can read the compensation plan for ItWorks here!
My goal is to go Diamond by December!  #DiamondbyDecember is my motto! 🙂
I joined ItWorks during a promotion period.  All bonuses were doubled!  For me, that $1,000 Ruby bonus was a must!
If you currently join, the Ruby bonus is now $500 plus comission!
To "go Ruby" you have to build your business. Meaning you find other friends, family, acquaintances and strangers to join your business.  They become distributors "under" you and you make a percentage of commission off of their sales as well.  It only costs $99 to become and ItWorks Distributor.  The kit comes with 4 wraps, which most people sell for $25 each.  Making it free to become a distributor and  start your own business!
For me, my distributors were my husband, my sister and my mother-in-law.  Under my husband, we signed up 2 friends so he would become an executive with ItWorks.  (Which is required for the Ruby chart).  See below:
Once each distributor sells $400 in gross volume (GV – meaning $400 in sales) they are a qualified distributor.
See the chart above, once your boxes are filled in and they all sell $400 BV you go Ruby!  ($$$ And get the bonus! $$$)
On top of the bonus, you also earn a commission on all the sales in your downline, 4 levels down.
Here's what my preliminary commission looks like this month: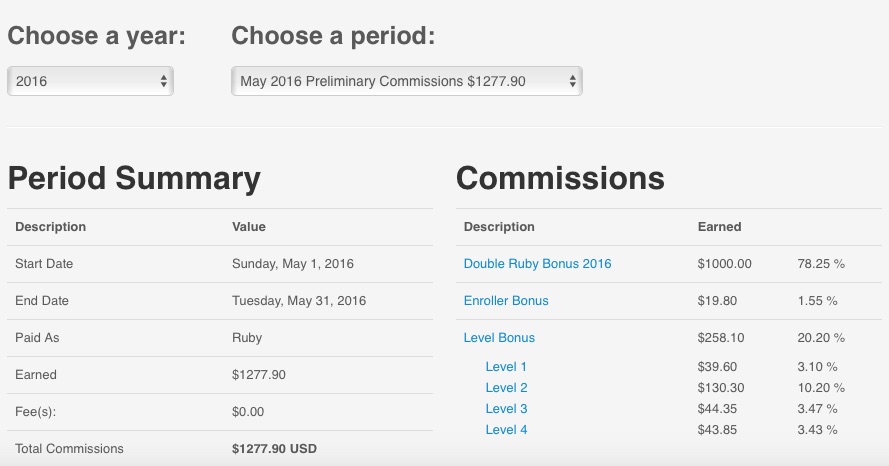 I was so proud of myself for hitting this first goal with my company, I rewarded myself and bought a trip to Mexico!  (Paid for with my ItWorks earnings).  In January I had no plans to travel this summer.  We're saving for a winter trip to Florida, but since my ItWorks business is doing well, I just had to reward myself! 🙂
Tips to go Ruby:
I'm far from being an ItWorks expert or leader yet…but I can share with you exactly what I did to go Ruby!
First make a list of people you know, or know of that would be interested in making extra money each month and running their own business.
Then reach out to them.  Set up a meeting, coffee, a wrap party, whatever works for you!  Once you share the products with others, they'll love them!  Everyone does.  🙂 I've yet to have a person complete 4 wraps with no results.  Everyone I've sold to, after 3 has the best results.  There's a reason 4 come in a box right!  If wraps are not for them, there's over 30 other products that they may be interested in.  I signed up my husband as one, so it made it much easier to find the other distributors (DT's).
Once you've signed up the 3 distributors under you, teach them how to work their business.  You're there to help, coach, teach.  Not hold their hand 100%!  People have to be motivated to make extra income.   What I've learned in 2 short months is that you can encourage people, but they have to motivate themselves.  You can inspire, but they must be self starters and motivated to make their financial future better!
When I first signed up with ItWorks I would lay in bed at night with my mind racing, thinking about all of the people I could share the products with.  I would think about all the ways I could set up wrap parties.  I had a few events, multiple wraps parties and was always sharing my results with others.  My results were amazing by the way.  Here's what 1 wrap did after just 4 hours: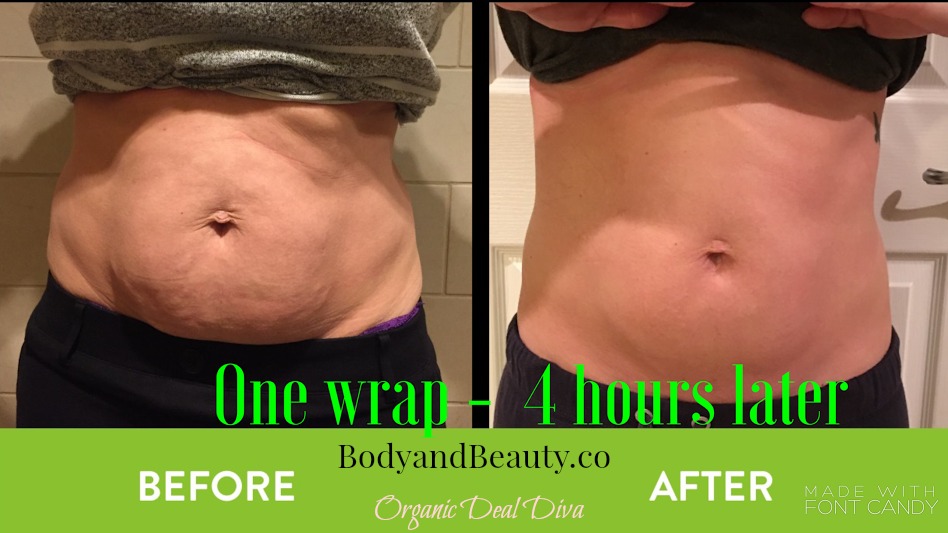 What I also learned is my results were drastic!  I've yet to see another person with results like mine.  I've wrapped many people since March and I have to tell them all "my results were crazy drastic so don't be upset if your belly doesn't look like this after one wrap".  In reality, my results have turned a few people I've wrapped away.  They wanted results in just one wrap and since they didn't get MY crazy results, they never continued to wrap.  I can't express how important it is to wrap at least 4 times.  4 Wraps come in a box and 4 is a full treatment!  Each of these people are on my follow up list, which I follow-up with once a month.
Blitz!  Once you sign up as a distributor you'll receive blitz cards in your welcome package.  These cards you personalize with you website and phone number.  I pass out blitz cards everywhere I go.  When I go out to eat, I hand one to my server "here's a coupon of you!  Thanks for such great service!  My contact information is on here and I'd love to share with you my business!".  I a share my blitz card at the car wash, on bulletin boards, in-line at the post office.  You name it and I'm passing out my card!  Everyone is a prospective customer or future business partner, so get excited about your business and share it with everyone!
Don't be shy about your new business or embarrassed to share it on social media.  I have to admit, at first I was.  I didn't want my friends and family to think I was SELLING them something.  I started a Facebook group and added people I thought might like to hear about the products.  Then I slowly began to share my posts on my regular Facebook.  I can't see how many people interact with each post but I am no longer shy about sharing!  Your friends and family want you to be happy and succeed right?  Then why not share with them your new business? 🙂
Don't overshare!  My rule is for every 1 ItWorks post, I post 3 regular life posts.  If people see that's all you're posting, they're going to block you and never see your posts!  🙁 It's sad but true.
Don't give up!  You'll have good days with you're business and bad days.  Don't become discouraged by those bad days!  You're rocking your business one day at a time!  Just don't feel overwhelmed and go slow!  I can admit I felt burned out after the first month, so the second month I simmered down and my business still grew!
I'm always looking for new members of my team, so if this sounds like something you can and want to do, I'd love to help you!  I'll train, coach and cheer you on every step of the way!
My next step is the Emerald rank!  I'm 60% of the way there and I'll update you all when I get there!  Thanks for following along in my ItWorks adventure and hopefully theses tips will help your own business grow at well!