Post sponsored by Mirum Shopper. Opinions are 100% my own
Morning in my house are crazy.  With two dogs, two kids under the age of 5, and a husband to get ready every morning, I ALWAYS forget to do at least one thing.  Of course, that one thing is usually something for myself, naturally.
You may have guessed it, I often forget to put on deodorant.  I blame it on my crazy mornings and not my spaced out mom brain.  I'm a nurse, so yes, I'm running around a lot.  I must have deodorant on.  It's a MUST!  So I often find myself at the local Walgreens buying yet another deodorant.  It wasn't until recently that  I finally figured it out.
I need to just stock up on deodorant and keep them everywhere.
So I did, and now I keep a deodorant at work, in my car, in my purse and at home.  I'm NEVER without deodorant now….because really deodorant last forever.  Dove advanced care is what I use if you're wondering!  I love it!!
Did you know that there are four categories of deodorants?  There are!
• Dry Sprays – Goes on instantly dry
• Care – Cares for your skin
• Motion Activated – Protects for 48 hours with Motionsense® technology.
• Clinical Protection – Defends with clinical strength wetness protection
See…you learned something new today!  Ready to save some money?  Keep reading…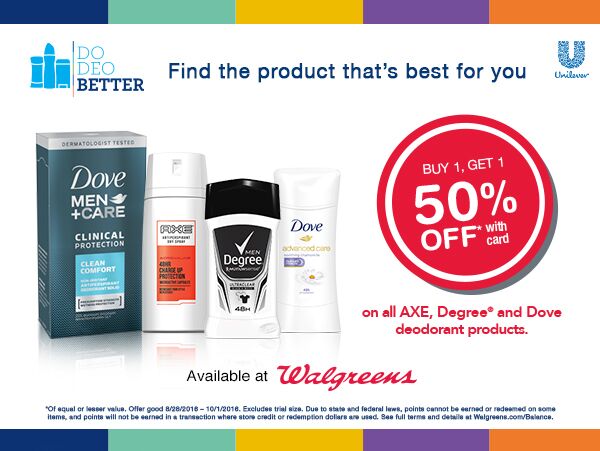 Right now,
Walgreens
is having a great deal so you can stock up on deodorant (like me) and keep them all over.  You'll never have to worry about being dry again!  The deal is running for 9/25-10/1….when you
Buy 2 deodorants you'll Get 1,000 points! (9/25-10/1) (Balance Rewards card required for promotional pricing).  Walgreens is also running the Buy 1, Get 1 50% off sale from 8/28/2016 – 10/1/2016. Excludes trial size. Due to state and federal laws, points cannot be earned or redeemed on some items, and points will not be  earned in a transaction where store credit or redemption dollars are used. See full terms and details at Walgreens.com/Balance.