This shop has been compensated by Collective Bias, Inc. and its advertiser. All opinions are mine alone. #PurexCrystalFresh #CollectiveBias
It's confession time friends…
My closet—–is a DISASTER! And by disaster I mean this: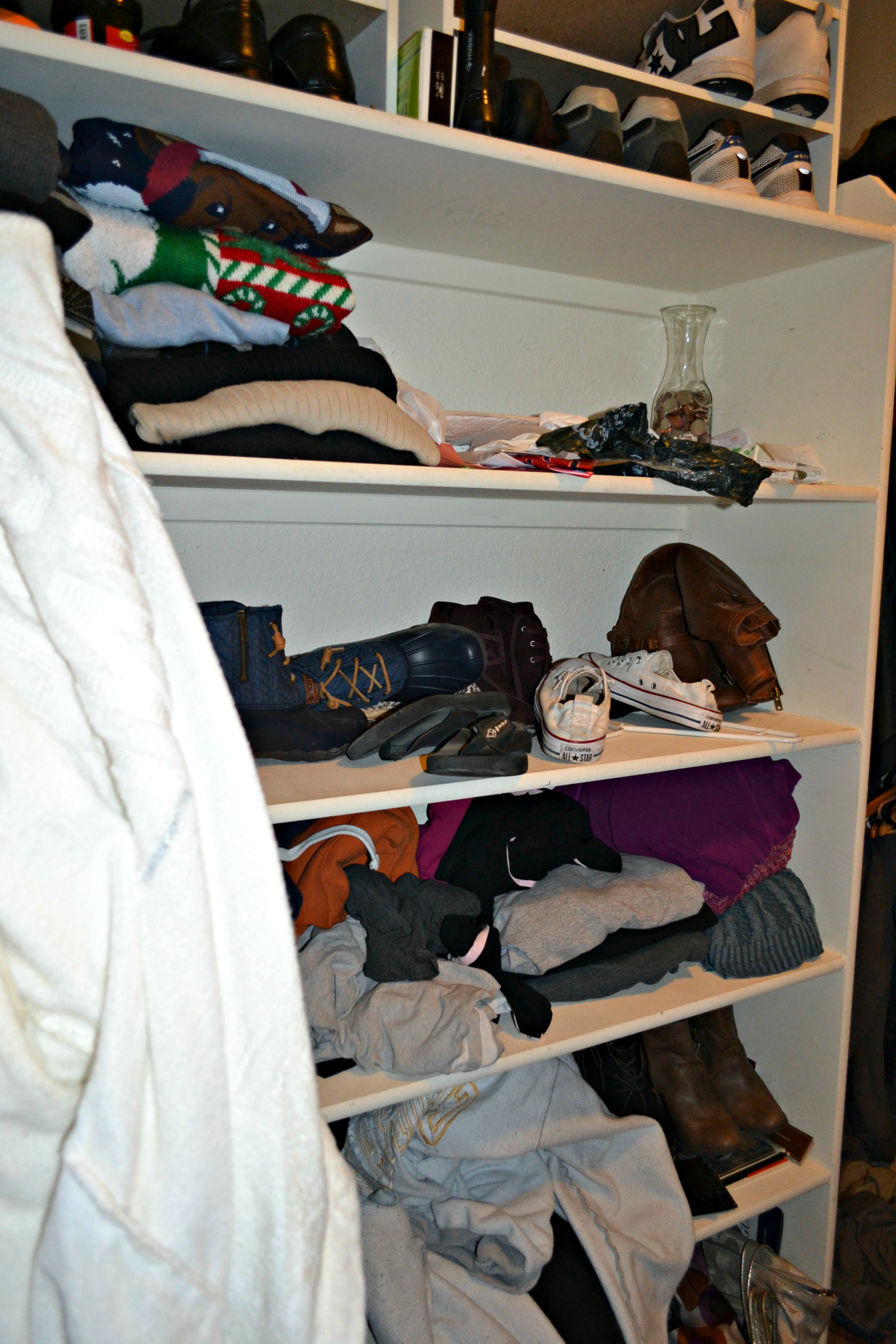 My clothes are hung up…but my storage and organization areas are lacking… to say the least.
My closet is also the only room in my entire home that is not painted and decorated. I LOVE to decorate…so why have I been neglecting my closet?
LAUNDRY
Recently I started using a new laundry product, Purex® Crystals fragrance boosters, to make my laundry smell fresh longer. I have a husband, a little boy and stinky dogs. I wanted my towels and bedding to smell fragrant longer! Doesn't every Mom?
When I read that Purex® Crystals offers up to 12 weeks of freshness I just had to try them! Let's face it people, laundry is one of our least favorite chores. That was until recently when I started using Purex Crystals!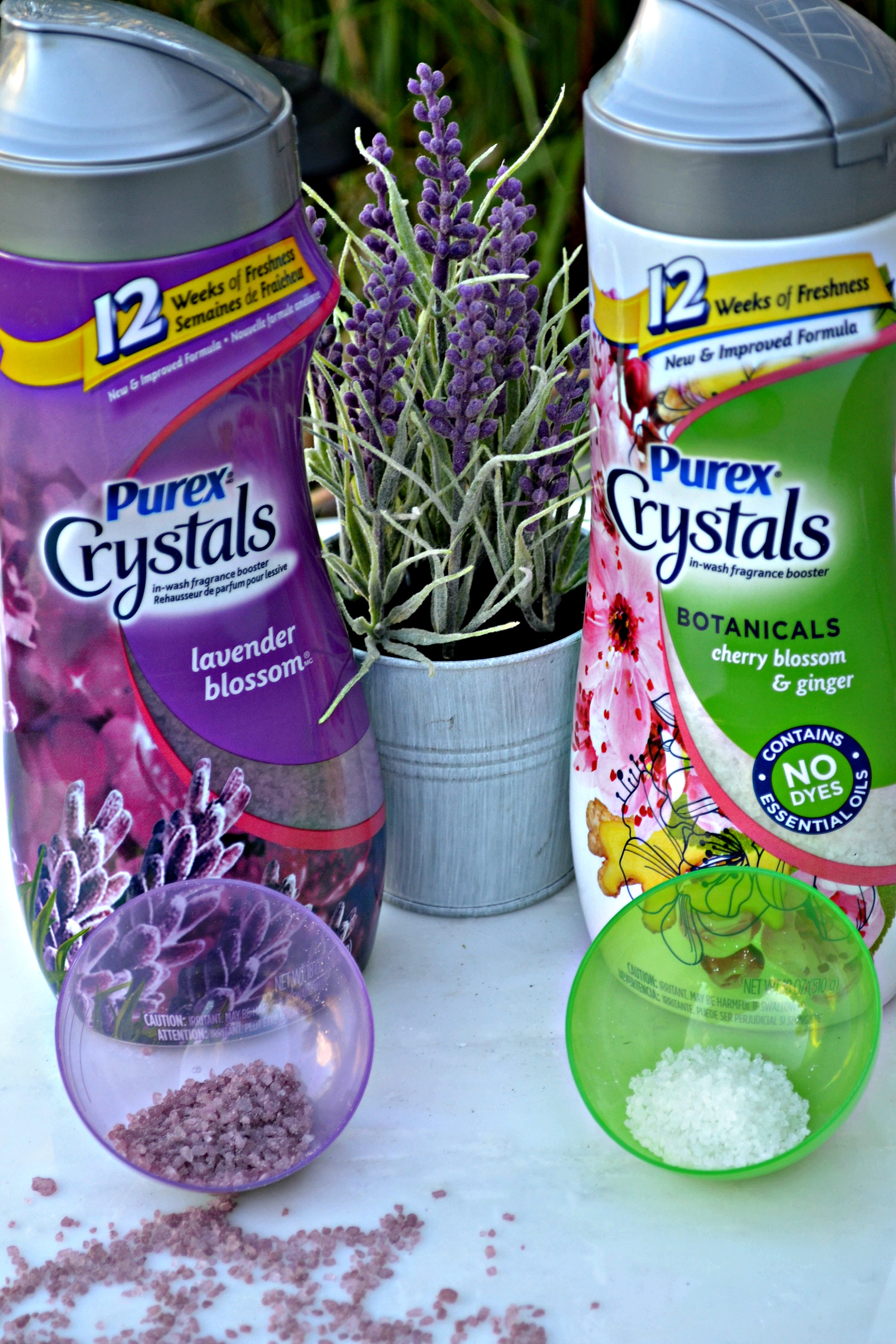 With 10 scents that not only give you up to 12 weeks of freshness in your home, but are also affordable…laundry day is now aromatherapy day.
My two favorite scents are currently Purex® Crystals Lavender and Purex® Cherry Blossom and Ginger.
Lavender Blossom: Freshens the laundry with a full bouquet of invigorating Lavender Blossom® to brighten your day!
Cherry Blossom & Ginger: The newest scent made with essential oils and no harmful dyes, Cherry Blossom & Ginger is my current favorite because of the natural mineral based formula. The hippie within me loves natural everything! 🙂
Right now at your local Walmart Purex Crystals are on Rollback! Purex Crystals provide a great scent at a great price!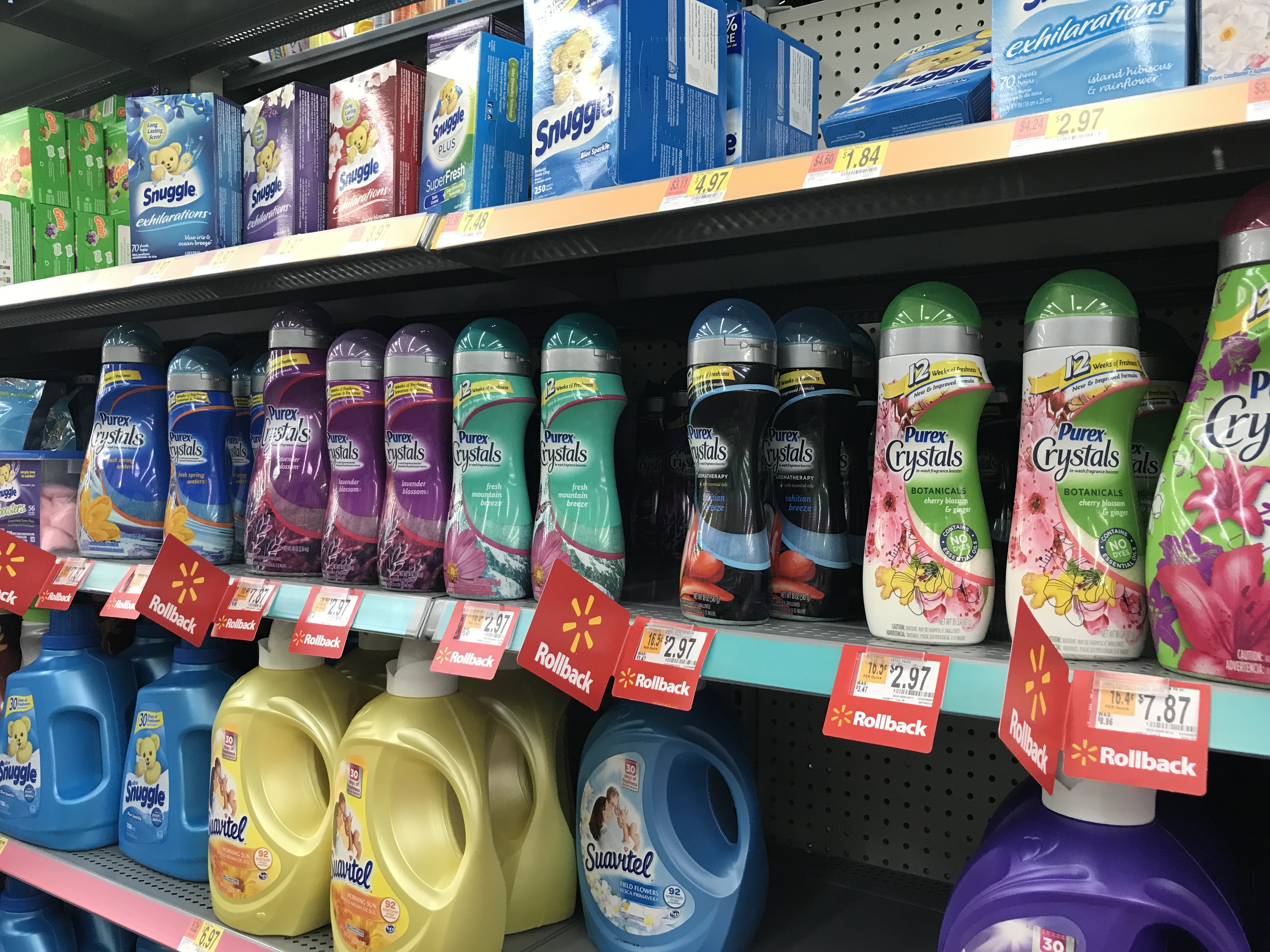 Here's how to use Purex Crystals in your laundry.
First, you need to choose your favorite scent.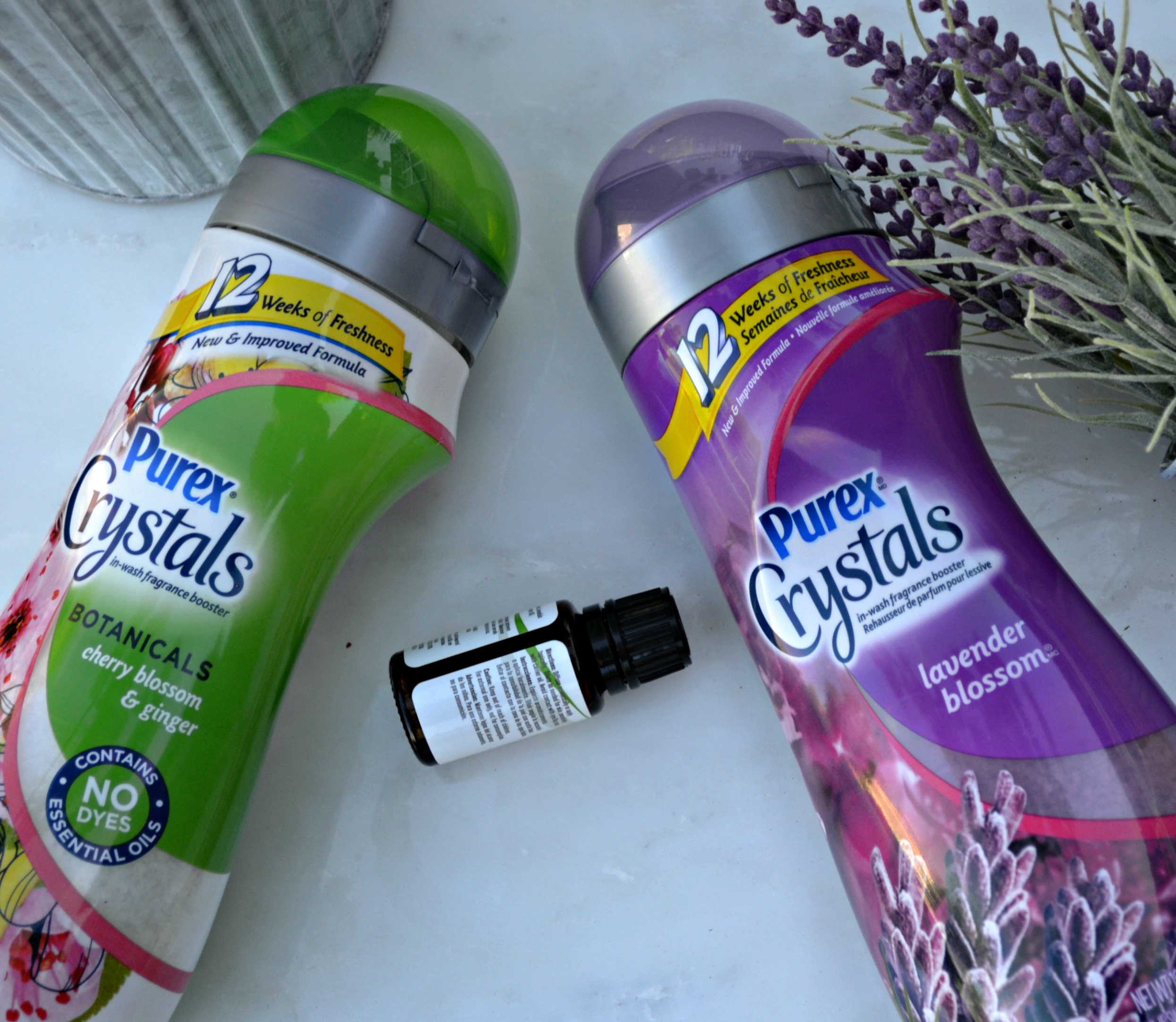 Next, while you're doing laundry, fill up the scoop/lid with crystals. Add that scoop to your washer, be sure to add laundry soap and start the wash. When the laundry is done, not only will the wash smell amazing, but so will your whole laundry room. (Bonus: So will your home! The first time I used Purex Crystals my whole house smelled fresh!)
Now that I'm enjoying laundry day…I'm inspired to finally get my closet the organized!
When it comes to your closet, everything should:
be organized!
look pretty!
and smell good!
Right?
Now that I can can check-off "smell good" on my closet re-do list, it's time to make my closet pretty and organized! No more blah, boring and messy closet!
So this weekend I took a few hours to completely re-vamp my closet! All it took was 2 hours, some wall paper, storage trays, storage bins and a shoe organizer. Here's what I did.
Update and Organize Your Closet Fast————-
LOOK PRETTY:
When we moved into our home we painted every single room (except the closets like I said). We kind of burned ourselves out with the whole painting thing. At least for now.
I wanted to update the look of my closet without having to paint, so I decided to try some wallpaper! Not the type of wallpaper that your parents used int he 70's…no. The kind that sticks to the wall like a giant sticker! You can find all sorts of designs and colors as these are available in most stores.
Simply measure the area you'd like to cover and cut!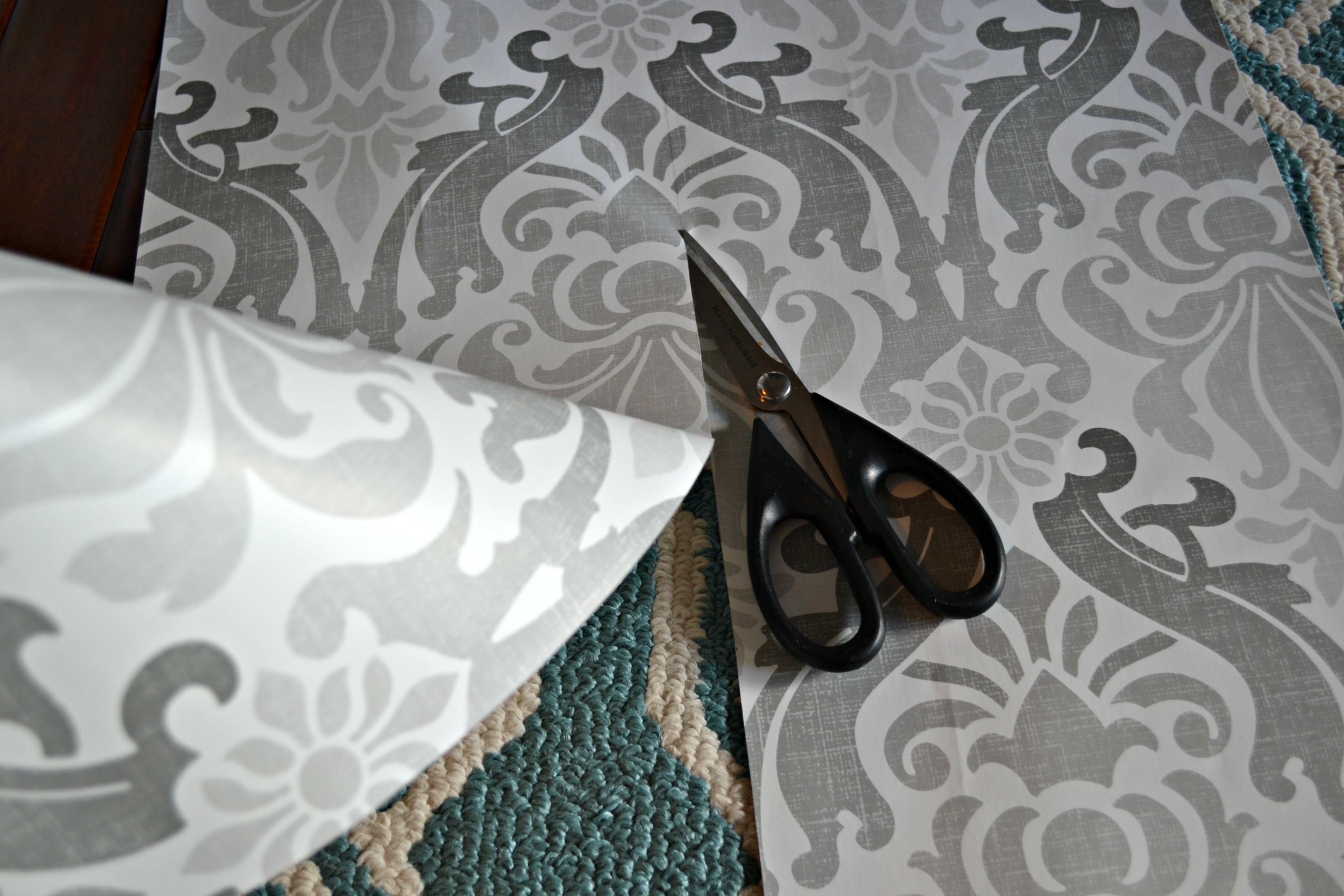 I used the wallpaper behind my shelves. (See messy before photo above). Here is what the shelves look like updated with the new wallpaper!
And here it is with another angle…
I love how it came out! It took about ten minutes to complete…SUPER simple, fast update right?
ORGANIZATION:
Shoe Trays –
Notice the shoes in the tray? Yep-that tray is my reminder that ONLY certain shoes belong in there. (expensive shoes that I don't want other shoes to touch! lol)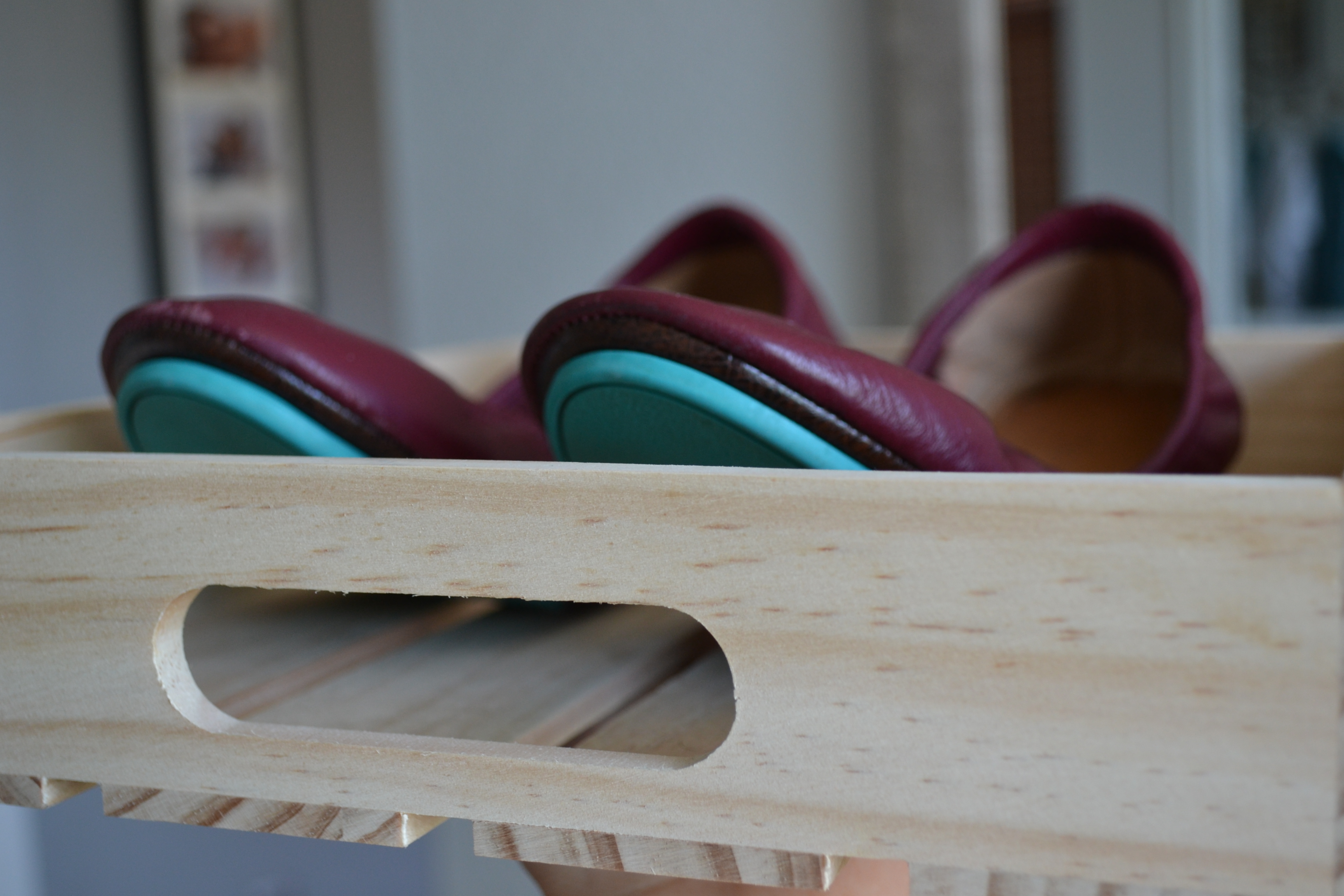 Shoe trays are great for organization and can be painted, and decorated for added color in your closet.
To go along with my shoe organization, I'm also incorporating storage bins.
Storage bins are a great way to store sweaters and sweatshirts that you might not wear all summer! By storing them in bins, you also avoid the hanger stretching out the neck line.
Really you can put anything in the storage bins…and it'll look organized and clean!
(They also fit in great with my new wallpaper don't ya think?)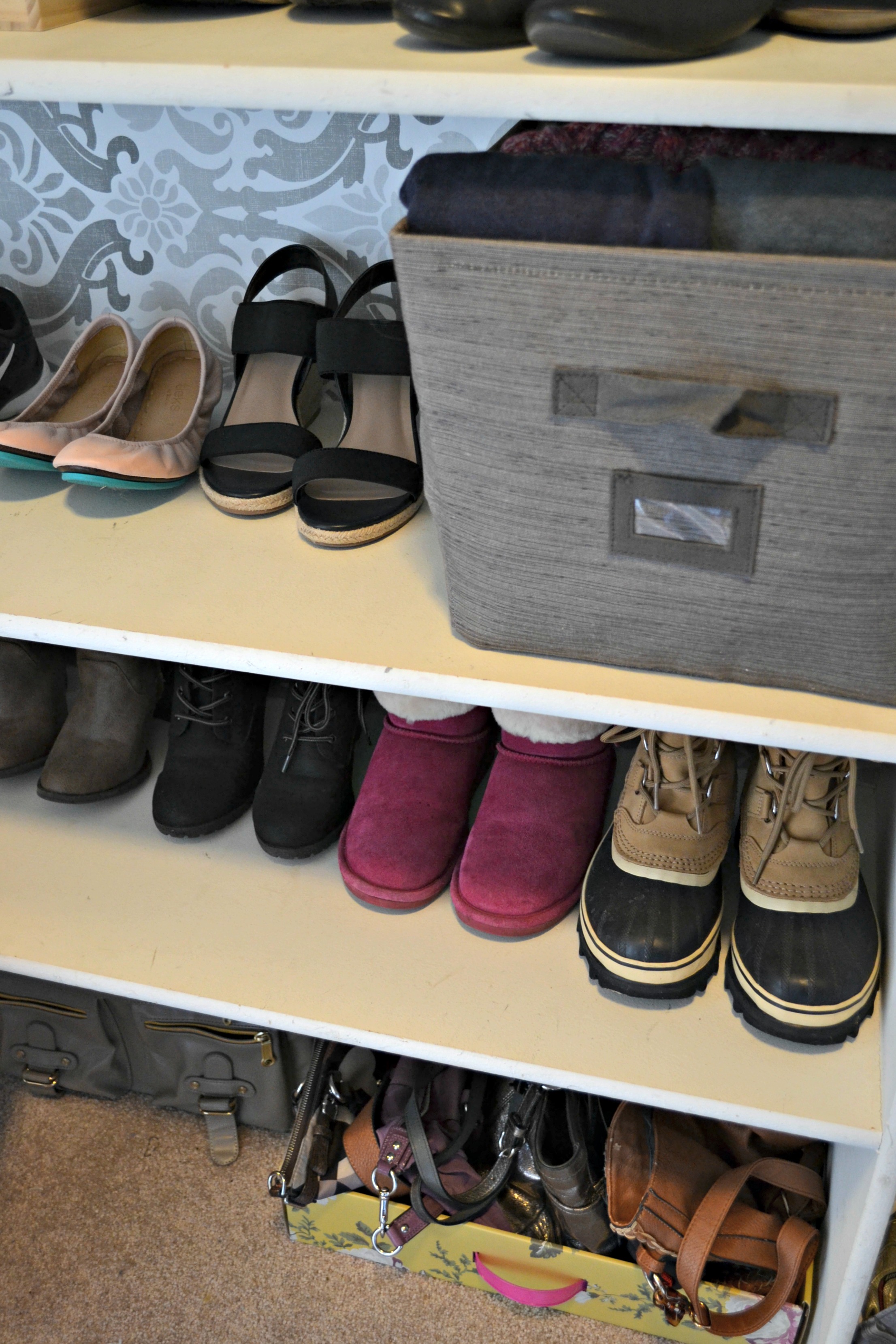 The final organization addition to my closet is an over the door shoe holder. I know, I know, I know… they may not be the prettiest, BUT they are hidden behind the door and they're freeing up a ton of space on the floor! So I've decided to keep them!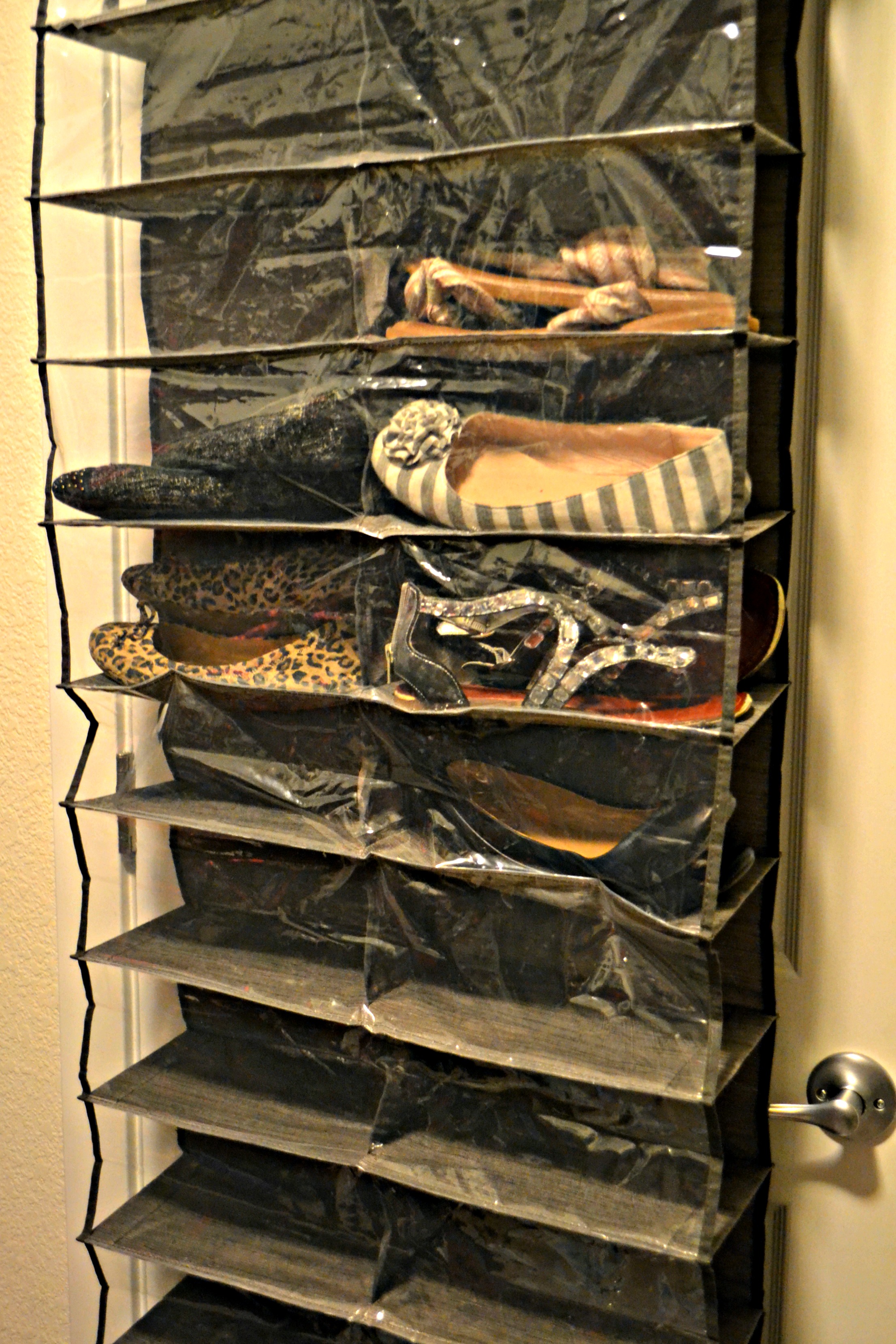 (Bonus tip: Put a scoop of your favorite Purex Crystals in a cloth or mesh bag and place it somewhere in your closet! The scent will make your entire closet smell amazing!)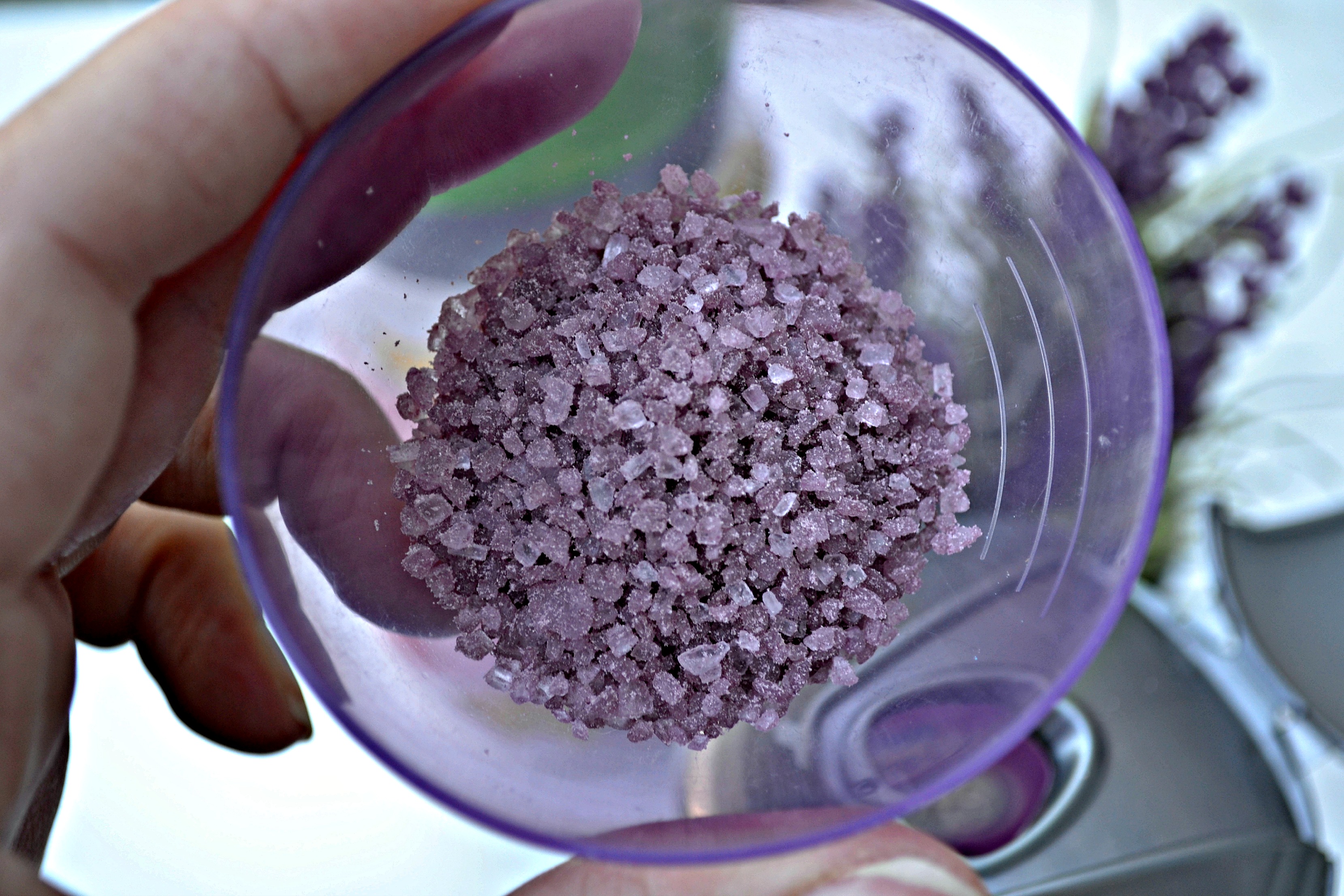 There it is! All of my closet updates and laundry tips that took less then two hours to complete. My closet smells amazing, looks pretty and is FINALLY organized! YAY!
Here's a recap of what I did:
Wallpaper
Shoe Trays
Storage Bins
Over the door shoe holder
Purex Crystals in a mesh bag for a scent boost!
I hope you can incorporate some of these tips into your own closet for some fast and affordable closet inspiration!