Door-to-Door Organics Review
I've been seeing a lot about Door-to-Door Organics lately so, I decided I needed to try them out.  (If you've never heard of them, they're an Organic produce and grocery home delivery company).  The idea of skipping the grocery store and spending that time doing something fun sounds amazing, right?   Not to mention the produce is USDA Certified Organic and sourced locally whenever possible.  As many of you know I live in Colorado, and Door-to-Door Organics IS a Colorado company.  I'm all about supporting a local company and having Organic food delivered to my door. 🙂 Sign me up.
Speaking of signing up…it was SUPER easy.  First I headed to their website to first make sure they delivered to my area and… they did! Yay.
Next I chose a produce box size, type, and delivery frequency.  You can choose from produce boxes that have vegetables, fruits, or a mixture of both.  You can also choose to have your box arrive weekly or every other week.  I chose a mixed box delivered weekly.  What can I say, we like our fresh organic produce.  Once you choose your box and frequency for delivery, you can customize your box with up to 5 substitutions.  (My original box came with green onions and I substituted for a cantaloupe instead).  You can set your preference for your likes and dislikes as well.  That way each week you're getting the groceries you really want!
Aside from the fresh produce that will be delivered, you can shop for additional groceries.  This was the part of the service I didn't realize.  They have a HUGE selection of groceries.  I literally ordered everything we buy at the grocery store each week, but I did it online, sitting at home, while my kids played.  No need to take the hour or two out of my week to make that grocery trip.  We ordered milk, eggs, chips, chicken, grass fed beef, cheese, and more!  All of the brands are brands you find at your local organic grocery store, Whole Foods, Sprouts, etc. My husband is VERY picky about the meat we buy. Even many of the organic companies do not meet his expectations for quality but the chicken and beef from Door-to-Door Organics is fantastic. The chicken is a great brand called "Smart Chicken". It is from Tecumseh Farms which air-chills their poultry and they are certified both organic and humane on their farms, which is an important aspect for us. The beef is from Lasater Grasslands Beef. They are another Colorado company that raises there livestock on the open range, eating native grasses, for their entire lives. We have always loved this company and were presently surprised they were the brand being delivered. As I stated before the company tries to source locally as often as possible, so the brands in your area may differ than these, but Door-to-Door Organics obviously only uses companies that meet strict scrutiny so I am sure you would receive comparable quality. Needless to say the experience has been wonderful!
Along with all of the things I loved about the box and overall experience is the option to cancel at any time.  There's no commitment or monthly membership!  (Not like you're ever going to want to, you'll feel spoiled and will never want to give this up!)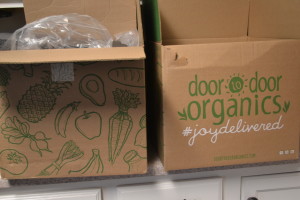 My box arrived on a Friday afternoon.  I arrived home from work and my refrigerator was FULL of food! I can't tell you how AWESOME it felt to have a fridge full of food on a Friday afternoon and the whole weekend ahead of me.   NO NEED to go to the grocery store.  Everything we needed and wanted for the weekend/week was here!  Nothing like starting your weekend off like this.  We had food here without the labor or cost of gas it takes to go to the grocery store to get it.  Organic and Fresh food! (And I got to shop online, ladies this fulfilled a need that only you may know):)
Here's some of the produce I had delivered:
A quick note about the produce…we're VERY picky about the produce we eat. There's a few local grocery stores we don't like to buy our produce from because the quality is very inconsistent. Even though this is our first Door-to-Door organics box, I thought the quality of the produce was excellent!  Fresh, ripe and ready to eat!
Here's Violet, enjoying the organic grapes that were delivered!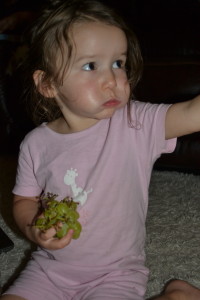 I am absolutely impressed with Door-to-Door Organics! I loved everything about the service including the price.  Prices were comparable or cheaper on items we buy weekly in store. (Often without coupons, like meat!)  Why not pay the same price and have these items delivered to your home!?  We are SO glad we tried Door-to-Door Organics, and we will be keeping our weekly delivery!  I felt like I had a personal shopper…what an affordable luxury!
SO, on to the part you really want to hear about…the discount Door-to-Door Organics has been generous enough to provide us with the following offer:
For any Organic Deal Diva readers who want to try Door-to-Door Organics, you can get $15 off your first order when you enter code NQ4B6X at checkout!   Sign Up TODAY!  It's like getting a itty bitty box for less than $10!