They say time flies when you're having fun…I can't say pregnancy is FUN per say, but it does feel like time is flying by with this 3rd pregnancy. I'm already 17 weeks pregnant and realized I haven't posted an update since week 11!
I've also been super busy finishing up my Master's Degree in Nursing Education! YAY I'm DONE! Never going back to school…ever.
Here's what's gone on during weeks 12-17.
Around week 11 I went to see a genetics counselor since I'm 36 and pregnant. In the medical world I'm OLD…geriatric…advanced material age. Whatever you want to call it I'm at a higher risk of complications for both the baby and me. SO, they recommend that women over 35 go though some extra testing. So I did. I had the Harmony test done, which looks at generic abnormalities and will also provide the gender of the baby. With at 99% accuracy.
For about 5 days I was stressing about the test….it was a simple blood draw but like every mom you worry about the "What IF's".
On day 6 I received the phone call that the baby was at low risk for any genetic abnormality and I found out the gender. Since I knew I decided to do a gender reveal for my husband and the kids.
Here's the adorable bundt cake that I brought home: (Nothing Bundt cakes did a great job)
I'm STILL keeping it a secret from you all until I confirm with my ultrasound in November. 🙂 (But I'll be sure to share with you all the news then).
Symptoms:
Symptoms went from nausea and upset stomachs to only having an upset stomach first then when I wake up. Then it gets better and I get hungry! Like crazy hungry all day long. I've been calling myself the hungry pregnant caterpillar because my daily food intake is very similar to the book! On Monday I ate though an apple, a piece of pie, a pickle, two yogurts, a smoothie, etc. I now have 1st, 2nd and 3rd breakfast lunch and dinner. I'm trying SO very hard to choose healthy options for meals, but I can't lie my sweet tooth is in full force at night! I need to dial back the desserts every night…for me and the baby! The fatigue is much better now, and I can stay up until 9-9:30 with no problem. (During 1st trimester I was in bed every night at 8pm). I'm no longer taking Diclegis and feel SO much better. My hips have started to begin hurting, mainly at night, which I was expecting. My last pregnancy was rough on my hips…I couldn't walk essentially. I actually had a handicap sticker on my car….because getting into work was a challenge. I'm hoping that by giving my body a full 3.5 years to recover from the pregnancy (along with working out) that I don't have as rough of a time this time around.
To go along with my symptoms, recently heart burn has began to start (mildly) and I can't sleep though the night still. Bathroom breaks 2-3 times a night plus I'm still having crazy dreams! And once I'm up….I'm up for at least an hour each night. Ugh Pregnancy!
Working out? Not really….I stopped in August around the 1st week. I was boxing and kickboxing 3-4 times a week. I loved it! But once I got sick, working out was the last thing I wanted to do. I've been SUPER busy and tired so my workouts have been light. Squats, stretching, some upper body. I'm not spending nearly enough time on exercising, something I WILL begin doing more starting today! (My written promise to myself! 🙂 )
Cravings: Sweets! And pretty much anything that's food. I'm hungry people! 🙂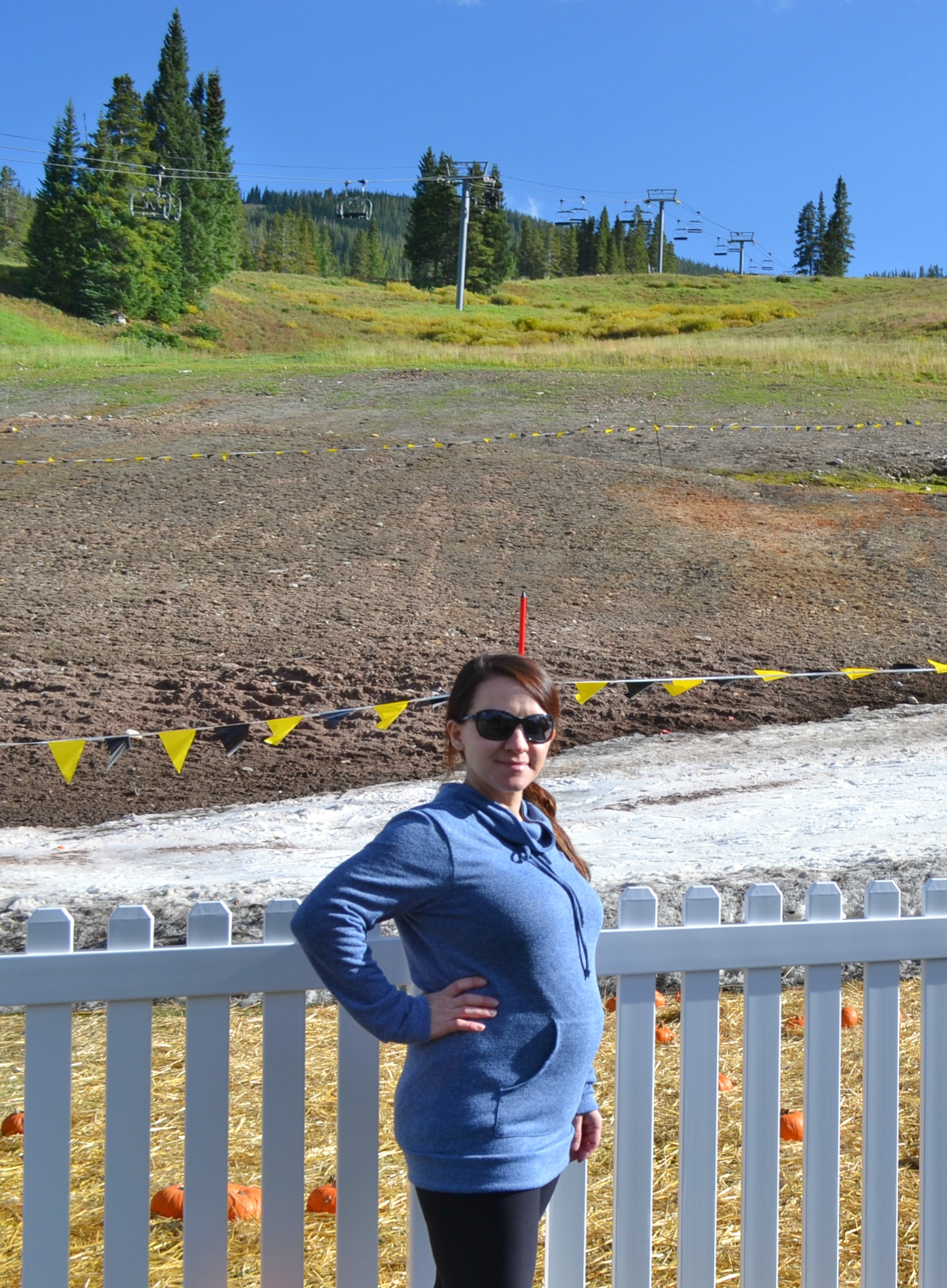 (Photos are of my bump around week 14)
So far so good with everything else. I'm at a LOSS for names, with no less then 8 on my list…where NONE feel like THE name. I'm cruising along into my 2nd trimester feeling the best I know I'll feel this whole pregnancy so I'm enjoying the little moments. Like the middle of the night when I'm up and I can feel the baby moving. VERY slight movments but nonetheless it's quickening. THAT feeling melts my heart and makes me incredibly happy!
With a Due date of April 1st and a scheduled C-section already on the books for March….I'd love any and all positive thoughts and prayers for a continued healthy pregnancy. I know how fortunate I am to have a healthy pregnancy…geriatric and all! 🙂
Until next time when I revel the babies gender! 🙂