I know I know, I've been MIA, but everyone needs a vacation…including bloggers. 🙂  We spent the past two weeks SO incredibly busy – I'm still exhausted from the craziness.  First we spent 3 days in beautiful Steamboat Springs, Colorado, to snowboard!! It was one of our best trips to Steamboat – they had 24 inches of snow in 24 hours!=crazy powder day! <3
The days bef0re Christmas are always the most exciting for everyone.  Being in the mountains during the holidays is exactly what Christmas is supposed to feel like.  Festive, family time, snow fun, good food and good friends.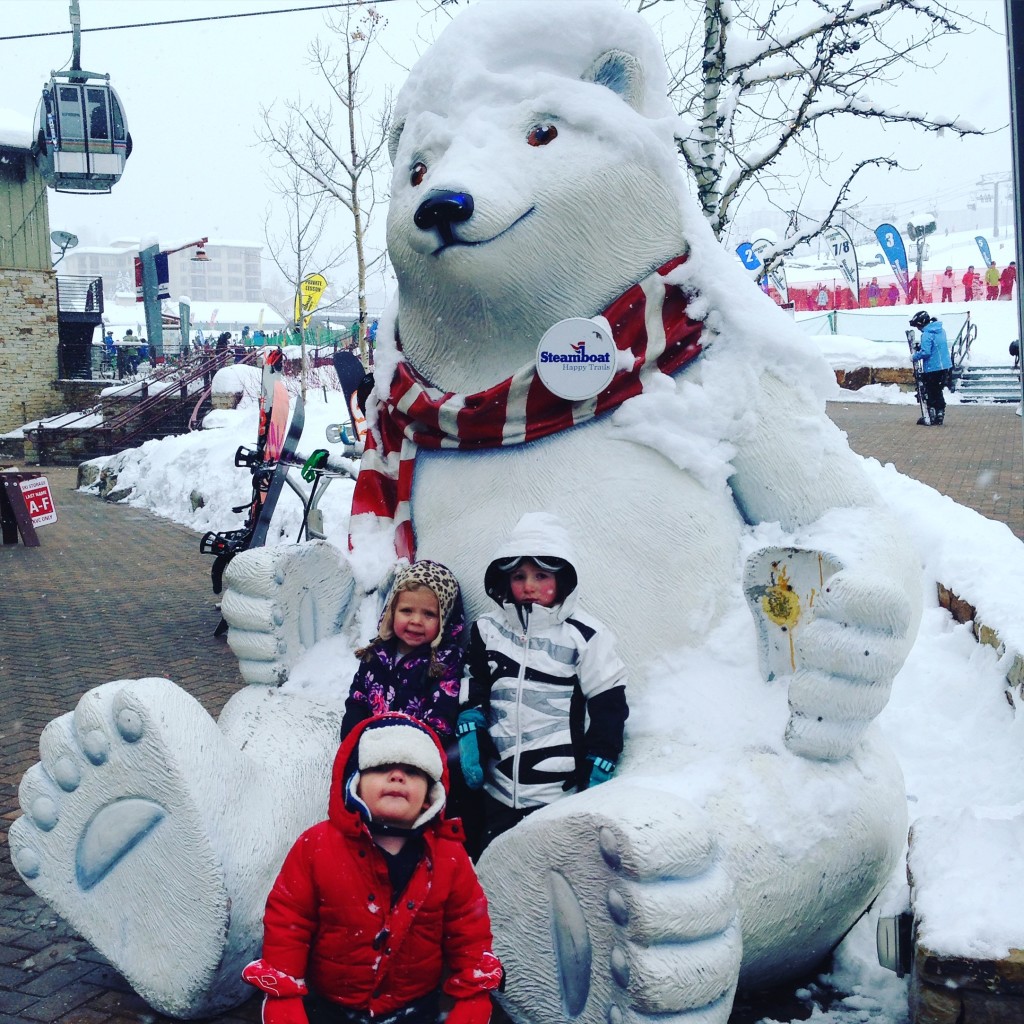 The kids are almost old enough to start learning to ski or snowboard, but this trip they spent the day in the Steamboat Village playing in the snow and on the giant polar bear!
We left on Christmas Eve to head to our families homes to celebrate the holiday with family.  The kids were SUCH troopers being in the car for 4.5 hours on Christmas eve.  Driving back into the Ft. Collins area in icy conditions is no joke with kids.  They slept off and on but in the end were very over the car!  So were mom and dad!  Good thing the view was amazing the entire drive!
We spent the next three days doing Christmas with all sides of the families.  By day 3 my kids thought that Christmas a new wonderful way of life.  Presents everyday…ya no. Mom had to squash that on day 4 when they asked "Where are today's gifts?".  Next year we're making it a point to give other children gifts and less for my kids since they really don't need anything!  How do you teach a 4 year old they shouldn't want more when extended family members keep buying more?
Then I had my 35th Birthday! Ughhhhh I'm officially looking older.  If you follow me on Instagram you saw my new skin care routine to fight the wrinkles that somehow popped up in the past few weeks!  Thanks holiday stress!
We spent the day running errands, eating lunch and dinner out (Diet anyone?) and then did a puzzle room.  If you've never heard of it you have to try one.  If you like games and figuring puzzles out, you'll love it.  Us an 4 friends went to do it, it's an our long in a room where you're trying to figure out a scenario.  Ours was trying to stop a bomb from going off in the convention center.  Think speed (the movie).  🙂  Then we watched our Broncos win a a local sports bar!  All in all it was a great birthday spent with family and friends.
Now here we are one NYE…the last day of 2015.  It's been a blessed year for our family.  We've been healthy, we moved into a new home, and we get to spend more time together with extended family that has moved close.
I'm very excited for 2016 and and very excited for my blog to grow with you all!  My Organic Deal Diva site was started as a coupon and deals blog, but I enjoy sharing my life, my passions and my own experiences just as much.  In the coming year I plan to share more of my family, my adventures and less shopping deals.  I'll share the best of the best, and less of the sales that you probably already know about!  Happy new year my friends!  To a healthy and happy 2016!