Welp, we're half way through 2016 which is CRAZY to me.  Is it bad that I still write 2015 on everything?  Nonetheless, I have a super cute Stitch Fix to share with you today.  AND if you're new to Stitch Fix, you can actually get your first fix FREE with a $25 credit by signing up from my personal link.  I've been using Stitch Fix for over a year and I've never seen a free $25 credit…then I woke up and saw this email today: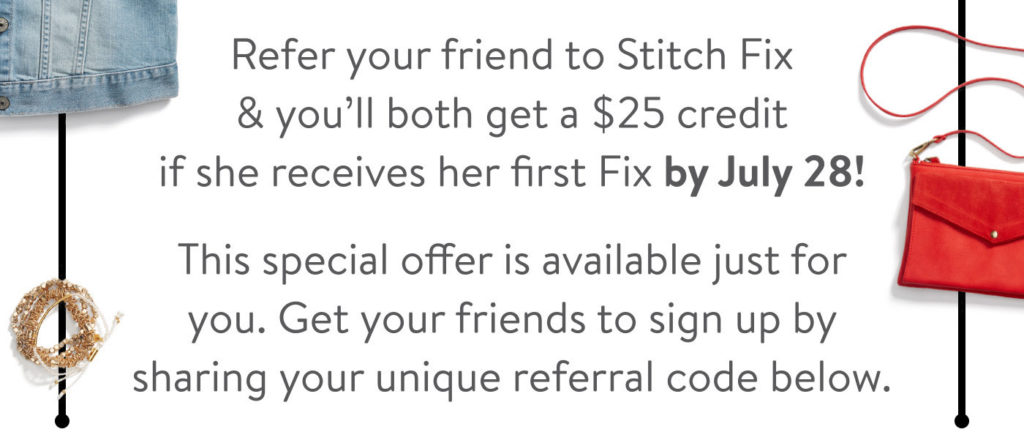 http://stitchfix.com/referral/5150719
I feel so special!  It was meant to be, Stitch Fix must of known I was posting my July review today!  So before I share my July fix with you all, here's the LINK to use for your $25 credit.  As it says, I'll also get a $25 for referring you…my wardrobe thanks you in advance.  And so does my husband. 🙂  Be sure you schedule your fix to arrive by July 28th. *Valid for NEW Stitch Fix customers only.  If you're one of those new customers and want to learn more about Stitch Fix, here's the low down:
It's a monthly subscription box with 5 fashion items (clothes/jewelry/accessories/shoes) that are handpicked by stylists!  Fun right!? The box is delivered each month (on a day you choose) to your home.
The cost is $20 a month (which is called your styling fee).  That $20 will be deducted from any item you want to keep in your box!
No time to shop or keep up with the latest fashions? No problem!  Stitch fix will pick out clothes and ship them to your house!
It's a mom's dream.  I LOVE shopping, but in-store shopping has lost its luster because bringing two little kids shopping is more stressful than fun. Which is why Stitch fix is a great fit for me!
Choose the items you want to keep and send the rest back.  Or, keep the whole box and get 25% off the whole box in a pre-paid envelope.
So the $25 you get today will pay for your 1st box and give you $25 off one item you would like to keep.  Or help pay for that whole box!  On to my review!
This month I'm having a REALLY hard time trying to decide what to keep.  I'm supposed to checkout tomorrow, but I'm asking for an extension.  I need your input!  Vote at the end and let me know what you think I should keep!  My monthly rule is I keep just 1 item…unless the box is amazing and I keep all 5.  That's only happened once in 13 months.
Ignore the forced smile in this photo and focus on the dress.  It's the THML Chana Embroidered Dress.  It's really cute right!  This is in the running for a keeper.  I'm not one to wear dresses because mainly they don't fit me right but this one fits great!  Thoughts?
Here's a closer look at the embroidery….. <3 (I could've used this dress in Mexico last week…dang it!)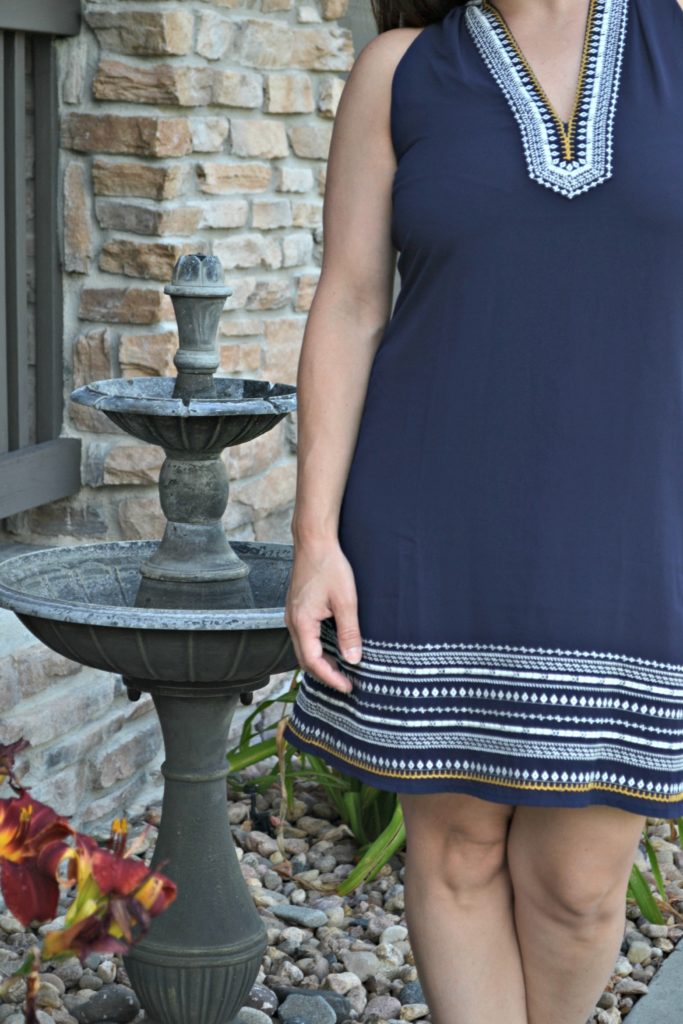 Next in the running for who's going to live in my closet is this adorable top.  It's the Loveappella Berice Crossback Knit Top.  The back is adorable, see…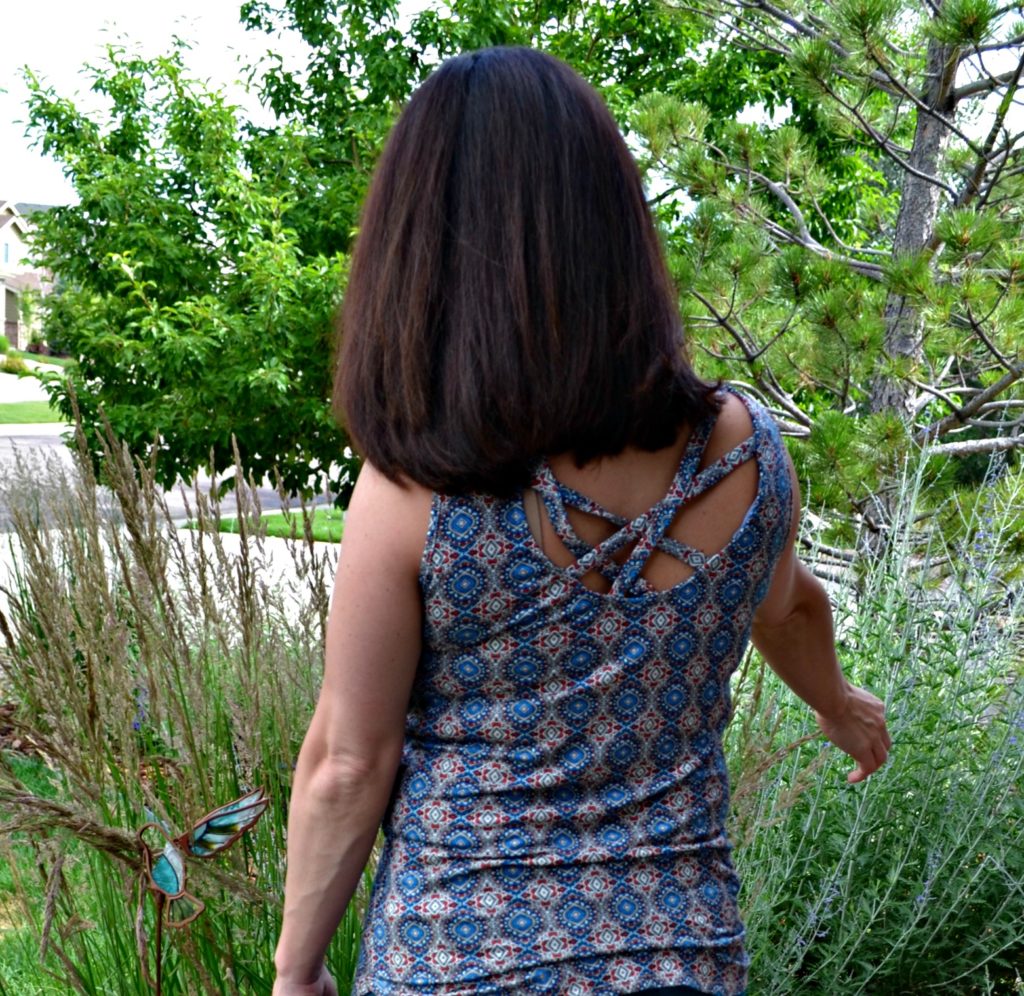 And the front.  I love the pattern and the color.  I can also wear a regular bra with this one! YAY! I loathe strapless bras.  Everyone does.  What I don't like is how the material hugs every curve and roll….like the ones below.  I'm not ashamed…I have mom belly #forever, I just don't want my clothes to show it.  Thoughts?
The earrings are from Rocksbox, by Kendra Scott. (Get your first RocksBox Free with code jessicabff993)

Next up on the list is the Collective Concepts Duffy Double Strap top.  It's baggy which I really like…but it's also a little big on the straps.  So the fit isn't perfect but I LOVE the pattern.  Again, I need feedback!  Thoughts?  (oh look, those earrings match everything right!)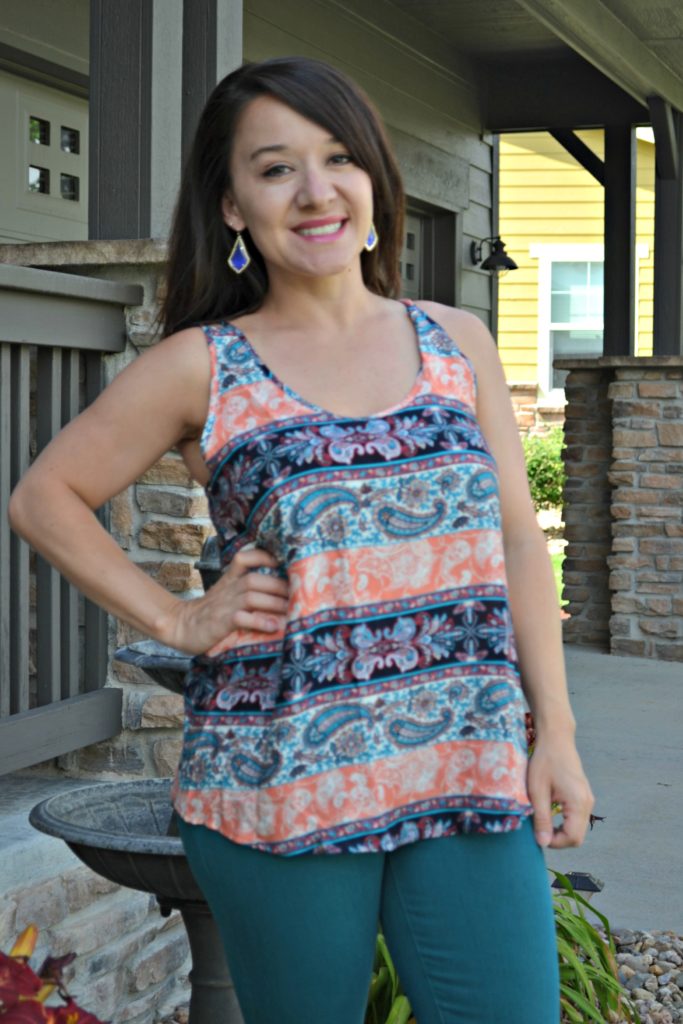 Here's they are close up!  I LOVE cobalt blue!  (If you're new to Rocksbox, it's also a monthly subscription.  Except you can rent the pieces each month or purchase them.  I LOVE it…since I never update my jewelry wardrobe!  Think Stitch Fix for Jewelry.  Get a free box with code jessicabff993).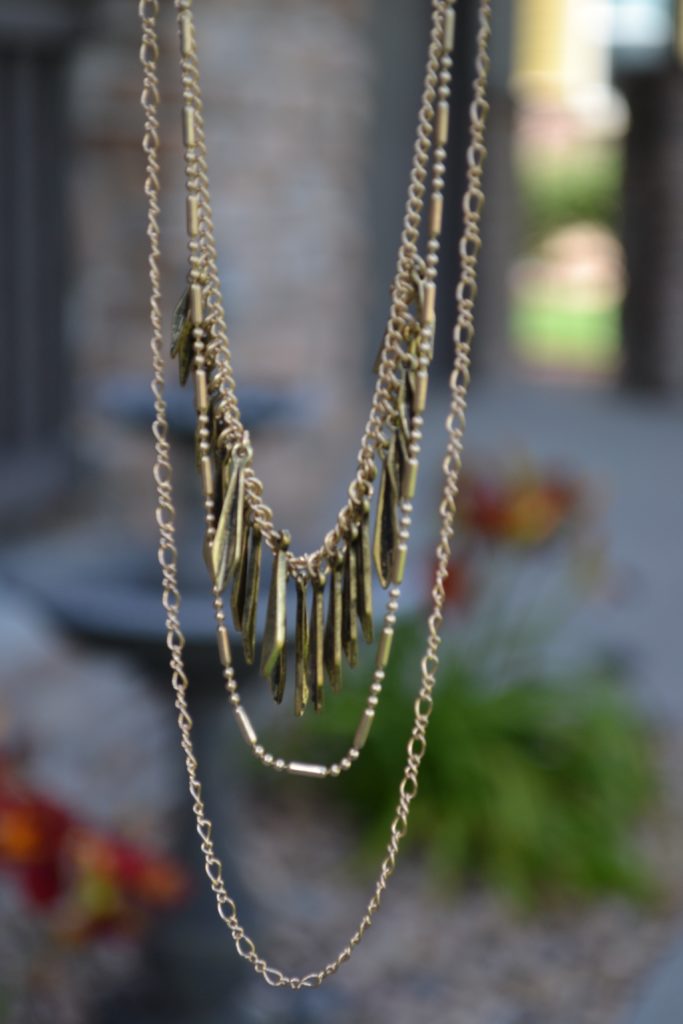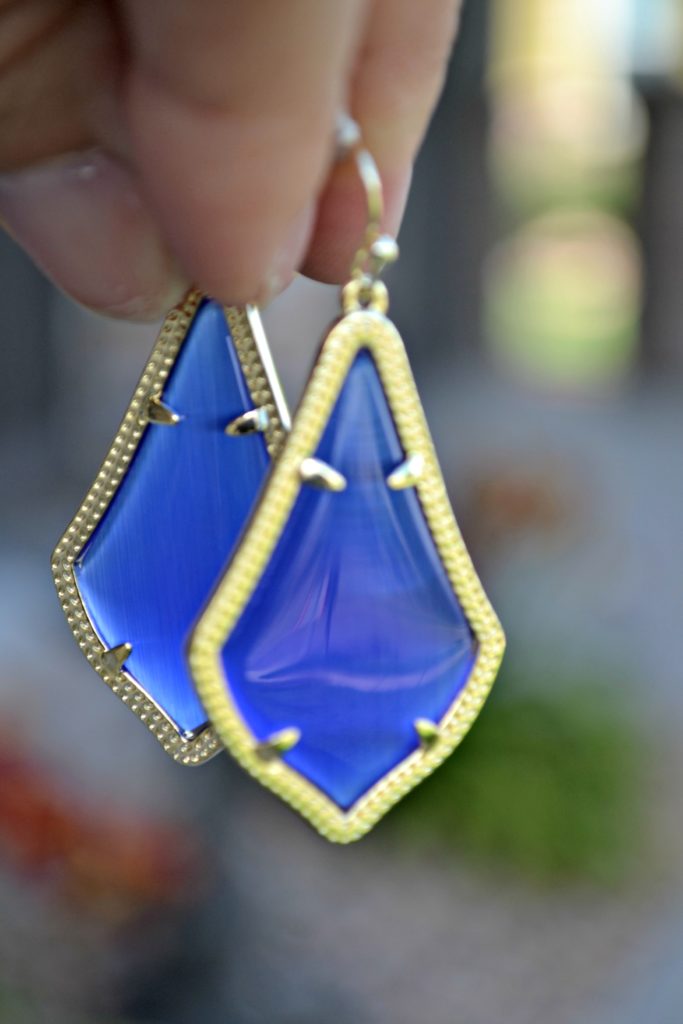 Although I love the color of theses jean, they're a tad to tight for me.  They're the Lila Ryan Dorianna Skinny Jean.  (The necklace and earrings are from Rocksbox).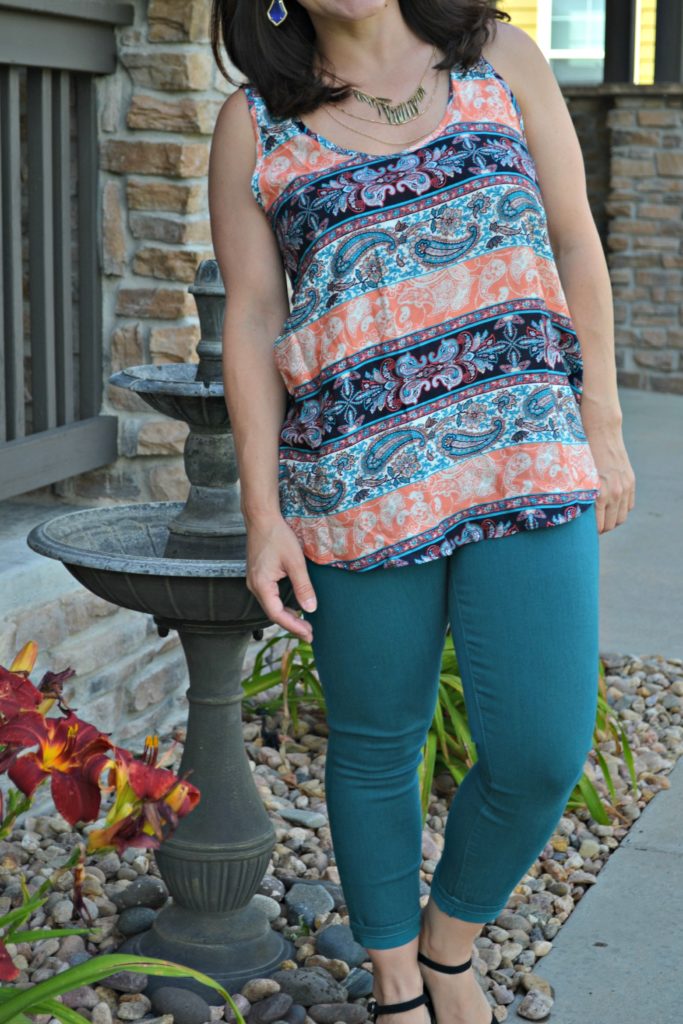 And the final piece in my set is from Kut From the Kloth.  They're the Corynne Colored Boyfriend Denim Short.  They color is fun and they look adorable off.  On me, they're not flattering at all.  So I'm going to save Kut From The Kloth from any bad advertising and leave the image like this….off.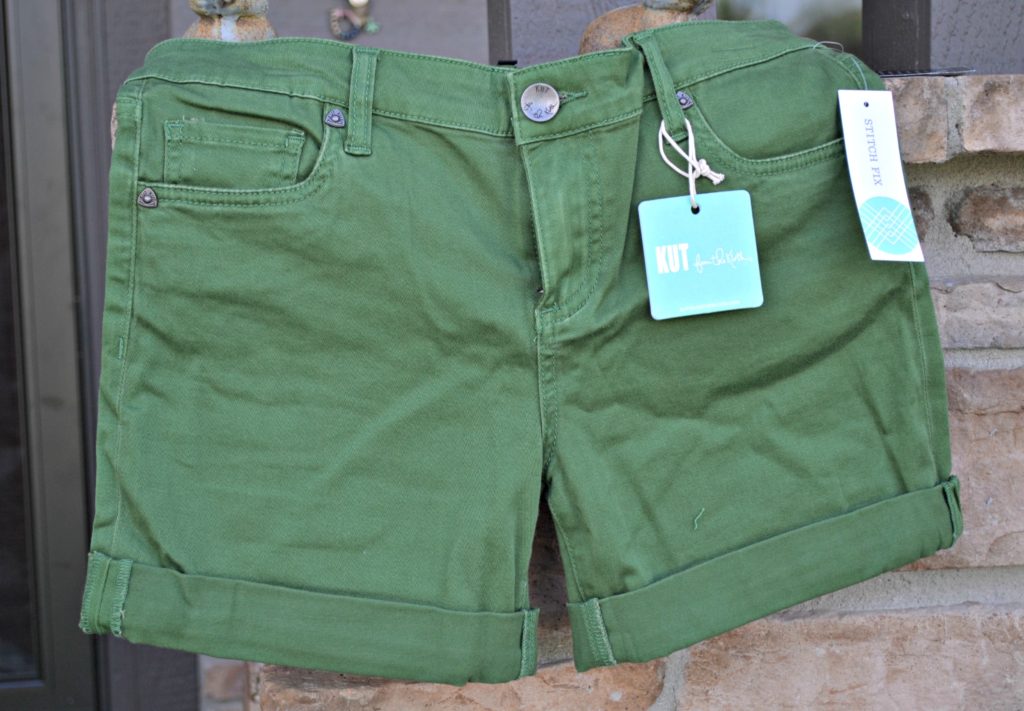 Overall I really loved this fix.  My stylist (Lauren) takes her time and really finds pieces that would fit my body type.  Although not everything fits like I want, it's far better then clothes I try on in store! I can bring 12 items into the dressing room and not 1 will fit how I want.  Short girls have it hard…add curves into the mix and shopping can be a nightmare!  Which is one reason I love Stitch Fix so much.
Here's a peak at my style card.  I like to save these each month and get ideas of what to pair with what in my closet.  It's like my own clueless closet.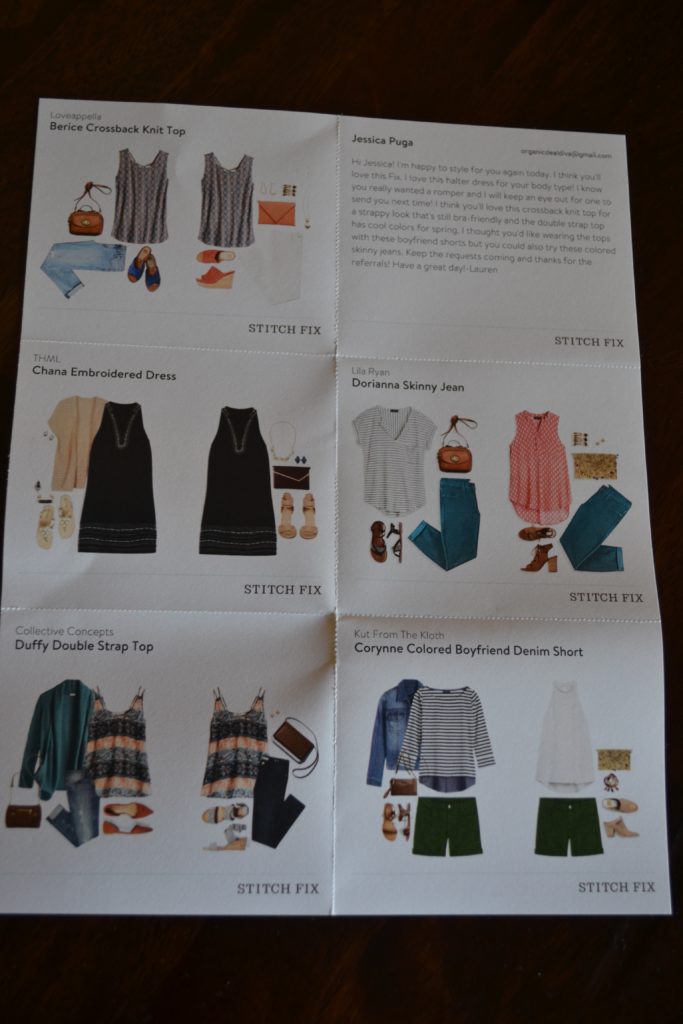 Ok now I need your feedback!  Please, please, please vote on which item or items you think I should keep!
I have until Tuesday, July 5th!  Thank you all in advance! 🙂  And remember to get your $25 to Stitch Fix by signing up here!  🙂
Looking for more Stitch Fix Reviews?  Head here….