I've always said that January is a hard time of the year to shop.  Here in Colorado we still have multiple months of snow and cold ahead of us.  I'm tired of buying sweaters buy now and starting to feel spring fever.  I know, it's only January!  So I was really not looking for any clothes this month in my Stitch Fix box.  I specifically only asked for bags.  I need a new bag, my old ones are just that, old, and my latest favorite broke!  Dang Target bags!  So when I only received two bags (that were not on my Pinterst Stitch Fix board) I was mad, irritated, annoyed, disappointed. 😉
This is the first month I didn't like and couldn't spend another dollar on my Stitch Fix box.  It was horrible…I felt let down.  I felt like it might be time to break-up.  😐
Here's Why:
I first requested no clothes, and then I got a pair of jeans, a dress and a blazer.  The Kut From the Kloth Kate Distressed Boyfriend Jean were $78.  I don't need more jeans, especially not $78 ones.  They went back.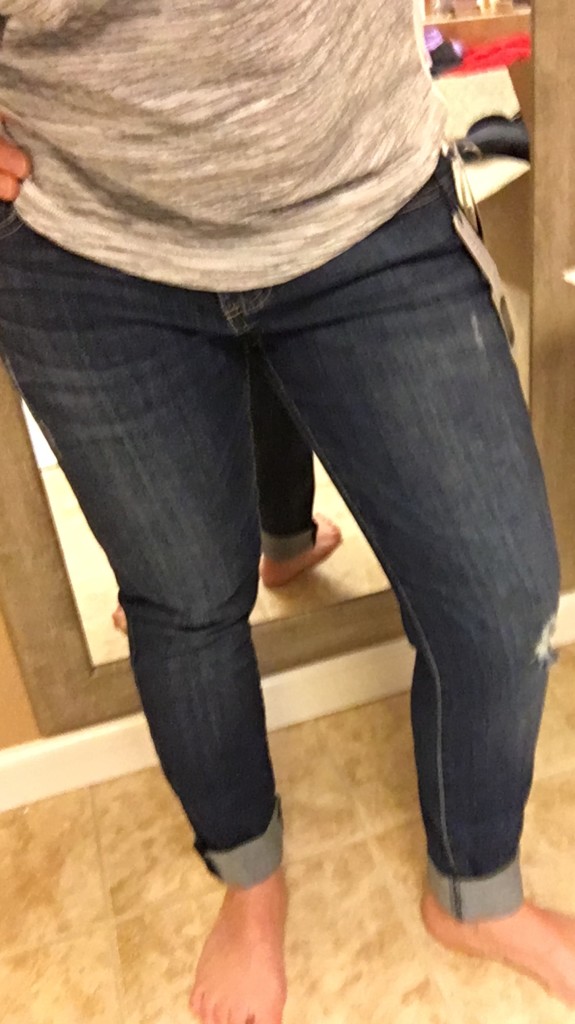 The first bag was the Street Level Textured Tote.  It looked like jeans, made into a bag that was $64.  I can't say I liked anything about the bag so I moved on..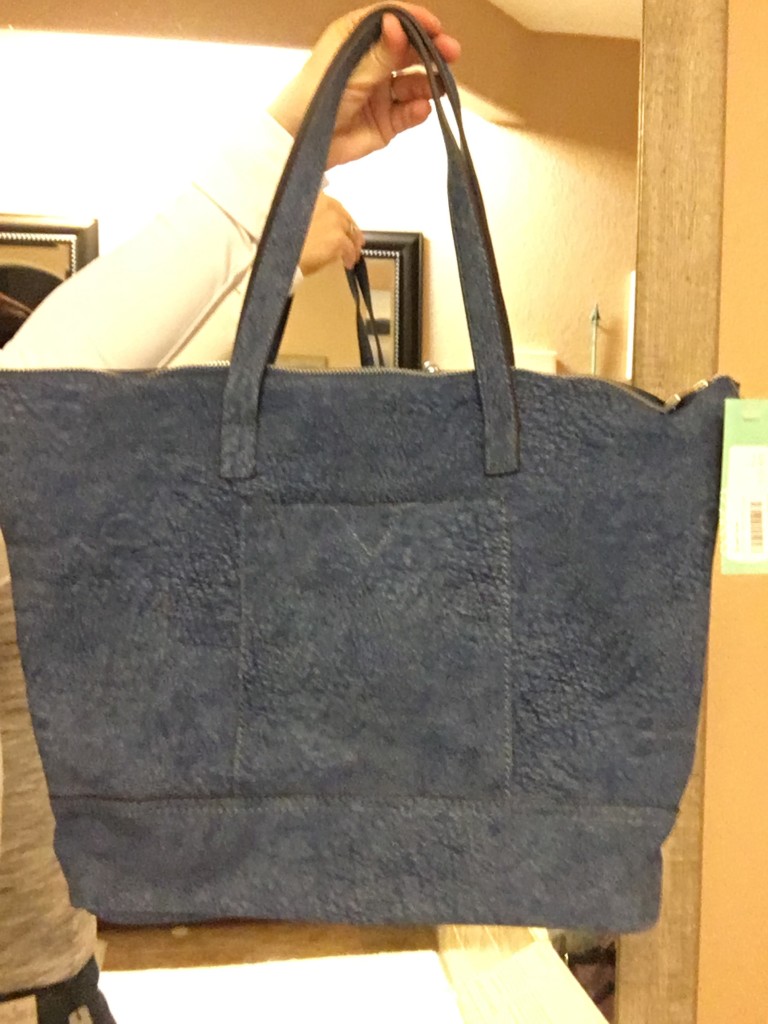 On to the Moda Luxe Brooks Crossbody Bag.  It was a cute style, but the color is not my style.  To each their own I guess.  Did I not pin enough images this month on my pinterest board?  Uh…moving on.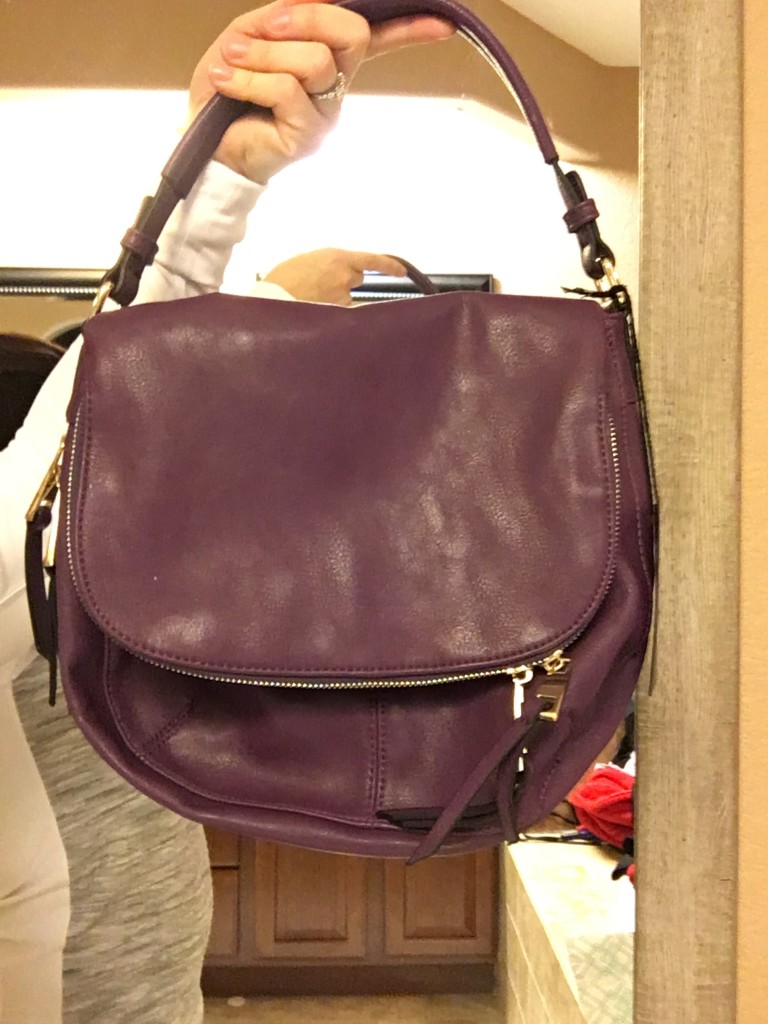 The Market & Spruce Kristah Ruffle Knit Blazer looked promising off.  Then I tried it on and looked like Chris Farley on Tommy Boy.  You know the song.  It was also $78!  Nope!  The last item I was hopeful for!  I hate losing my $20 styling fee!  That's NEVER happened!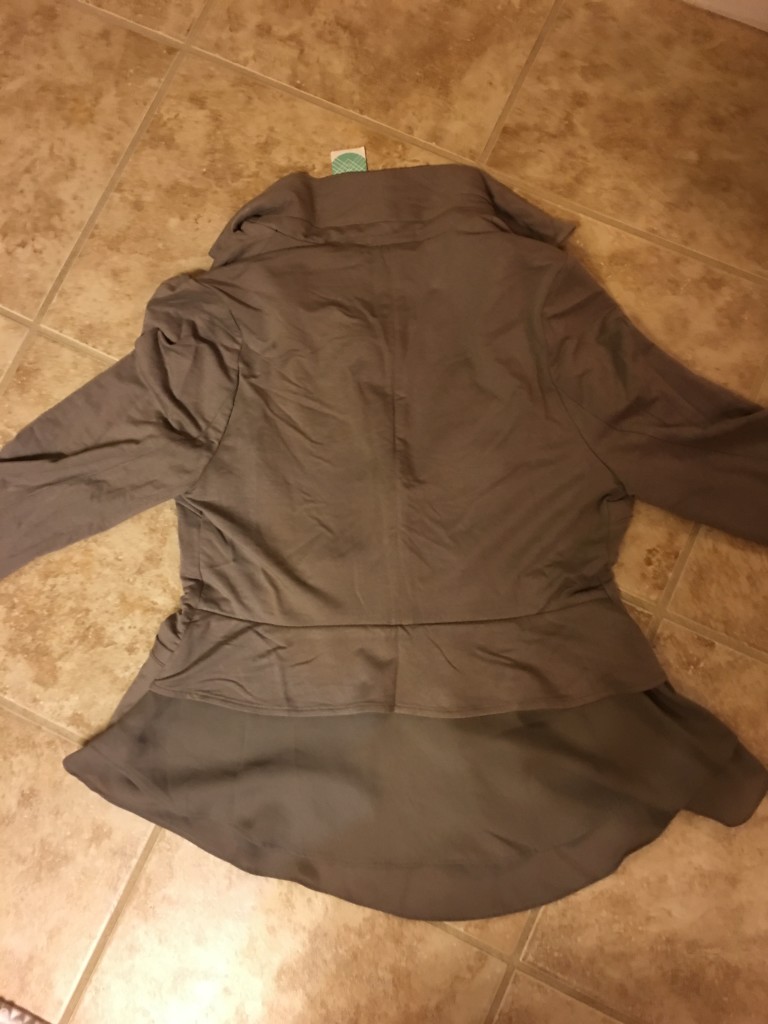 And here it is.  Number 5, I was trying to make it fit.  Trying to make myself like it, but alas, I did not.  I'm not a dress kind of girl to begin with but hey, who doesn't need a cute black dress!?  The Skies are Blue Kynley Dress might be a winner.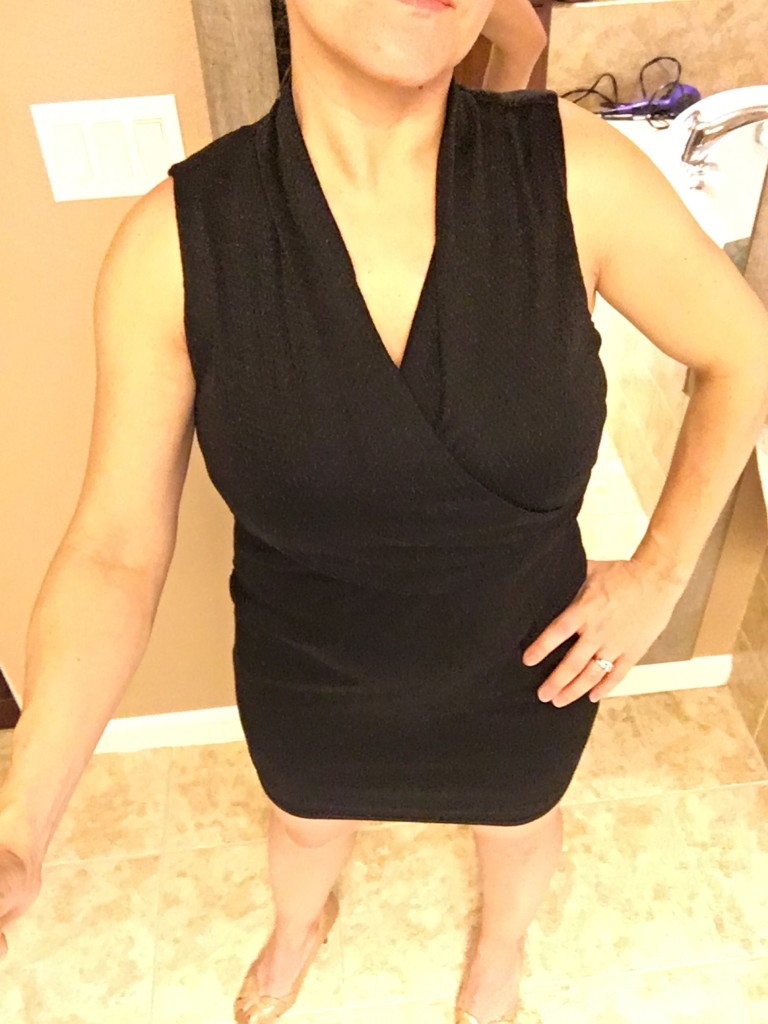 It was skin tight on me….my double C-section stomach was not forgiving in this dress so it had to go back.
This is it, this is my first 0/5 box!  That's never happened in 8 fixes.  I felt frustrated that my stylist didn't try harder.  So I emailed stitch fix to let the m know how I felt…and I asked for a re-do.  I'm part of a Facebook Stitch Fix group and saw tons of posts with the items that I did pin. Why didn't I get those items?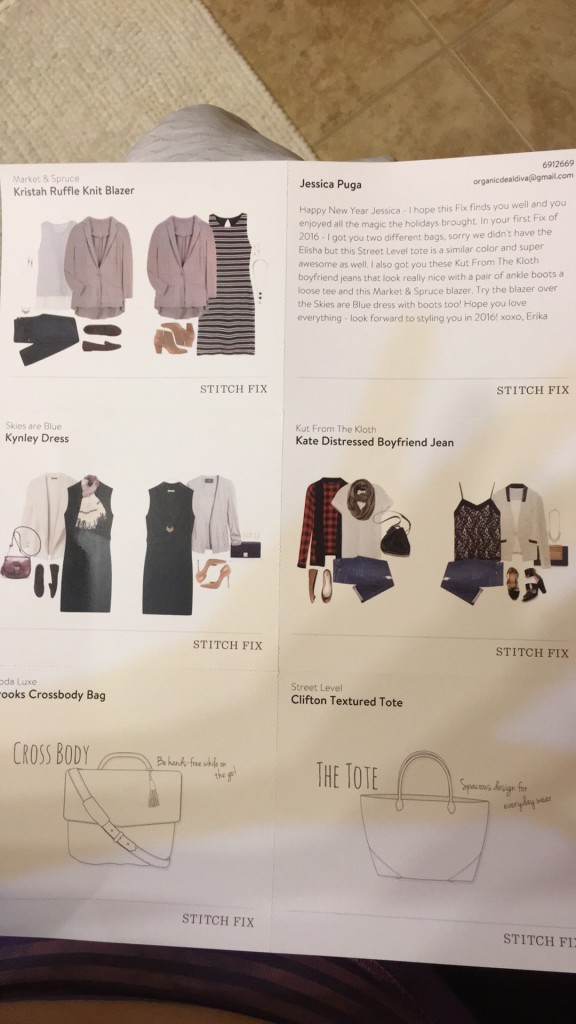 The Break-up
The response email from stitch fix was not satisfying either.  They said I was not specific enough on my note.  My note said "I'd like bags only".  Pretty sure that's specific.  So I did it, I broke-up with Stitch Fix!  It's Over! It's you, not me!  I'm not happy in this relationship anymore.
Second Chances
Then a few weeks later I began to forgive, and miss my Stitch Fix box.  Everyone at work was talking about their next box and when it arrives.  I really do love stitch fix.  So why break-up over one bad box?  One stylist that didn't get me at all, or spend time on my fix so why ruin it for everyone right?
Soooooo I gave in and we're now back together. YAY!  Me and Stitch Fix are happily back on.  My next box arrives the first week of February and I'm once again excited to get a box full of fashion and fun.  Stitch Fix is after all my favorite monthly subscription box.  It would be a shame to no longer have that to look forward to right! 😉
So lesson learned.  Not every box is going to be a fashion revelation.  I may need to spend more time myself on my Pinterst board and on my notes to my stylist.  Either way I've learned from this and I'm moving on!  With my Stitch Fix!
It's a monthly box, with 5 fashion items (clothes or jewelry/accessories) that are handpicked by stylists. The box is delivered each month (on a day you choose)!
No time to shop or keep up with the latest fashions? No problem…Stitch fix will pick out clothes and ship them to your house!
It's a mom's dream really. My problem is I LOVE shopping, but in-store shopping has lost its luster because bringing two little kids shopping is more stressful than anything. Which is why Stitch fix is a great fit for me!
You'll start out by taking a quiz on which fashion styles you Love, Like, Dislike (you get the idea).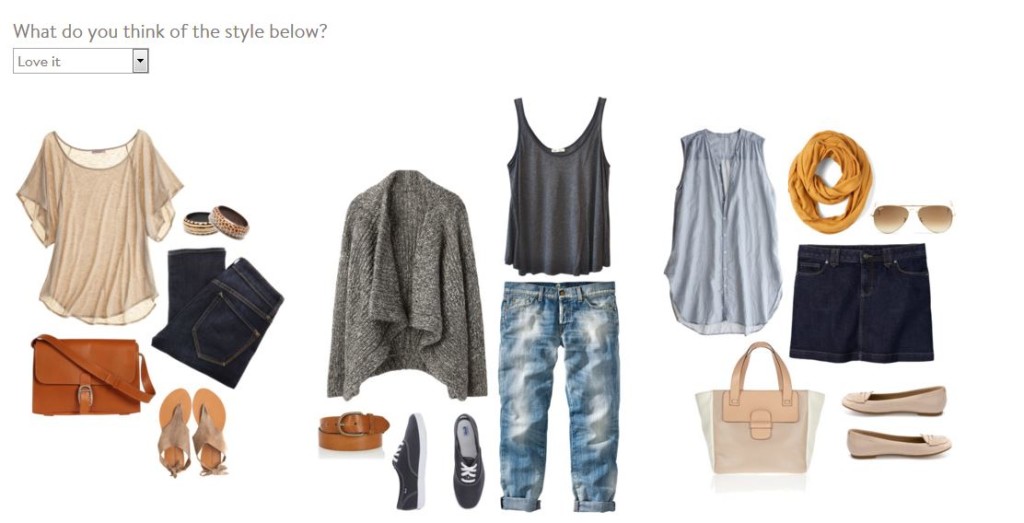 Then you'll answer questions about your own measurements so the stylists can send you clothes that fit! (Which so far has been great from my experience). They also have petite options and maternity options! I WISH I would've known about this box when I was pregnant…it would've made clothes shopping so much more fun. Then you select the day you'd like your first shipment and bam! Your first fix on the way!
Once you receive your box, you have 3 days to decide if you're going to keep an item or ship it back. I suggest keeping, at least one item in every box, so you don't lose your styling fee!
You will pay $20 a month for a "styling fee" but the best part is that 'fee' will be credited toward any items in your box that you want to keep.
That $20 monthly fee goes towards any clothes you purchase. If you don't like anything you lose that $20. (Most people keep one item and sell it online if it's really not them.)
If you keep all 5 items, you get 25% off the entire box!! (This makes everything more affordable for sure!)
You can also refer your friends and family and get a $25 credit toward Stitch goods!
It's by far my favorite monthly box..and I've tried a TON of boxes!
Check me out at a monthly Stitch Fix link up at Crazy Together.com