Summertime means time for camping, hiking, and outdoor fun!
Ok…here comes Debbie Downer…..
It also means a time for injuries, accidents and last minute emergencies. There I said it…but it's the truth!
Am I right?
Not only am I a mommy (to two adorable kids), but I'm also a pediatric RN…which makes me SUPER paranoid when it comes to anything that has the potential for danger. I'm safe! What can I say…besides you're welcome kids!
When we go camping, hiking or are spending the day outside, I always pack a First Aid Kit! Always, always, ALWAYS!!!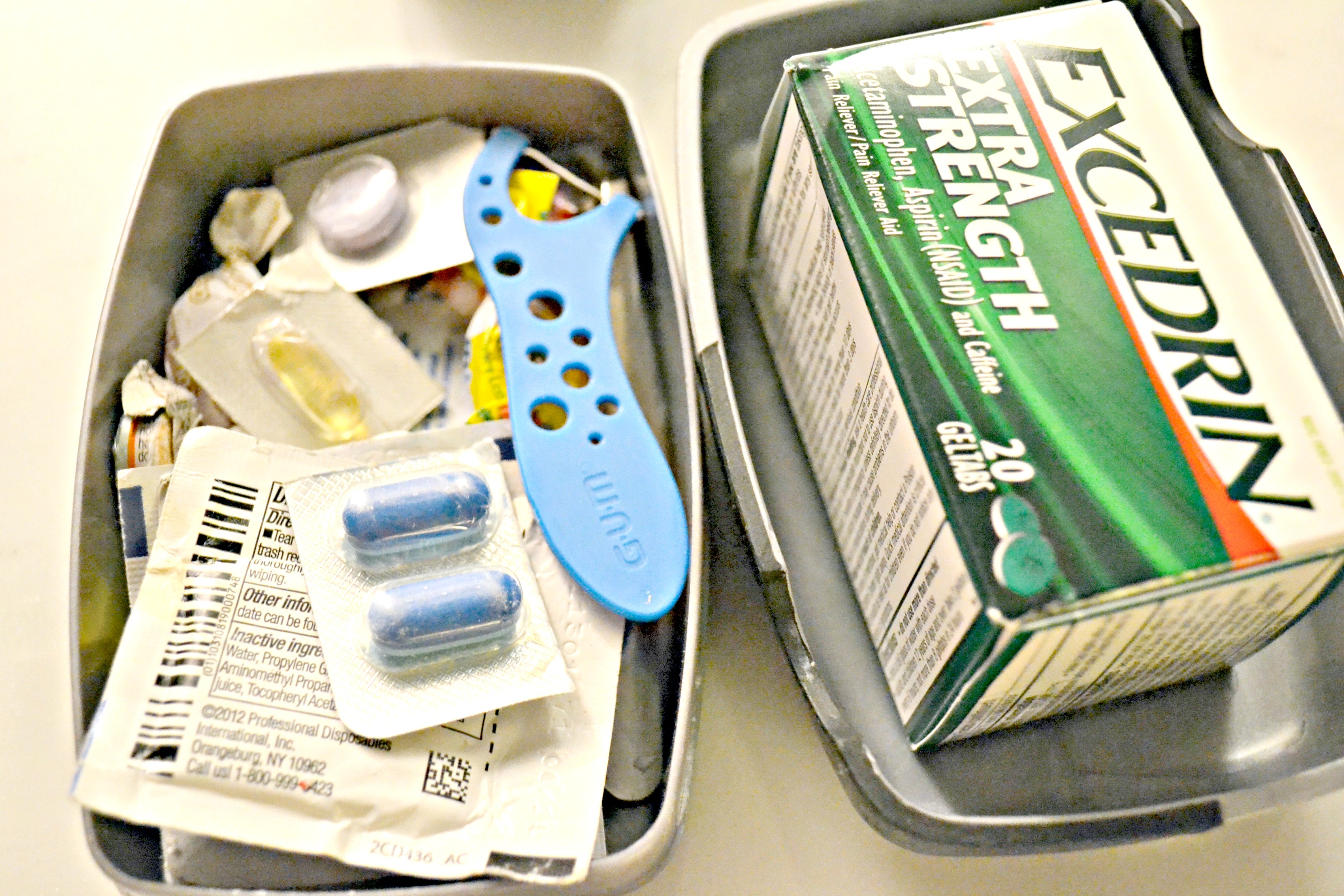 My husband thinks I'm crazy funny – but when the need arises, I LOVE when I'm prepared. Aside from the extra socks and bug spray, I'm sharing my detailed list of what you need in your first aid kit!
I keep a standard first aid kit in my car, with the usual bandaids and such, but when we go camping, this kit is much more detailed! It has to be….in case of danger! (kidding…kind of).
If you want to be prepared for your next camping trip or summer day outside, then here is what you'll need!
FIRST AID KITS FOR CAMPING & HIKING LIST
Ibuprofen (pain relief)
Benadryl (allergies, allergic reaction)
Afrin (allergy relief)
Nasal Saline (elevation causes dryness = bloody noses!)
Tums/Stomach Relief
Saline Drops for your eyes. (Smoky campfires may irritate your eyes)
Aloe Vera (sunburn relief, poison ivy etc)
Hydrocortisone (itchy skin relief)
Epi-Pen (if prescribed one)
MoleSkin – Tell your children to tell you RIGHT away if their feet hurt! (This will avoid issues later)
Band-aids
Gauze
Tape
Antibiotic Ointment (good to help with burns and cuts)
Ace Wraps
Scissors (wrap with tape to avoid injuries)
Nail Clippers
Tweezers (wrap tips with tape)
Popsicle Sticks (Good to use as a splint for fingers or toes, wrap tape around them for support)
Safety Pins
Tissues
Sunblock
Extra Water
JellyBeans or sugary items. (For fast relief of low blood sugar symptoms!)
The kit does not have to be a HUGE carry all kit. Just a few doses of each medication will suffice. If you're not willing to carry around a full bottle of medicine, put them in a bill box or buy the individually packaged versions. I use a plastic baggy and separate items by need.
Allergy meds in one bag
Pain relief in another
Skin in a bag etc.
This helps to grab exactly what you need, fast!
I've make a quick printable for you to download here——> First Aid Checklist for Camping
Being the queen of safety isn't such a bad title to have. As I always say, it's way better to be safe and prepared, then stranded on a mountain with no way to help your kids or family with illness or injury!
What items do you pack in your Camping and Hiking First Aid Kit?
Love my list? Be sure to PIN and share it below! 🙂