*Affiliate links are used in this post
Stitch fix is my jam.
It's been for almost two years now. I look at my closet every morning and for the first time ever I always have something to wear! ALL Thanks to Stitch Fix and my awesome stylist! 🙂 If you've been wanting to try it, DO!
Since I started getting my Stitch Fix box almost two years ago, I started a rule where I get to keep at least one item each month. It's the ONLY way I keep my wardrobe updated. I'm always spending money on my kids for anything and everything they need. I figured it was time to spoil myself, and so I did and still DO! #Ideserveit
It's a monthly box, with 5 fashion items (clothes or jewelry/accessories) that are handpicked by stylists. The box is delivered each month (on a day you choose)!
No time to shop or keep up with the latest fashions? No problem…Stitch fix will pick out clothes and ship them to your house!
It's a mom's dream really. My problem is I LOVE shopping, but in-store shopping has lost its luster because bringing two little kids shopping is more stressful than anything. Which is why Stitch fix is a great fit for me!


You'll start out by taking a quiz on which fashion styles you Love, Like, Dislike (you get the idea).
Then you'll answer questions about your own measurements so the stylists can send you clothes that fit! (Which so far has been great from my experience). They also have petite options and maternity options! I WISH I would've known about this box when I was pregnant…it would've made clothes shopping so much more fun. Then you select the day you'd like your first shipment and bam! Your first fix on the way!
Once you receive your box, you have 3 days to decide if you're going to keep an item or ship it back. I suggest keeping, at least one item in every box, so you don't lose your styling fee!
OH and they also have Stitch Fix for MEN! So if you have a guy in your life that needs some style help, Stitch Fix is here to help!
You will pay $20 a month for a "styling fee" but the best part is that 'fee' will be credited toward any items in your box that you want to keep.
That $20 monthly fee goes towards any clothes you purchase. If you don't like anything you lose that $20. (Most people keep one item and sell it online if it's really not them.)
If you keep all 5 items, you get 25% off the entire box!! (This makes everything more affordable for sure!)
You can also refer your friends and family and get a $25 credit toward Stitch Fix goods!
It's by far my favorite monthly box..and I've tried a TON of boxes!
Here is what I got this month:
Love by Design – Borris Sleeveless Striped Cardigan $58
RD Style – Rhonda Faux Leather Jacket $78
DV8 – Sauli Ankle Bootie $90
En Creme – Tatia Cross Front Knit Top $48
LiverPool – Cameryn Skinny Pant $88
The Love by Design Borris Sleeveless Striped Cardigan is adorable!! I'm only 5'1″ so I look a little overwhelmed with all the fabric, but I'm still keeping it. Anyone over 5'3″ would fit into this adorable vest better then I do, but regardless I LOVE the print and it can be layered year round! Keeping!
I've been swooning and looking for an adorable moto jacket that actually fits my arms. The RD Style Rhonda Faux Leather Jacket is adorable on and will turn any look into an edgy outfit. LOVE IT. Keeping!
I asked for an ankle bootie that will be versatile and go with lots. The DV8 Sauli Ankle Bootie is adorable, I just don't love the price or quality of the bootie. Sorry DV8. I feel like I can get these Lucky Booties that will go with more, are real leather and equally adorable on.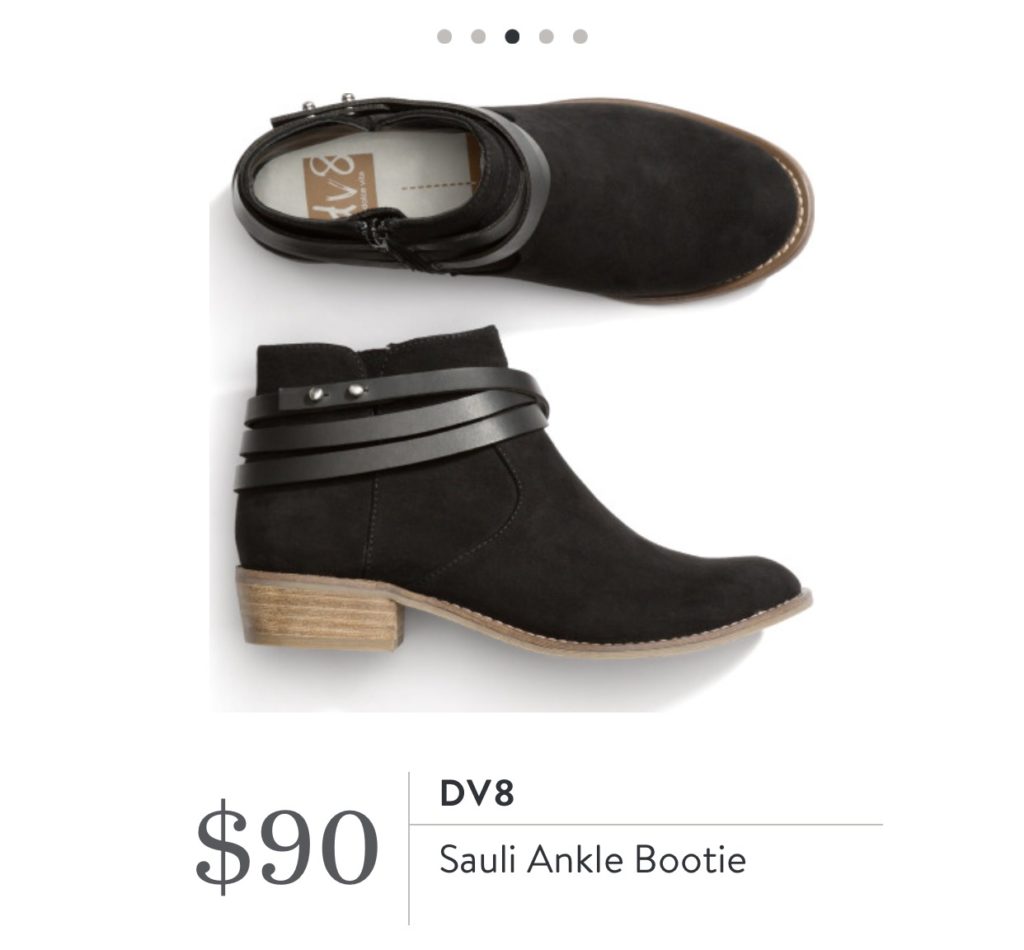 The En Creme, Tatia Cross Front Knit Top is also adorable on. My husband was a fan this top since it plunges low…..a little lower then I'd like so I'm not sure how often I will wear it. If this was 15 year ago I would've been all about this shirt! I'm still on the fence about it, so it might be a keeper! 🙂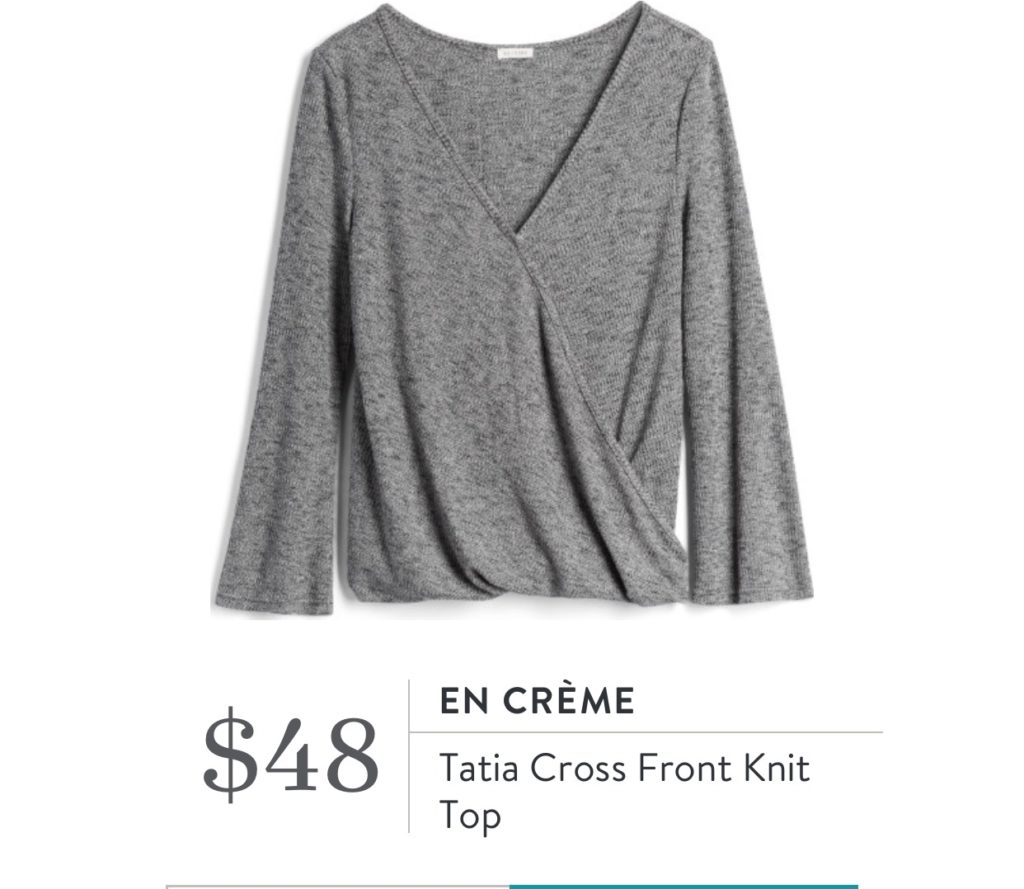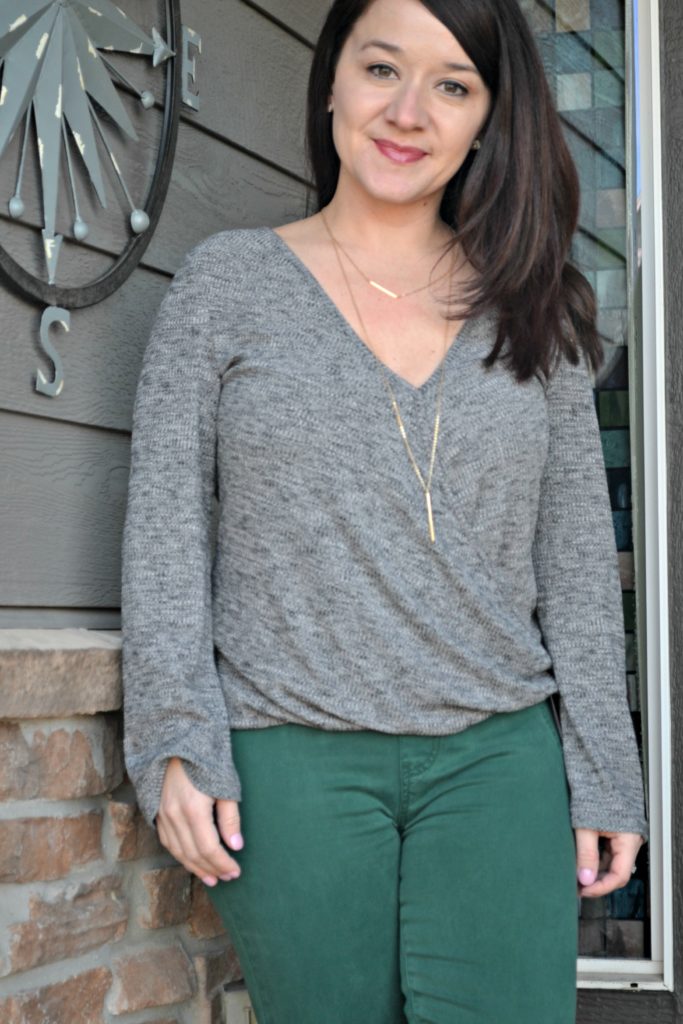 Necklace is from Rockbox! Similar//here//
EVERYONE is all about the LiverPool, Cameryn Skinny Pant! I can see why now, they fit like a glove and are super cute on! I don't need another green pair of pants, or pants for that matter so I'm sending them back. But I highly recommend if you're looking for a pair of cute skinny pants, look at the Liverpool pants!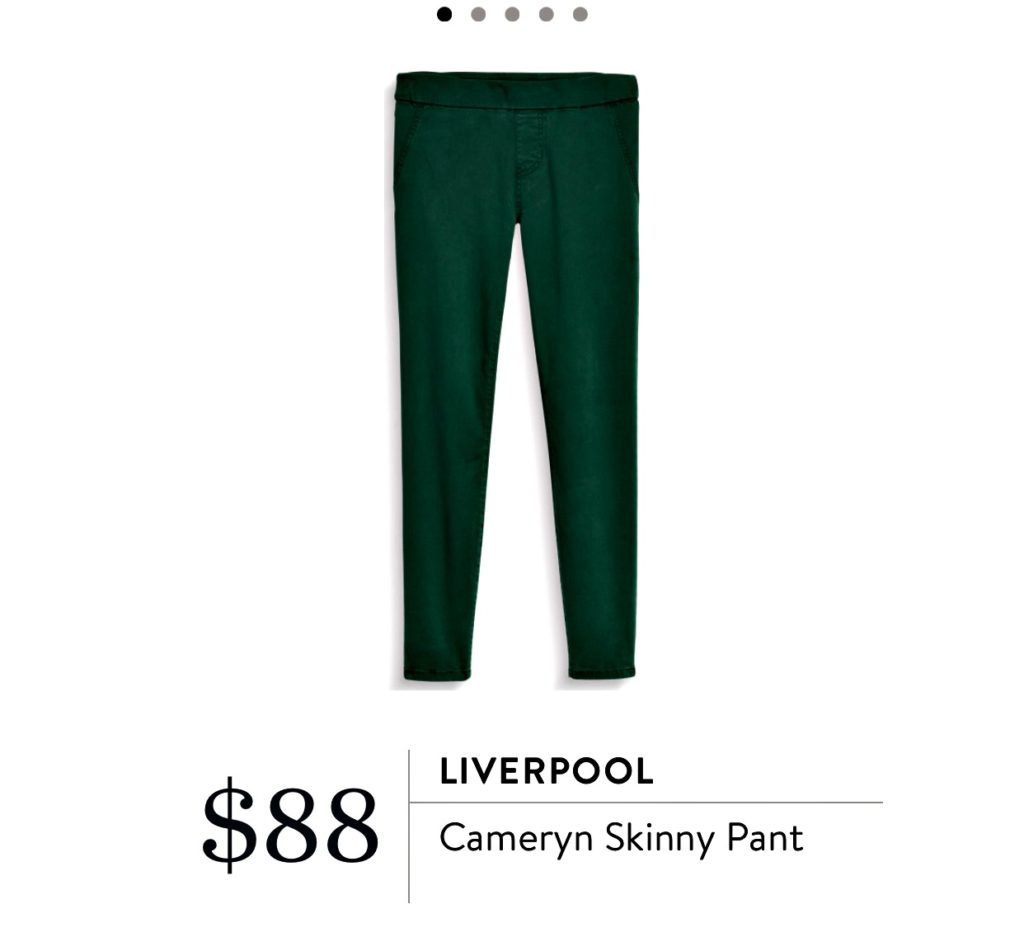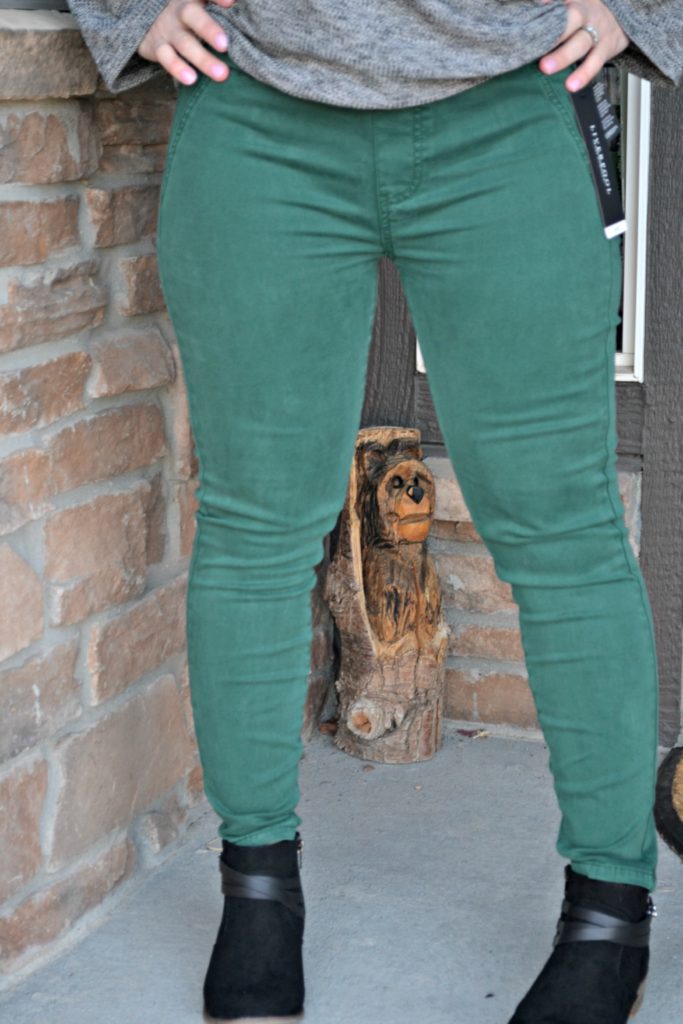 Overall I LOVED my fix again, and added some adorable items to my wardrobe this month. Next month I'll be done asking for winter and I'll start gearing up for spring! It barely February, but hey, a girl can dream.
What item(s) do you think I should keep out of this box? I'd love to hear what you think! 🙂
Thanks for stopping by!
(See more great Stitch Fix Boxes the the Stitch Fix Link Up from CrazyTogether)