This post is part of the Evite Influencer program
Unless you live under a rock, everyone has heard of the party planning website Evite.  They've blazed the trail for party planners everywhere to not only save money, but organize parties at the click of a mouse.
Did you know that Evite now has a Photo Booth app for the iPad that literally turns your iPad into a real Photo Booth?
Making your Party a Hit
When I got married almost a decade ago, I searched far and wide to have a photo booth at our wedding.  Then I searched around and found that the prices of a Photo Booth were outrageous!  Since my want wasn't really a need, I had to forgo the photo booth idea.  Fast forward to 2016, and now that's to Evite you can have a Photo Booth at your next party or event.  All you need is the iPad and to download the app.  (Currently the app is around $10, what a steal).
I've been dying to try the Photo Booth app from Evite.  I downloaded it within seconds and began to easily use it.  Just as the Evite site is self explanatory, the Photo Booth app is also just as easy!  Follow the prompts and you're on your way to having your own affordable in-home Photo Booth!
Party on your iPad
Evite Photo Booth allows hosts to bring the fun of a Photo Booth to their party on an iPad. A host can choose from a number of designs, borders, and filters to customize the look and feel of their photo booth. Taking photos with this app is truly fast and seamless. During or after the party, you can easy save and share the photo strips with your friends and family!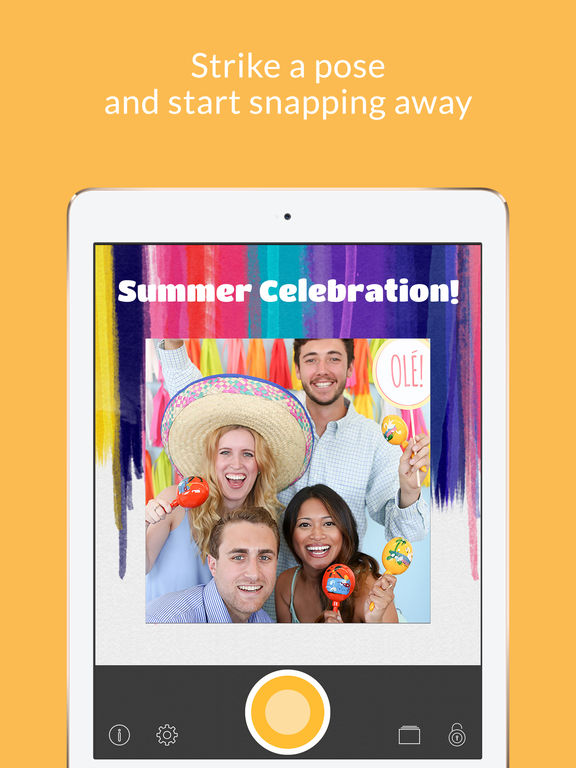 Customizing your Photo Booth
• Pick from a number of Booth Skins depending on the type of party they are hosting
• Pick from 11 different Photo Layouts
• Pick a black, white or custom color border for their photos
• Customize a photo caption
• Choose from 14 different Photo Filters
• Choose the time between shots (1-5 seconds)
• Show a photo preview and for how long (1-5 seconds)
Taking Photos
• When taking a photo, a visual countdown lets you know when the photo will be taken
• Filters and any preferences set from the above section will be applied to the photo
• There is no limit for the number of a photos that can be taken
• After photos have been taken, if set, there will be a brief preview
Sharing Photos
• All photo strips are stored in the app and managed in the app!
• Share via Facebook, Twitter, email, saving to camera roll or print your photo strip with AirPrint
• All your photos can be saved to your camera roll in a batch job at once
I REALLY wish this was around when I had my wedding….forever ago! 🙂  Although now that I have children, and throw birthday parties a few times a year, this would be such a fun party station!  Come in the door, pose for the Photo Booth!  Talk about a great way to remember your party and event!
You can download the app at the iTunes store on your iPad, (sorry not available for iPhones) HERE!