I'm sharing #purclean in my life as part of a Tide® sponsored series for Socialstars™
When moving into a new home, the laundry room might be at the end of a long list of projects.  When I moved into my home last summer, the laundry room makeover was on the VERY top of my list.  Whether you enjoy laundry or not, it's a chore we all have to do.  I spend my hard earned money on clothes, so you better believe I'm going to take care of that investment.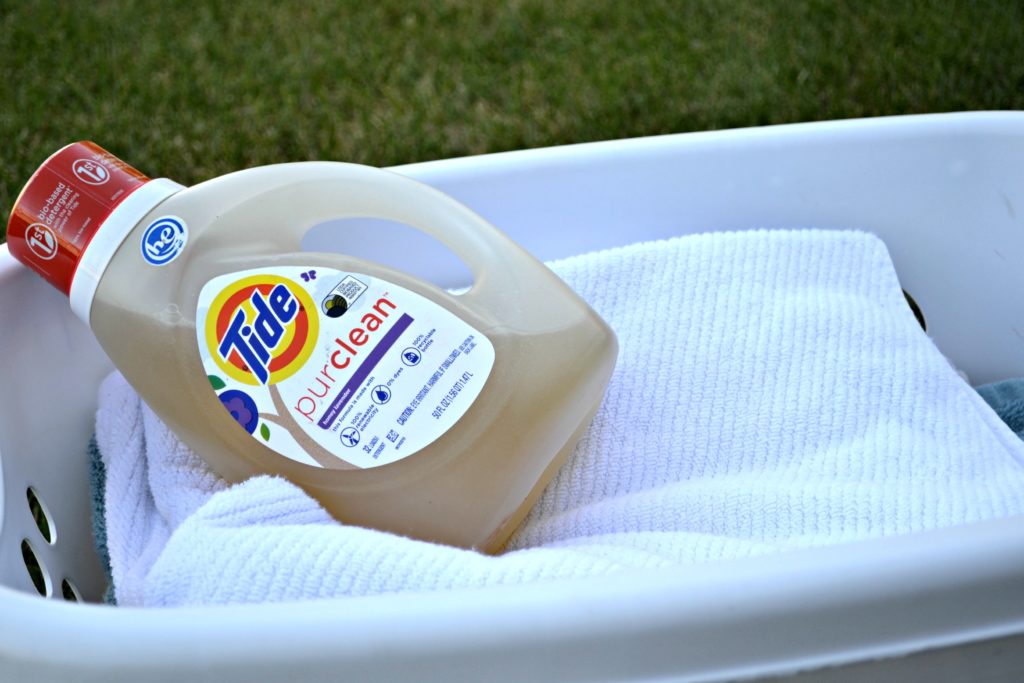 When you're spending time each day, or for some people each week in a laundry room, you really want that room to look nice, right?!  Well I did, so I decided our laundry room would be the first room in our home to get a simple, economical facelift.
Speaking of economical, I'm all about saving money…and of course helping our environment!  I've adopted my organic lifestyle for a number of reasons and helping the environment a huge reason for me!  For that exact reason, Tide purclean™ is now my go-to for laundry detergent!  It's the latest and greenest addition to the Tide family being the 1st bio-based detergent, with the cleaning power of Tide! It not only works wonders, it smells amazing withe the aroma of honey and lavender!  (Yay nature!!)
Tide purclean™ is a greener alternative that's better for the environment due to these 3 sustainability claims:
The Bottle is 100% Recyclable
The formula is made with 100% renewable wind power electricity
The product is made at a zero manufacturing waste to landfill site
So now that you know what I use to do my laundry, here's how we economically made over our laundry room.
Here's what it used to look like….it's narrow and dark:
The cabinets were so close to the door, we couldn't open the door to the laundry room all the way!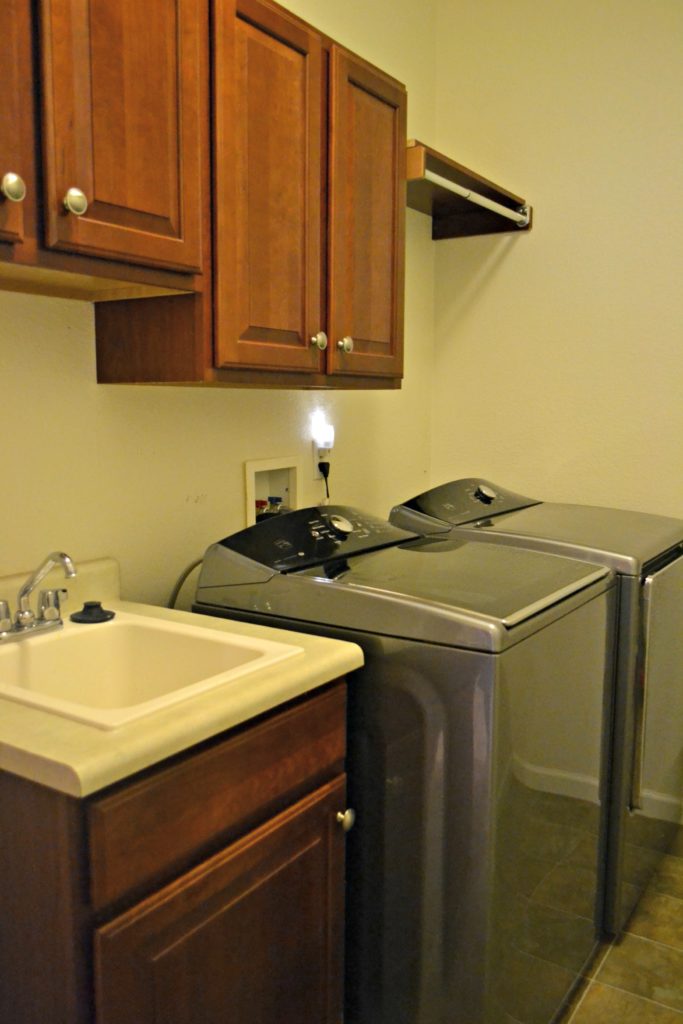 There's not much we could do to this room, but brighten it up!  So we did! 🙂
The cheapest and most eco-friendly way to spruce up this laundry room was to:
Paint (with paint we already owned)
Move the cabinets
Add accent to a wall (Shiplap anyone!?)
Add a new light to the room
Add new decor
I LOVE the look of a white shiplap wall but I didn't want to spend the money on real shiplap.  So I "hired" my handy husband to figure out a way to make a cheap shiplap lookalike.  Lets just say he didn't disappoint.  He found an eco-friendly option that was affordable.  We bought primed particle board and painted it white.  We had white paint laying around from on previous project.  At a whopping $30 we have a shiplap wall! (Including the cost of nails and caulk).  Here's what the wall looked like before he painted.  He did have to cut each board to fit the wall, so that did take some time!  (Which is why I "hire" my hubby! 🙂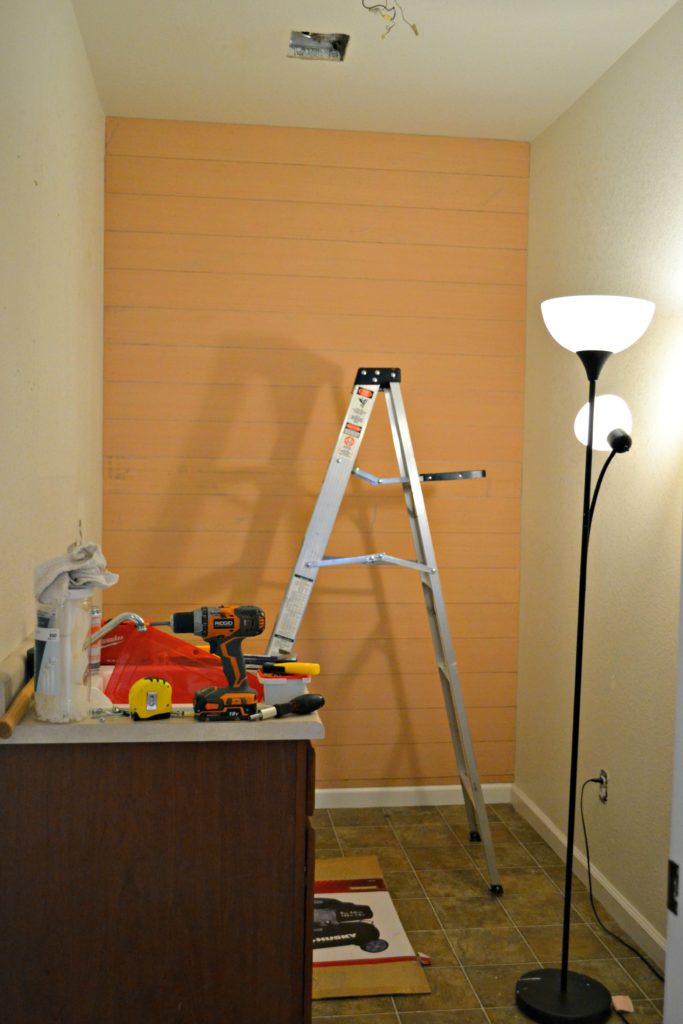 Next he caulked around the corners and on top of each nailhead.
Next we painted the fake shiplap wall white.  And then painted the other 3 walls a light grey.
Again leftover paint from our bedroom.  We found a clearance lighting fixture and used extra decor that we weren't using around the home.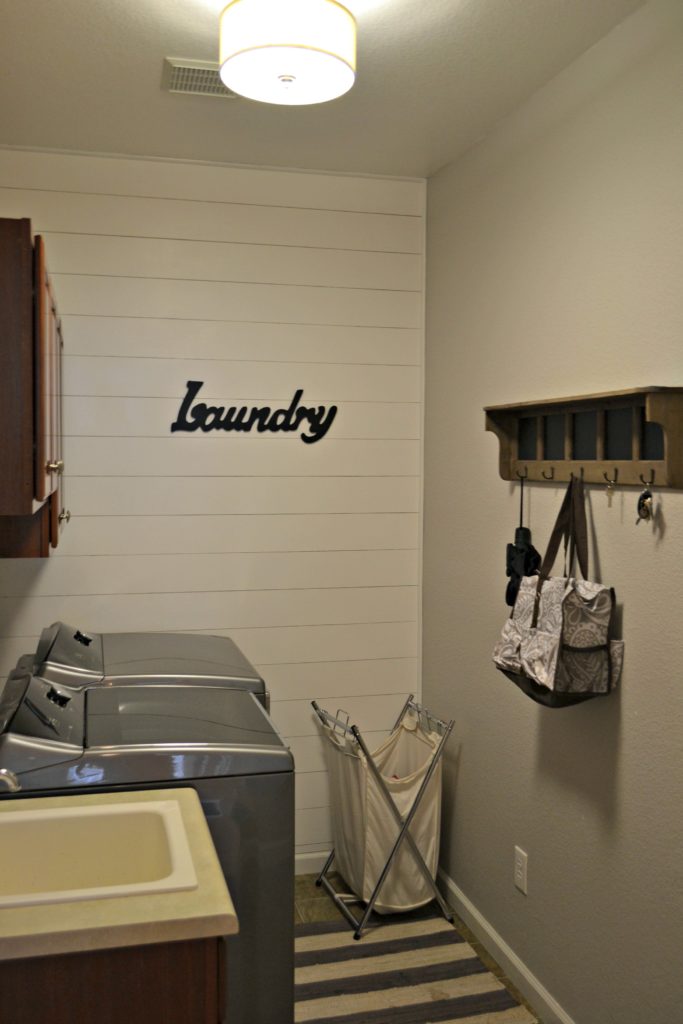 The complete cost for the makeover was around $100!  I love the clean look of my updated laundry room now. It's much brighter and feels more welcoming then it did before. Yay for DIY projects that are easy and effective. Thanks to my new laundry room and Tide purclean™, laundry no longer feels like a boring chore in our home!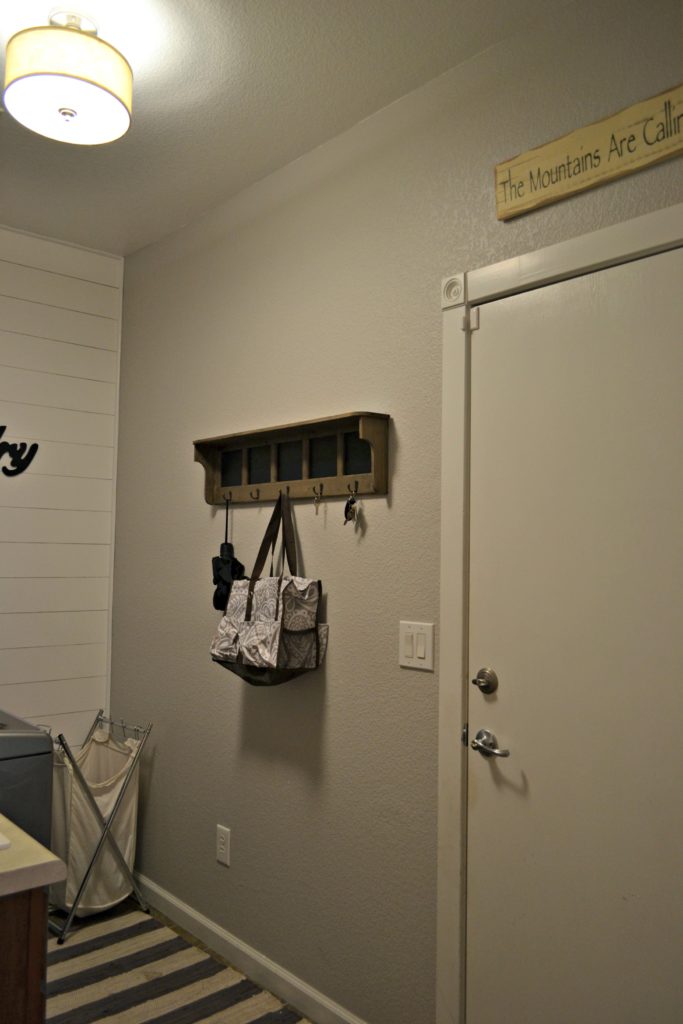 Last but not least, the moved cabinets: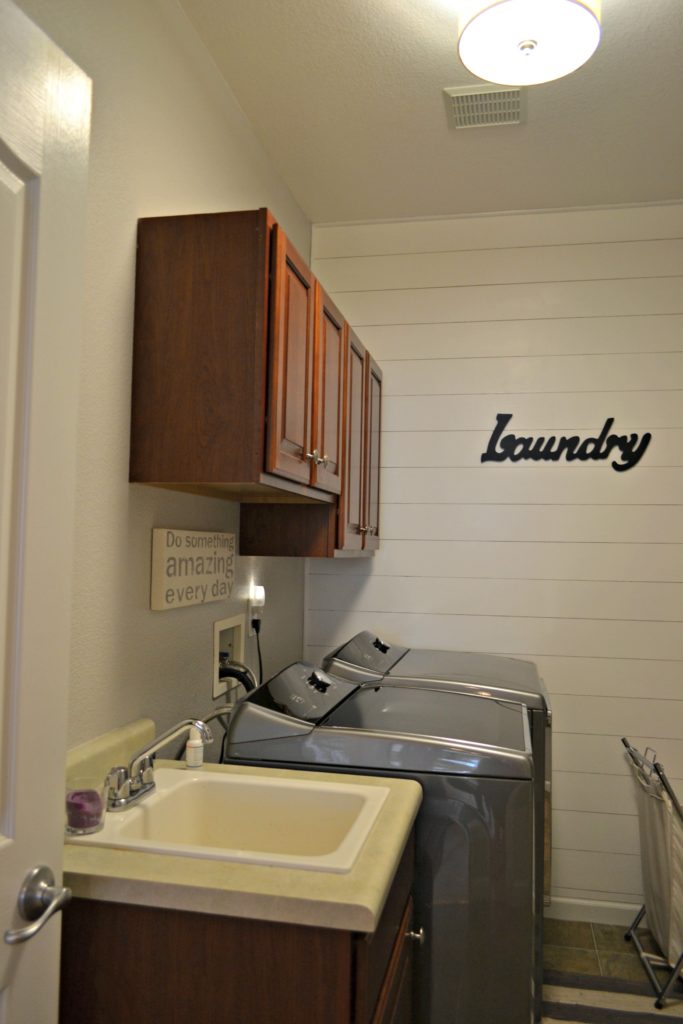 What part of this makeover are you loving? I'd love to hear your comments about this DIY project and I'd also love to hear if you've tried my new favorite Tide purclean™ detergent!