Last year we took one of the best vacations we've ever done as a family.  We headed to Orlando and visited Disney World for Mickey's Not so Scary night!  Our kids were 2 (days from turning 3 and under one years old (9 months to be exact).  We only had to pay for my husband an myself to get in.  It was affordable at only $68 per adult for an amazing night of entertainment at Disney World.  We did our research and kind of knew what to expect, but we spent the night not really having a great game plan.  We saw most of the events, ran to a few parades and were able to ride a ton of rides.  We saw a few characters, did some trick or treating and overall had an amazing time in Disney World.  Our kids fell in love with Halloween after this trip…and to this day Halloween is a bigger deal to them then Christmas.  Almost.
This year the idea of going again began to slowly creep into my mind around September.  I had such wonderful memories from the year before…why not go again!? 🙂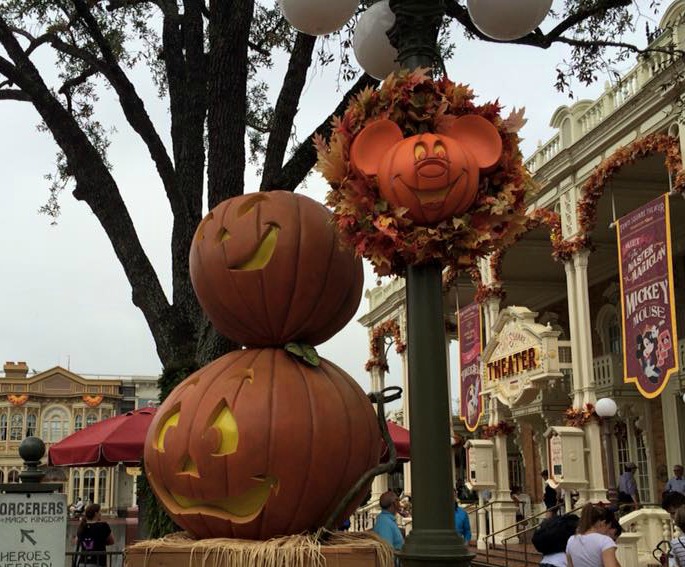 So we did.  Hey you only live once right.   We just got back from our second trip to Disney World's version of Mickey's Not So Scary Night and this year we did it right!  If you're thinking about heading to Disney for one of their holiday parties (this one in particular) here's a helpful guide on how to REALLY get the most out of your night!
Purchase your tickets months ahead of time for the event because they do sell out!
Your ticket says the party is from 7pm-12pm, but you can actually get into the park starting at 4!  We left our hotel room at 3, because with parking, trams/ferry boats it can take an hour to get to the gate.
All of the park attendees that did not purchase a event party ticket must leave the park by 7:00.  Be sure when you go into the park that you get your wrist band!  Those without the wristband will be asked to leave so don't waste time and get it right away.
Pick up a map and candy bags when you walk in, the event party map!  The event parade and special performance times are all listed.  They pass out plastic small FREE candy bags for all the trick or treat stations!
There's a TON of character meeting spots.  If your family likes to meet characters then be ready to get a ton of signatures!  If your kids just like to see them from a distance and go ride rides, then you'll be able to see them all over the park.
Take time to go trick or treat!  The map will show you where the trick or treat stations are.  Each station gives a big handful of candy so you only have a hit up a few and your kids bags will be full!
The parade is a must see!  There's more people at the first performance but with toddlers, the first performance is the best bet so plan on this!
There's a character dance party going on!  It's adorable and your kids get to dance with characters.  Two years ago the dance party was with all the villains.  This year the dance party was with the Monster Inc characters!  Either way it's a great video opportunity to capture your little ones bustin' a move with characters!  Go!
Forget about fast passes!  They are not passed out after 7pm.  IF you are going to the park at 4, you can still load a few fast passes on your tickets to ride some rides before the party begins at 7!  We always  get at least 2 rides in on our fast passes!  (You can log into your Disney.com account and select your fast passes online!)
Be ready to ride a TON of rides!  The lines for everything are 5-45 minutes.  Most are under 20 minutes all night! (That's unheard of for Disney!)  The new Snow White mine train has the 45 minute wait, but if you go during a parade, that wait will be substantially lower.
If you're planning this trip 6 months in advance, you can try to get a dinner reservation at Belle's Castle "Be Our Guest Restaurant".  If you are not able to get reservations, go to the castle around 7pm, when the party is starting and try to get in last minute.  We've been successful both years!  It's totally worth spending an hour of your party time here and it's by far the best food inside Disney!!
If you're eating dinner inside Disney World, try to get reservations.  If you just need to snack, Gaston's Tavern has some healthy options!  (Healthy options are hard to come by in Disney parks unfortunately).
Make sure your kids take naps! If you want them to nap inside the park bring or rent a stroller that reclines.  The strollers that Disney rents do not recline and your kids won't nap in them.
If your kids are still in diapers, be sure to use the baby room inside the park.  It's right past main street on the left before you leave Main st.  It offers private areas to nurse and change diapers!
Be sure your kids dress up but have fun as dress the whole family up!  It's Florida so think warm weather costumes!  (If you dress you kids in a warm olaf costume they're gonna be hot!)  This year we were pirates and the kids were Peter Pan and Tinkerbelle!
Bring rain gear.  Ponchos or blankets, a spare pair of flip flops for everyone!! My shoes became so wet during our last visit I had to buy flip flops inside the park.  They were not comfortable and they were $19.  Target sells the same version for $3….you know what I'm talking about.
Bring in snacks for the kids.  Disney has a no food policy but we've always brought in kids snacks and they've never told us to toss them!  It'll save you money and your kids will be happy!
Bring ear plugs for the little ones.  The fireworks were not well received our first year.  This past year our oldest turned 4 the day of our visit and enjoyed them.  The 1 year old did not!  If you have ear plugs handy put them in your bag.  You'll enjoy the fireworks and so will you kids! (The first year we literally ran from them…the kids were both freaking out!)
If you're staying in Orlando it's worth spending $100 to stay on property for the night.  If you plan on staying until midnight with toddlers, riding the tram or a bus to your 10 minute away hotel is much better then taking 45 minutes to get back to your hotel room! (Plus you'll get magic bands each worth $15 when you stay on site and visit the park!)
Take a ton of pictures and enjoy every minute!! It's one of the most magical and memorable nights for everyone!