I was provided a free sample of the Core De Force workout set for this review. I am not a beachbody rep or affiliate. All opinions are my own.
Core de Force is the newest workout system from Beachbody. If you're like me, and you loathe the gym, the Beachbody workouts can be a lifesaver (and body changer!) Last year I reviewed the 21 Day Fix Extreme and absolutely LOVED it. My pregnancy weight was not coming off (especially those last 10lbs) and I loved that there was a eating plan and workout plan all in one. It was hard, quick and fun!
Fast forward to this year, and I've found myself bored with he same 'ol workout. If my brain is bored then my muscles must REALLY be bored. And they are. The holiday's also didn't help my workout regimen or diet. 😉
So here we are, in January and yet again starting another workout program. Just like last year, I'm really excited to see results.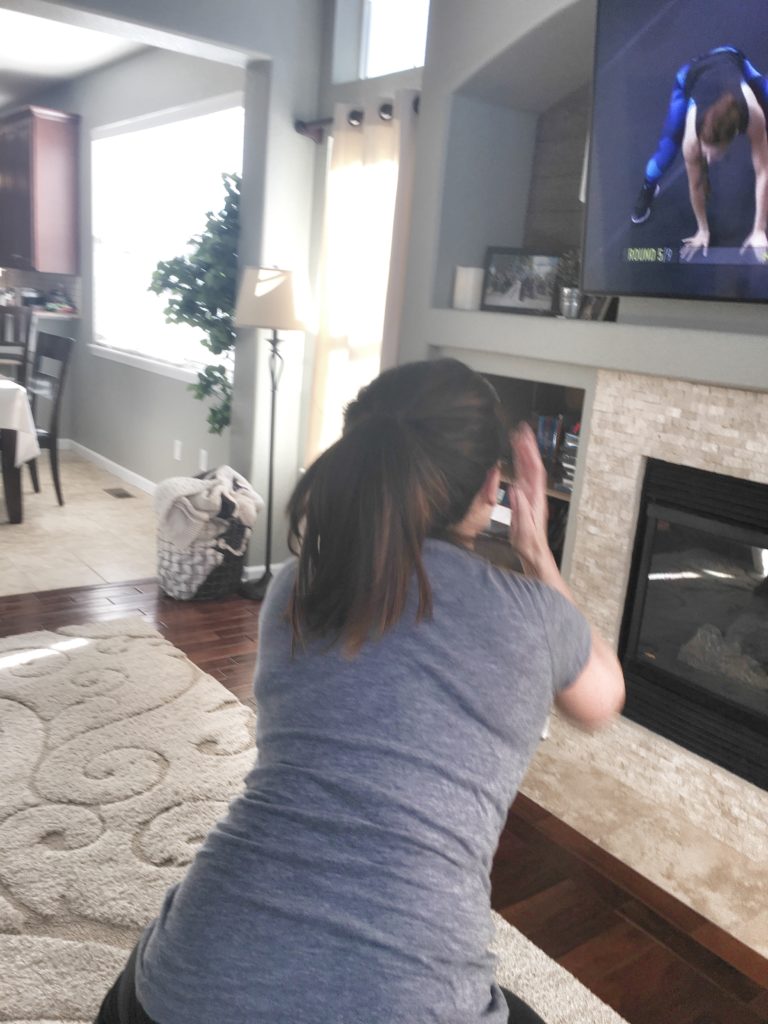 WHAT IS CORE DE FORCE?
Think MMA workouts! Mixed Martial Arts from the comfort of your own home. (And no one will try to wrestle, punch or kick you like you might find in a real MMA gym! lol) Also there's no equipment needed. There are 3 minute rounds in each workout, so if you feel like you're dying, it's only 3 minutes! You can do anything for a minute…so my goal was to each week get to the next minute (and I did!)
IS IT HARD?
Yes and no. Just like any workout program, you get what you put into it. The trainers, Joel and Jericho, know what they're doing. (AND are in rockin' shape). They push your body to the limit, if you want! If you need to modify an exercise, there's that option (and a person to follow for the modification). I've been doing the program for the last 2 weeks and my arms and back get the most sore! (Think lost of punching and lots of push ups!)
WHAT DO YOU GET?
With the Core De Force DVD set you get all the workouts in the program, an eating plan and workout guide. Together they all help you to get on track with your nutrition and workouts to get the best results. One thing I love about the Beachbody systems is that you can make monthly payments! No need to pay all at once, which can be helpful to budget!
WHO CAN DO THIS WORKOUT?
Everyone. Really. I know that a majority of people that watch at home workout DVD's are women. I feel like Core De Force might change the gender ratio here because my husband is actually doing the workouts! (See the Instagram post above)
AND the best part is that he LOVES the workouts. He's a gym guy. You won't catch him working out at home. You also won't catch him doing a DVD workout. But once he heard it was MMA style, he was intrigued. His direct quote after our first full workout together
This is Legit!
And it is. My hubby used to train in many years ago in Muay Thai Jiu Jitsu, and he agrees, this is a great workout!
RESULTS
I've been doing the program for two weeks and am loving how my body is feeling. My arms and back are getting stronger, feel and look more toned and I have WAY more energy now then I did before the program.
I also get a great stress relief kicking, punching and overall breaking a sweat during my workouts. They go by SUPER fast and they're fun! SUPER FUN!
For anyone that is looking into starting the Core De Force program I highly recommend it! The Ab workout is amazing, the moves are fun and overall I'm loving this program.
You'll have fun, get fit and learn some bad a$$ MMA moves!
What do you have to lose right!? (Besides lbs)
Have you tried Beachbody before? Which program is your favorite?
Watch us do some Core De Force moves!