*Disclaimer: The following is a sponsored post.
As most of you know, October is Breast Cancer Awareness month! Even though October is drawing to a close, it's always an ample time to educate yourself about how to best protect yourself and you loved ones from increasing their risk of developing breast cancer. As a RN, I really do enjoy sharing important health and wellness tips with my readers. So today I'm shedding some light on a very important topic that YOU can help out with! (See the link at the bottom of the post to help research!)
As parents, we try to help our children grow up as healthy as possible. Research is looking at the environment around a young girl and the effects it may have or even change the way her body develops. To to help protect yourself and your daughters from developing breast cancer later in life, it is never too early to begin taking steps. BCERP has a number of resources for parents and families on how to reduce risk.
Scientists, physicians, and community partners in the Breast Cancer and the Environment Research Program (BCERP), which is supported by the National Institutes of Health (NIH), studies the effects of environmental exposures on breast cancer risk later in life.
Personally in my home we strive to keep a clean diet free of processed food and chemicals. We avoid plastic with BPA and never buy products with phthalates! We also strive to stay active and healthy!
In order to help parents out, the BCERP created a mother-daughter toolkit (that you can access here). Mothers can use this to talk to daughters about steps to take together to reduce risk.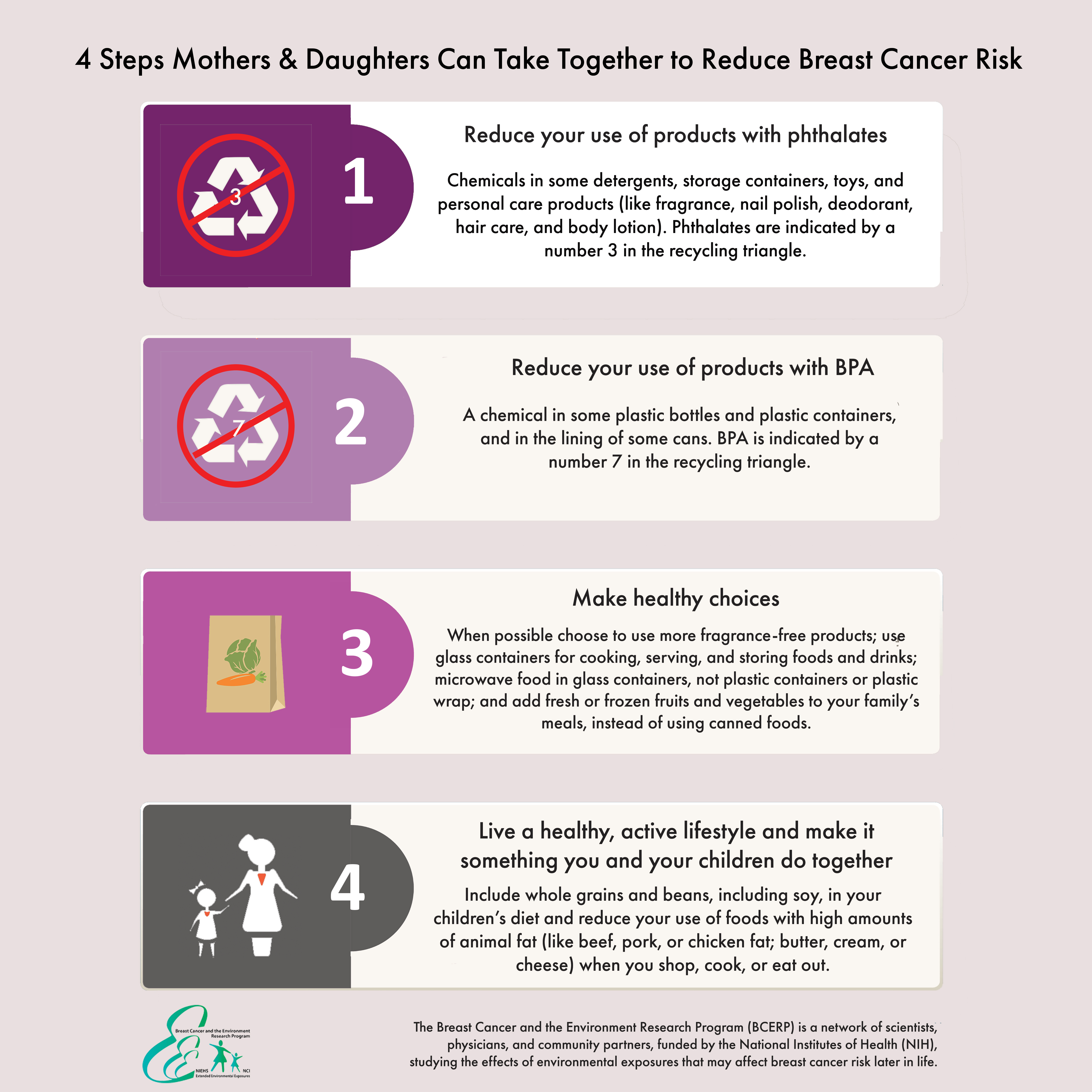 Your stories and expereinces are vital to continue breast cancer research! Please take a few minutes to complete the survey below! You will be helping with the important work the researchers are doing: —>https://gmuchss.qualtrics.com/jfe/form/SV_8izzl2KmaYZyGhv